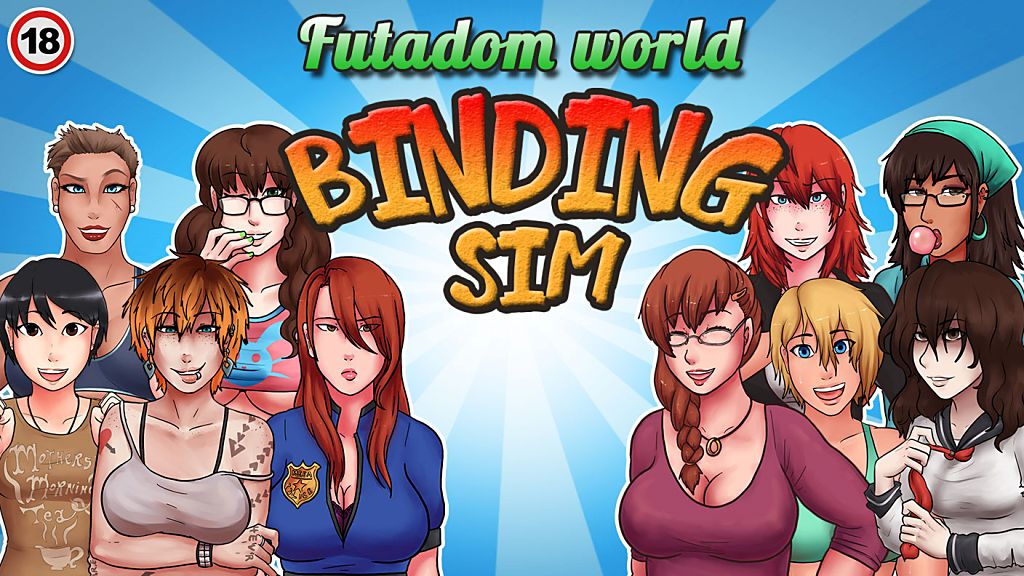 Futadom World – Binding Sim is a dating simulator game. If you're familiar with the flash games Sim Girl or Ganguro Girls, you'll see exactly what it is about. It is a kind a simulation game where you play a guy looking for love. This game is a bit different. Your goal is to choose a character among many, and seduce them… before someone else decides you might be better as a slave.
To do so, you'll have to study, go to the gym, buy clothes, work, earn money, develop your sexual stats and talk to your futa crush.​
–
Developer: FutadomWorld the Game – Binding Sim
Censorship: No
OS: Windows, Mac, Linux, Android
Language: English
Genre: 2DCG, Anal sex, Animated, Bdsm, Dating sim, Dystopian setting, Female domination, Futa/trans, Gay, Male protagonist, Oral sex, Rape, Rpg, Sci-fi, Sissification, Slave
Instructions:
1- Extract the .zip to the desired location.
2- Click on "Futadom World .exe" to install the game.
3- Click on "Futadom World.exe" to play!
v0.7.7
-Four new Gabby Apartment Vignettes
(Such as watching Real Housemales together.)
-The Rusty Starfish job now has a special event outcome: the Mina date.
With the MREA badge, it has about an 8% chance of happening on a given day. Sorry to hit you with this gacha bullshit.
-Hypnosis vignette in the Rec Center
Maybe it's not your thing, but I like it.
-Diamond's Cumflation Scene
Invite only, via either her club silhouette or Claudia's endgame content.
-Mallory Goddess Ending Addendum (with optional M/M content)
Continues right in the harem where the last one left off.
-Rye's Smoking and Watersports Scene
As commissioned by our Empress-tier backer, Bardafree
-Mallory's LSD Ending
Incense doesn't need to contain anything otherthan mind expanding herbs, really.
-Long Scrolling Credits V1
Are currently very fragile; don't click during them or they'll skip. We're working on that.
Notes
-We still don't have our animation on lock. We're trialing like three different animators, but it turns out that the ability to take an unstaged picture and turn it into a juicy hump-loop in under twelve hours was rare and precious and we didn't appreciate it enough. As such, most of these scenes are unanimated. I hope to go back and get that fixed in the next release.
-We did manage to scrounge some animation for Diamond's cumflation scene, though, because we know you have needs.
-We're still crossing our fingers that we'll have XXX Files ready by the end of the month.
v0.7.6
New Dates
-If you can call attending religious ceremonies a date
-If you can call an incidental hobo four-way a date
New endings
1. Mallory Is Reformed
2. Mallory Didn't Reform For Shit
3. Mallory ???
Some other content
-Verisimilitudinous incense-making experience
-Wonderful musical choices
v0.7.5
-Finally made Apartment 3 visitable
-Mallory Reform Content
-Mallory Cult Content
–Secret Abbesses Bad End
-Intense Demetria staredown action
–Now with eyes!
-Angela is now 40% more violent and insane
–Mallory actually not more violent or insane this path, you pretty much know her deal by now
-Some really Angela music
v0.7.4
-Additional six Mallory dates.
-Marital Arts now available in the Rec Center
-An (optional) pee scene
-Instead of being a snake-tongued megalomaniac—the perverse combination of Martin Luther and Sarah Palin—Mallory is now a vulnerable, sensitive character with human insecurities
-Just kidding, no she's not.
-Hidden Renee Bad End with MILFy goodness
-Weird bondage stuff with G-MILFy goodness
My Futa Valentine
Our FutaDomWorld Side Story, My Futa Valentine, is now complete. It's a short kinetic novel set in the FDW universe, exploring a fetish we haven't much touched on.