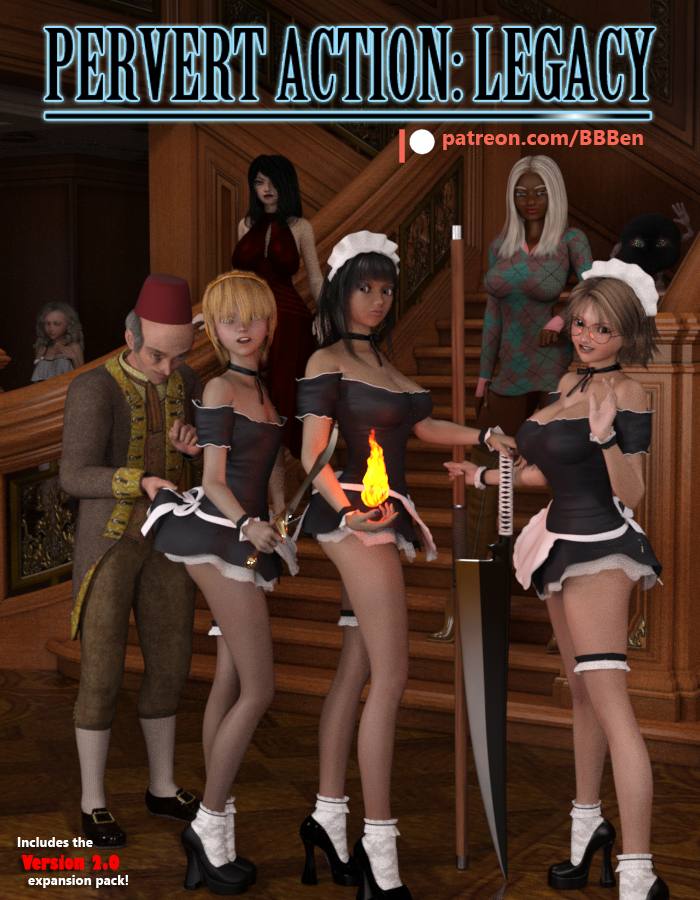 As master of a mansion in a remote valley, it is Kenji's job to train up his "battle maids" in housework, combat and the arts of love…
The game features many hundreds of graphics (pictures and some animations), a huge amount of voice-acting and lots and lots of playable content.
Censorship: No
Developer / Publisher: BBBen
Platform: Windows, Mac
Language: English
Genre: Animation, Sex, Sexual Training, Maids, Lingerie, Voyeurism, Big boobs, toys, combat, incest, supernatural, magic, demons, tentacles, ghosts, bondage, puzzles, text adventure with images, sound, Kemonomimi
Instructions:
1: Extract to desired location.
2a: Click on "PAL.exe" to start playing.
2b: The BLORB alternative version is here (not recommended unless you have trouble running the .exe or are running it in the ADRIFT mono runner on a Mac or Unix system)

v2.0
Train your maids in housework, battle and the arts of "night service." Or perhaps you'd prefer to spend your time romancing the other women of the mansion? The maids are: sweet Iku, bratty Kimiko and feisty Fumi; but there's also your imposing secretary, Rio; the sultry mistress of the manor, Masami; and the mysterious, delicate Ai.
The game features around a thousand images and hundreds of lines of voice acting!
Each character has their own highly interactive sex scene, with many different options for what you can do.
There are also multiple threesome combinations that can be put together for more large, interactive sex scenes!
After each character's individual sex scene has been unlocked, you can freely have sex with them as they go about their daily chores or enter their bedroom at night.
There are multiple, completely optional (and easily avoidable, if you want) NTR routes available. Will you let someone else use one of your maids for night service? What if she takes a liking to it?
Many voyeur scenes and hidden secrets can be found by exploring the mansion. Collect 30 special collector cards of the girls!
There are 16 full endings, including "combo" endings with multiple girls and a massive and interactive "harem ending".
After the harem ending you get access to the "harem victory suite" – a special area where you can replay content and access heaps of bonus pictures and scenes, made up of cut content and special commissioned scenes, exploring wild fantasy ideas that wouldn't fit in the main game.