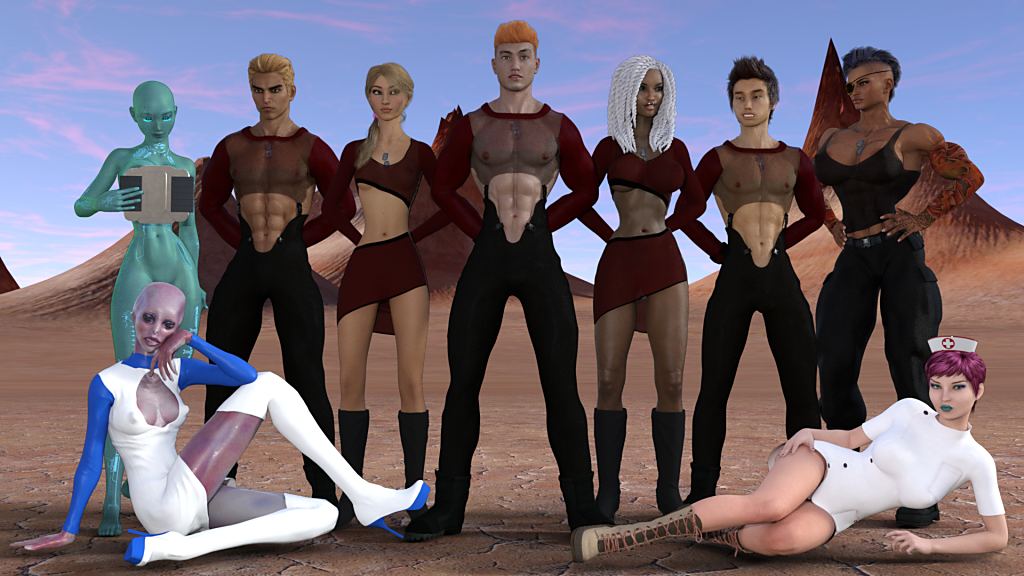 You play as a naïve young farmhand from Ganymede, thrust into an exciting (and raunchy) galaxy when you're conscripted into SpaceCorps. Meet the training crew of the USS Mercury – a rag-tag of gorgeous aliens, sexy cyborgs and predatory milfs. Seduce your beautiful fellow cadets in an ongoing dating-sim to see just how close you can all get. Visit strange new worlds and new civilizations with very different moral codes.
Your path is open for you to choose. Help a self-aware AI find out what it feels like to be human; or find out just what connection the strict Drill Sergeant has to your past. Seduce your childhood sweetheart; or humiliate your school bully. Explore kinks you never even knew you had!​
–
Developer: RanliLabz – DeviantArt | itch.io | SubscribeStar | Patreon | Twitter | Discord
Censored: No
OS: Windows, Mac, Android
Language: English
Genre: 3dcg, Anal sex, Bdsm, Big ass, Big tits, Cheating, Corruption, Dating sim, Exhibitionism, Fantasy, Female domination, Futa, Gay, Graphic violence, Groping, Group sex, Handjob, Harem, Horror, Humiliation, Humor, Incest, Internal view, Interracial, Lesbian, Male domination, Male protagonist, Masturbation, Milf, Mobile game, Monster, Monster girl, Multiple endings, Oral sex, Parody, Point & click, Rape, Religion, Romance, Sci-fi, Sex toys, Sexual harassment, Sleep sex, Stripping, Teasing, Titfuck, Transformation, Vaginal sex, Virgin, Voyeurism
Installation:
1. Extract and run.
v2.2.3
This update finishes Day 2 and takes us on to Day 3 – clocking in at around 600 pics. It features a new guest mission from the amazing Erwin [281 pics]; alongside further development of the Shifter storyline; and the chance to read Sam and Fatima's dreams
You'll also be able to replay any missions you missed from the first Brig scene [Krathi, Luke and Rydick]; and replay any missions you missed from the Day 2 Pandaemonium scene [Lloricain, Ashtaroth or Na'amah]. You'll have a third chance at these later on – meaning you can earn all the points and stable entries in a single playthrough.
Oh… and you can also claim a big reward from Meera in the Brig… as long as you're able so willing to inform on your cellmates ‍