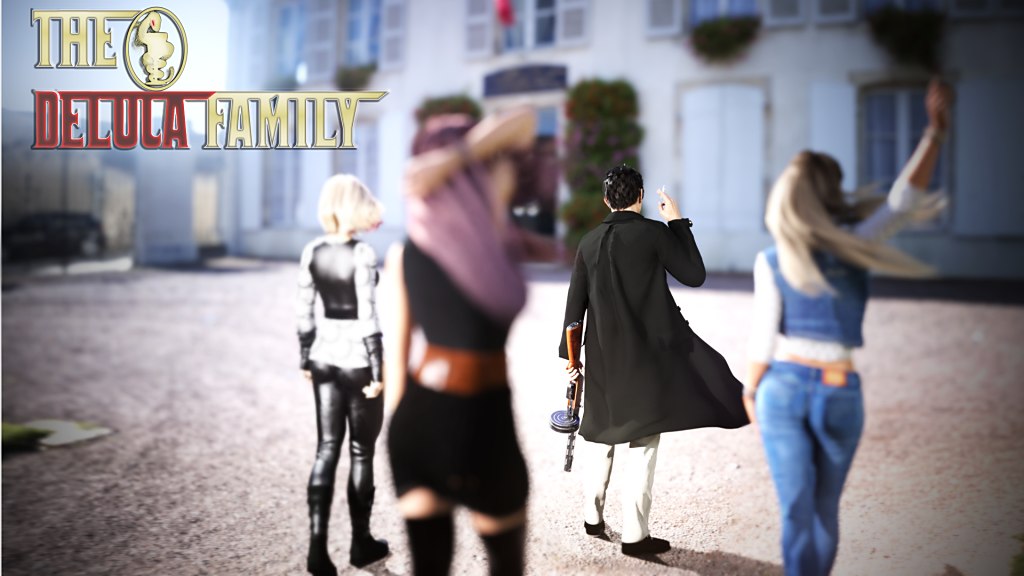 Our protagonist is a guy like any other normal guy. Lives a peaceful and uncomplicated life. That uncomplicated life turns into a rather complicated one when he receives a letter from a mafioso, who tells our unfortunate protagonist that due to his parents past, he is now under a mafia contract. He is to serve for a mafia family, but not just any mafia family, the DeLuca family. One of the most dangerous and infamous criminal organizations in the country.
–
Developer: HopesGaming – Patreon | Discord | Twitter | DevianArt
Censorship: No
OS: Windows, Mac, Android
Language: English, French, German, Spanish
Genre: 3DCG, Dating Sim, Male Protagonist, Voyeurism, Big Ass, Point & Click, Animated, MILF, Romance, Humor, Graphic Violence, Teasing, Groping, Cheating
Installation:
1- Extract to desired location.
2- Click on " The_DeLuca_Family.exe" to start playing.
v0.07.2
Old saves games (0.06.6 and older) WON'T work due to the code structure change.
Have to start a new game.
Changes and new features:

Mission Contracts can now be fully controlled via keyboard shortcuts. Designed so it can be played with only the left hand
-navigation: W,S,A,D. Explore: E, Interact: Q, Inventory: Z, Abilities: X, choices: 1-9, Continue: Space, Skip: Ctrl
– Nimble finger now also give Hardened Leather Gloves (R) when getting S
– Stats has been changed to icons (Visual change)
– Icons has been added in appropriate choices (such as battle choices)
– Gallery will stay unlocked even outside of the save game.
– Added all missing events to gallery replay
– Added new Explore stat for mission contract. Will give an overview of how much of the
contract you have explored.
– Added a little scene where the dog can save MC during nimble contract fight (Morbil)
– Saves now inform people what version the saves is and if it is compatible or not.
–  Added an image of MC that shows the different gear you wear.
Works with all current equipment.
– Overhaul of the main mission GUI during contracts
– Transparent dialogue box added
– Many new translatable huds and gui
Fixes:
– Fixed an issue where the Nimble Finger Fight gave the D rank no matter what
– Fixed an issue that overlapped a mission and Wilfred when not having enough HP/MP
– Fixed an issue where consumable quantities wouldn't update
– Fixed an issue where some room hotspots would persist into events
– The Painter missing description fixed
– New line markers in The Painter fixed
– Can fall through to Painter Talk label in mission The Painter fixed
– Prevents player discarding the pistol so you always have at least one gun
– Peeking stealth bug fixed
– Gallery replay bug fixed
– Bonanzo Meeting top right broken map fix
Big thanks to Morbil for the help and even code writing for some of the new features and fixes. 
v0.07.1
– Bonan meeting direction fixed
– Sound looping fixed
– Gun requirement removed for when you play in story mode only
– Gallery bug fixed
– Isabel wine quest bug fixed
Skipping leads to main game scene during warning and choice screen fixed
v0.07
– Complete gameplay overhaul
– Contracts can now be 'played'. It is all text based and in early development.
– 6 Contracts with all  but one being associate ranked. The 6th is a high rank which appears during the new event.
– You can explore and obtain special renders which can be patreon polls or even commission renders patrons made.
– Hidden secrets in some of the contracts that can add to the lore.
– Gameplay can be turned off.
– Many new character introductions
– Mc focused update. We get a bit more about who he truly is and some information regarding his father (Father information can only be gained through the contracts (gameplay))
– Completion of Eiza's rescue sister arc which include two full length events.
New animations
– 1 BJ
– 1 Kissing
– 1 Fingering
– 1 more
– Introduction has been re-rendered and also gotten a new scene (so it's recommended to play through it)
– Dinner scene has been fully re-rendered
– Lots of new GUI changes