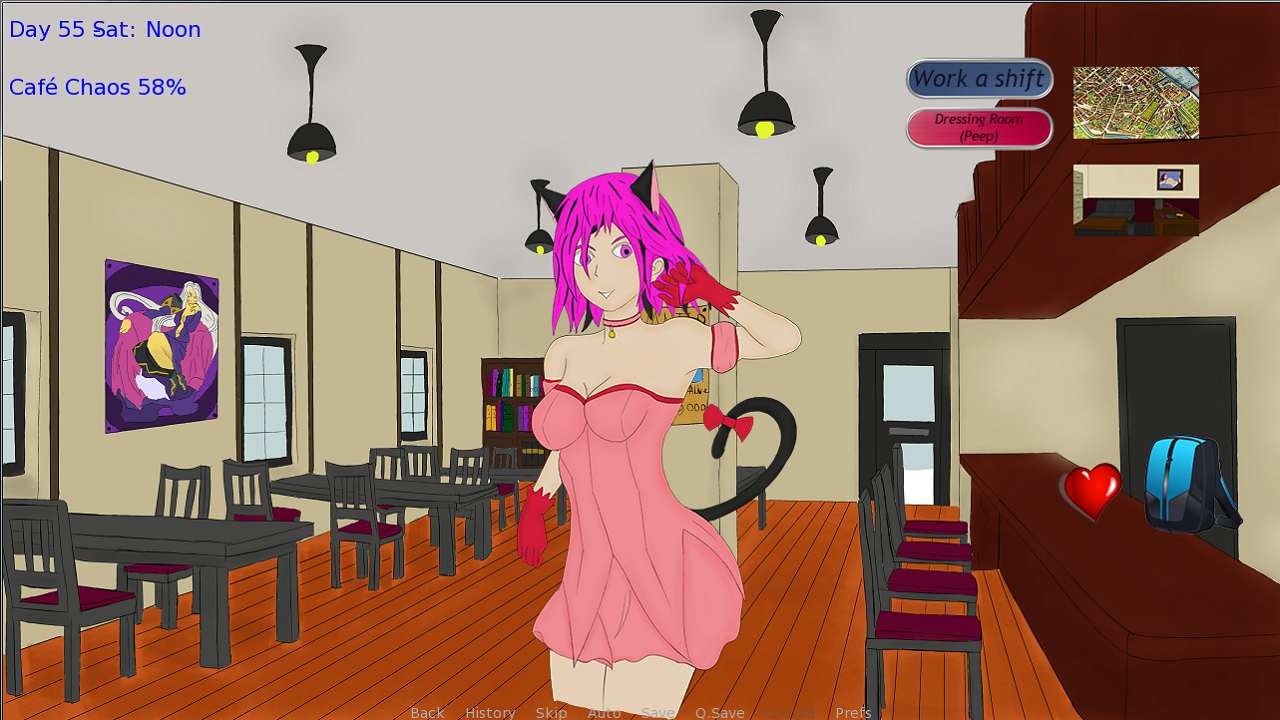 It's the summer before you start college, and you're moving to the city a few months early in order to get away from your family. You love them, but most of them are a bit too…normal, for you. Thankfully, you know someone in the city and she's promised she's got a job lined up fro you. With a job, scholarship, and the promise of being able to crash at her place, you can't wait to get there… Plus, knowing Alice, whatever job she has for you won't be boring…
When you arrive in the city, you're confidence in Alice having an interesting job for you is proven well founded. She has recently become the manager of a The Sexy Cosplay Café, and she's badly in need of an assistant manager, a role she herself was filling until just a few weeks ago. The quirky owner is giving her headaches, several of the girls working at the café are seriously high-maintenance, and the Café's business is starting to stagnate.
Alice starts you off by setting you the task of getting the current staff under control…by any means necessary. And given that she hands you a guide from her own time as an assistant that indicates she was playing dominant owner for a puppy-girl, lesbian lover for an elven cosplayer, and 'stress relief' for the previous manager, you're pretty sure she really really means that any means necessary comment.
Developer: Novus – Patreon
Censored: No
OS: Windows, Mac, Android
Language: English
Genre: 2dcg, Male Protagonist, Oral Sex, Masturbation, Male Domination, BDSM
Installation:
1. Extract and run.
v0.30
This update focused on Alice, bringing her roughly up to the same level of content as Mira and Serena.
New Alice Content
– There are 15 new core images, with many of those images have variants (the featured image for the post being one such variant). Five of the new images are replacing old ones, three of which (the shower peeping scene) were among the absolute worst art in the game -_-.
– Alice's Cafe menu has been majorly expanded, providing option to help her de-stress…
– Alice has a new cosplay, based on Yoko Littner from Tengan Toppa Gurren Lagann. OInce you get far enough with her, you can ask her to change to it!
– Alice now has her own series of detailed chats for Work, The Park, The Mall, and The Club. There is at least one sex scene in each of those locations, triggered by the chats (assuming you're far enough along with her, of course!).
– There is a new item to find, exploring the cafe after dark. If you find it, it opens up another option with Alice…but you need to have some idea what you're looking for, first!
– There's a new Gift in the Gift shop for Alice!
– You can now learn one of Alice's Fetishes, which will open up more options for her when you do!
Other Changes:
– The inventory system has been COMPLETELY replaced. Not only does it show more of the items you can pick up now…but you can finally hold more than one of a given gift as well.
– The chats for Serena and Mira have been re-coded so that it SHOULDN'T be possible to miss any of them any longer. This may be prone to causing bugs, despite my playtesting. Please report any you encounter!
– Lots of other bug fixes -_-. For example, I'm pretty sure at least one of Serena's scenes was actually inaccessible in the last build. No one noticed because they didn't know it was supposed to be there…