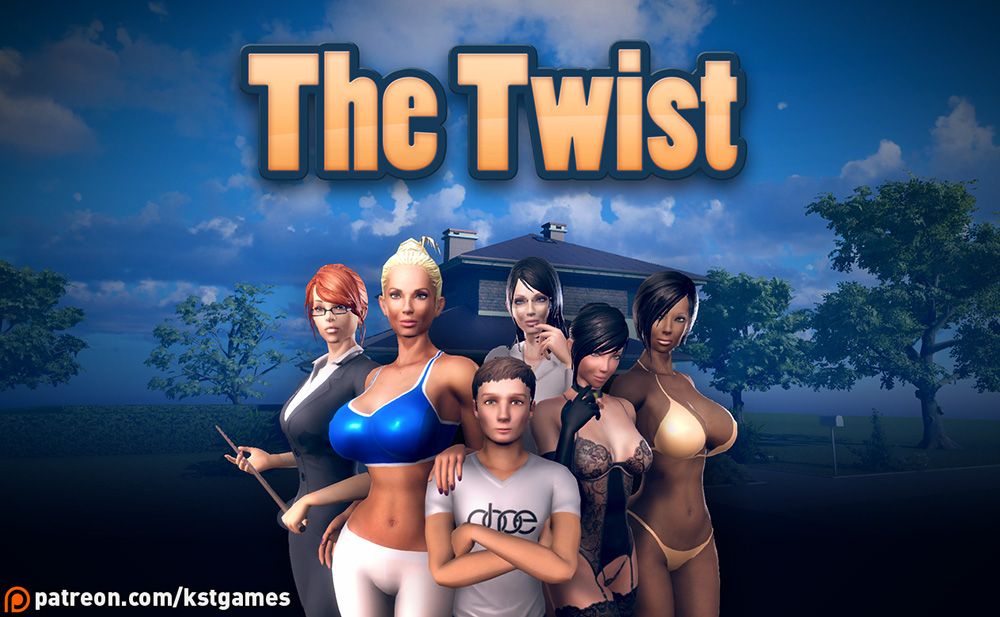 The Twist is a choice-based dating sim/visual novel game. The game is real-time 3D game, most scenes you can freely orbit around and see the action at the angle you like.​
Developer/Publisher
: 
KsT
Platform
: Windows, Mac
Censorship
: None
Language
: English
Genre
: 3D Game, Male Protagonist, Animated, Anal Sex, Vaginal Sex, BDSM, Blackmail, Big Tits, Groping, Group Sex, Handjob, Incest, Interracial, Lactation, Lesbian, Masturbation, MILF, Oral Sex, Prostitution, Sleep Sex, Titfuck, Voyeurism
Installation:
1. Extract and run.
Known Issues:
Please keep in mind this is a real-time 3D it will need a decent GPU. On low-end machines it may work slowly or doesn't work at all.
Use 16:9 aspect ratio screen resolutions (such as 1280×720, 1920×1080 and so on) to avoid issues.
Some users experience pink/magenta glitch in the game. This is caused by old/low-end graphics cards. A hardware upgrade is recommended.
v0.28 Beta 2
– "Wait X hours" function now working at the townmap.
– "Wait X hours" function at the Jason's room fixed.
– Glitch then Jason always wearing latex suit at night then he encounters Julia at living room, fixed.
– Janice's visit chance slightly increased.
– Using "Hypno command" at living room, guarantees Janice's visit upcoming night.
– Kelly's dungeon instead of the backroom glitch is fixed.
– Animations at the Billy's scene at the beach are fixed.
– New underwear now can be chosen as daily wear.
– At the park, characters locations are now shown properly.
– Several minor visual adjustments.
– Several dialogs fixed
v0.28
– 7 new scenes.
– 1 new item.
– 1 new daily outfit for Janice.
– The hospital location is expanded (2nd floor corridor, storage room, ward added).
– New feature: Ability to choose how many hours to wait.
– Characters that recieved updates:
Janice
Kendra
Receptionist
– Updated locations:
Living room
Living room (at night)
Kelly's dungoen
Jason' room (at night)
Park
Hospital (Lobby and outside)
Bathroom
Bedroom (at night)
Beach
School
Dining room
– Various bug fixes and minor adjustments.