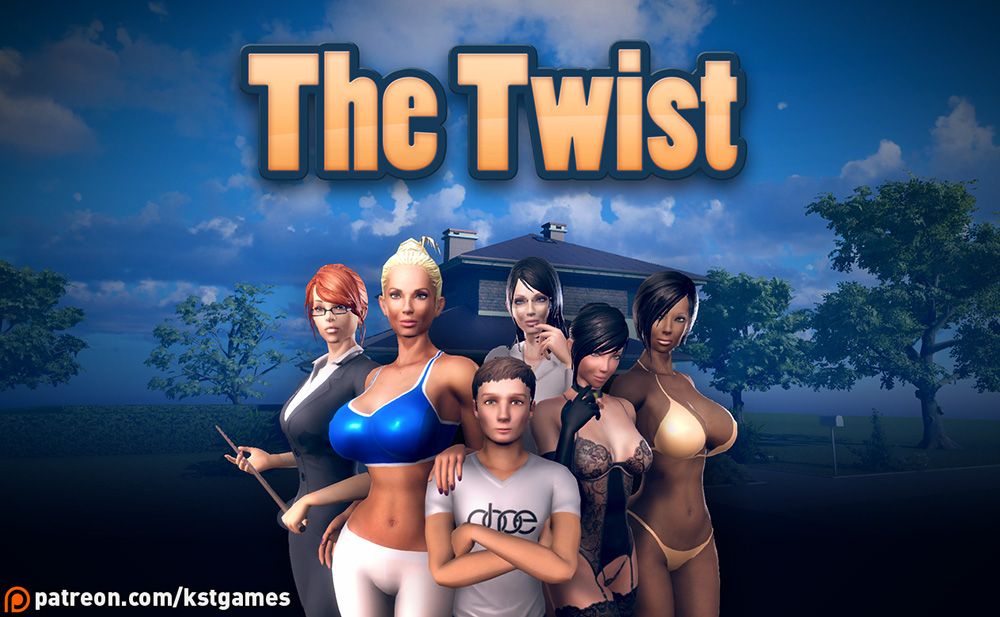 The Twist is a choice-based dating sim/visual novel game. The game is real-time 3d (not rendered images), most scenes you can freely orbit around and see the action at the angle you like.
Game features:
– Real-time 3D graphics
– 10+ different characters and more to come.
– Visual novel story progression
– Lots of scenes with options
– Quest progression
– Inventory system
– Stats system
– Animated scenes
Developer: KsT – Patreon | Discord
Platform: Windows, Mac
Censorship: No
Version: 1.0-0.52.1 Final
Language: English
Genre: 3D Game, 3DCG, Male protagonist, Animated, Anal sex, Vaginal sex, BDSM, Blackmail, Big tits, Groping, Group sex, Handjob, Incest, Interracial, Lactation, Lesbian, Masturbation, MILF, Oral sex, Prostitution, Sleep sex, Titfuck, Voyeurism, Spanking
Installation:
Extract and run.
Known Issues:
Please keep in mind this is a real-time 3D it will need a decent GPU. On low-end machines it may work slowly or doesn't work at all.
Use 16:9 aspect ratio screen resolutions (such as 1280×720, 1920×1080 and so on) to avoid issues.
Some users experience pink/magenta glitch in the game. This is caused by old/low-end graphics cards. A hardware upgrade is recommended.
Sister Phone Password: Rick
This mod adds a cheat menu to the game, and includes helpful utilities.
Features:
StateViewer:
LeftClick = change value by 1 or 0.05 (for int and float respectively)
Shift+LeftClick change by 10 or 0.1
Ctrl+Shift+LeftClick change by 100 or 1.0
Filter by variable type using: type:VARTYPE, ie: type:int
Debug:
Dump Current – Save game logic to a SCENENAME.dmp file for the current scene (saves to: .\TheTwist_Data\…) as plaintext.
Dump All – Attempts to load and dump every scene in the game, (this might take awhile depending on system specs)
Experimental
Screenshot:
Can take up-sampled screenshots (by rendering it at a higher resolution), maximum size is dependent on hardware capabilities.
None of the GUI elements are rendered when using this method
RandomInteger:
Prompts for a value when the game does a random roll, this is what decides who visits during the night scenes etc (requires knowledge of Scene Dumps to use effectively)
InstantText:
Increases the speed that the text is written to the dialogue box during scenes to near instant
RunInBackground:
Keep the game running when not in focus
Usage:
Hit F9 to toggle the menu.
Installation:
Extract to game folder.