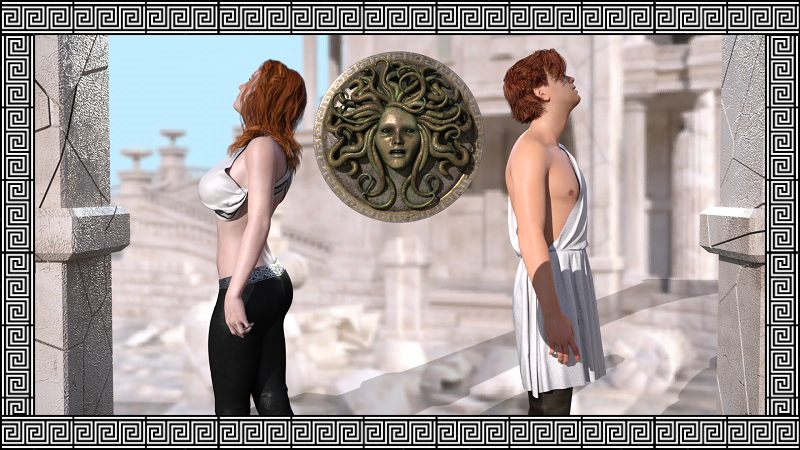 In Their Beautiful World – Divinity, you'll go back to the early days of Varlision's history before the arrival of the human race on the planet. The days when elven emperor's ruled over mighty empires and togas were all the rage. That's right, the world of Varlision in this time period is based on Ancient Greek & Roman culture. It's still a fantasy game, but be ready to meet minotaurs, marble statues and everything else that's great about those periods of real history.
You'll play as the middle child of the Vixaen family (you can choose your gender at the start of the game) fleeing the city of Ryvval after political turmoil in the capital with your neighbour Sivenne and her two daugthers. You arrive in Sivenne's birth place, a city called Livaenia to the east, only to find that her old home has fallen into ruin. Even worse, a childhood friend of your mother dies when you visit him. Just before his death, he reveals that he's an Oracle and has seen great danger in Varlision's future and that you must stop it by proving yourself to the elven gods known as the Five. Unsure of what this danger might be, you decide it would be best to try to do as the man told you. Now an impossible task has been put in front of you: Sexually proving your skills to the gods. But how can a mere mortal even begin to try to rival the power of the gods?
Like in most RPGs, you start as a nobody without many skills. But over the course of the game, you'll improve and eventually become the hero you were always meant to be. This game isn't about leveling up and becoming better at fighting though. Instead, it's a sex-RPG where XP represents your sexual experience. By having sex, you'll gain XP which will eventually allow you to buy skills to improve your skills during sex scenes. The better you are during a sex scene (when combined with making the right choices during sex scenes), the more XP you'll gain at the end.
But having sex is not all you can do to improve your skills: Explore the world, brew potions, unlock outfits & codex pages, do some quests. It's all up to you.
Developer/Publisher: Bright Sun Studios – Website
Censorship: None
OS: Windows, Mac, Android
Language: English
Genre: Fantasy, Roman, Greek, adventure, exploration, progression, heroic, sexy, friendly, magic, masturbation, vaginal sex, boobs, futa, public sex, prostitution
Installation:
1- Extract to desired location.
2- Click on "TheirBeautifulWorld-Divinity.exe" to start playing.
3- For mods or patches, see instructions inside each file.
v0.1.1
– Fixes 2 issues with Josephine (low stamina & game crash)
– Fixes the bug where you start with way too much money
– Fixes the bug where the main quests in the quest log doesn't properly display the required Pleasure
– (Hopefully) fixes a save crashing issue
– Fixes a bug where asking the orphanage about how they're doing can crash the game if you've spend between 900 and 1200 Maidens there