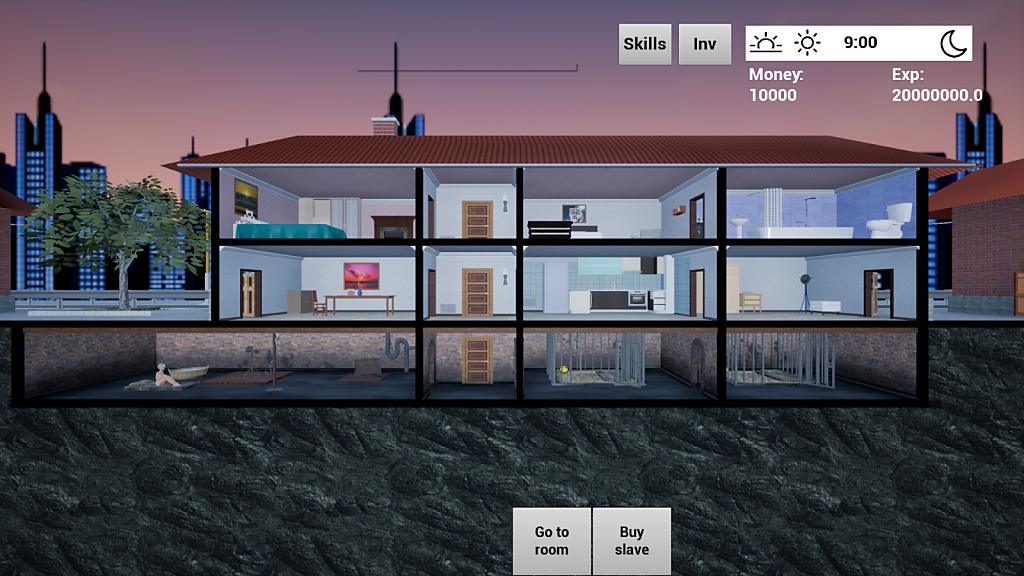 The global epidemic has take lives of almost all people on earth. Only a few were able to develop immunity to virus. When the epidemic has passed, became clear, that women are much more immune, than men. Besides, immunity from the virus dramatically reduced women fertility. Having survived the epidemic, mankind faced a threat of extinction due to low birth rate.
Survivors build new societies, and everyone had to solve problem with birth rate. Many societies adopt a law of women enslavement and creation of "forced harems". Every man can take as many women as he can afford. For some people, this become a profitable business. Including you.
Gameplay:
You act as a trainer and provider of sex slaves. Buy newly caught slaves at stock, train them and resell at auction. Take care of your slaves, so they don't get sick or insane. For well-trained slaves, auction visitors can offer a high price. If possible, send slaves to work, this will bring you additional income. You have to keep an eye on the house and clean it of garbage. Improve your skills and earn as much as possible.
Developer/Publisher: DumbCrow – Patreon | Discord | Website | Subscribestar
Censorship: No
OS: Windows 64-bit
Language: English
Genre: 3D game, 3DCG, Slave, BDSM, Oral Sex, Vaginal Sex, Anal Sex, Slave Management, Simulator, Trainer
Installation:
1- Extract to desired location.
2- Click on "nintyss.exe" to start playing.