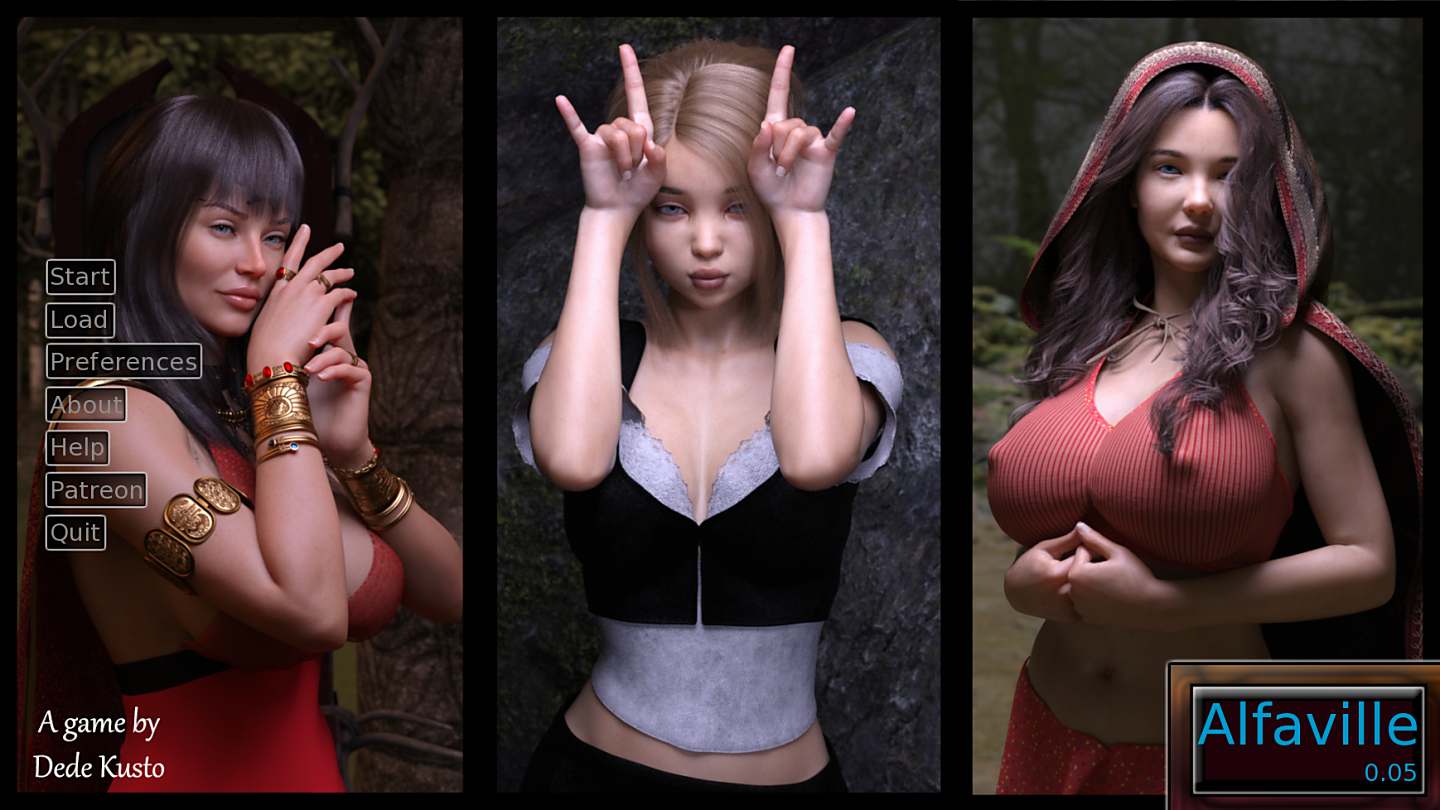 Alfaville is a game that takes place in a fictional, medieval-like universe, in a tribe called Alfaville.
Once an opulent tribe, Alfaville is now struggling with an increasing number of bandits and vengeful enemies.
As a part of the tribe, you will be sharing a house with three other members: Belwor, Tayana, and Karin.
Things are getting worse by day for your tribe and the council assigns your house's elder and your mentor, Belwor, an experienced scout, with a mission to find new lands and places to loot and conquer.
His departure saddens you deeply, but it creates a new challenge for you as a man – to manage the house in his absence.
–
Chapter 2 v0.2.1
This is not really an update but more like a scene.
An extension (a hot one) of the "Peacemaker" event that adds 40 new images.
Chapter 2 v0.2
There are 3 (and a half) new scenes.
Chapter 2 v0.1
As you know, there were a couple of features that I have been talking like new events mechanism, NPC stats, and such as like time travelling… Well, they are all in now.
The biggest change is of course the way you can initiate some scenes.
Now a big portion of the available scenes will be visible to you as I nailed them on the wall.
So you can read them and learn about their requirements. In a way, it can also work like an in-game walkthrough for you.
And to reach this incredible, special feature you just need to click the magical button on the right corner of the map screen.
That same button will also get you to the NPC stats, achievement (w.i.p), and inventory (w.i.p)
Do not forget that the requirements that you need to fulfill are just to initiate the scenes. I mean to be able to play all the options you will need some skills. So you better save your game before you start an event.
Another tip that I can give is to start with the time-sensitive ones. (There are two scenes like that. Both Tayana's events.)
Having said that, you should also know that the new events page is not covering all available events.
There will be some events that you will need to activate by talking to the NPCs.
There will be some mandatory stuff like your daily military training, or a scene that will happen just because
And finally, there will be a scene that will happen when you fulfill some "unknown" requirements. A scene that you will never figure out how to get. And that will drive you crazy. And it's a pretty long detailed event. Like the best one.
(jk it is easy. Just keep playing.)
v0.10.1
The issue with the backpack is fixed. (Now you can open it safely on day 1 too)
I added an info button to the forest map that gives you a brief explanation about resources that you can gather.
The scene at the lake with Karin on day 5 affects the outcome of the scene at the workshop with Karin and Milly correctly.
The moneybox event is removed.
The requirement for fixing the boat decreased to 10 crafting points.
Now you can catch and sell salmon.
The requirement for setting traps decreased to 20 crafting points.
The final event is moved to day 28.