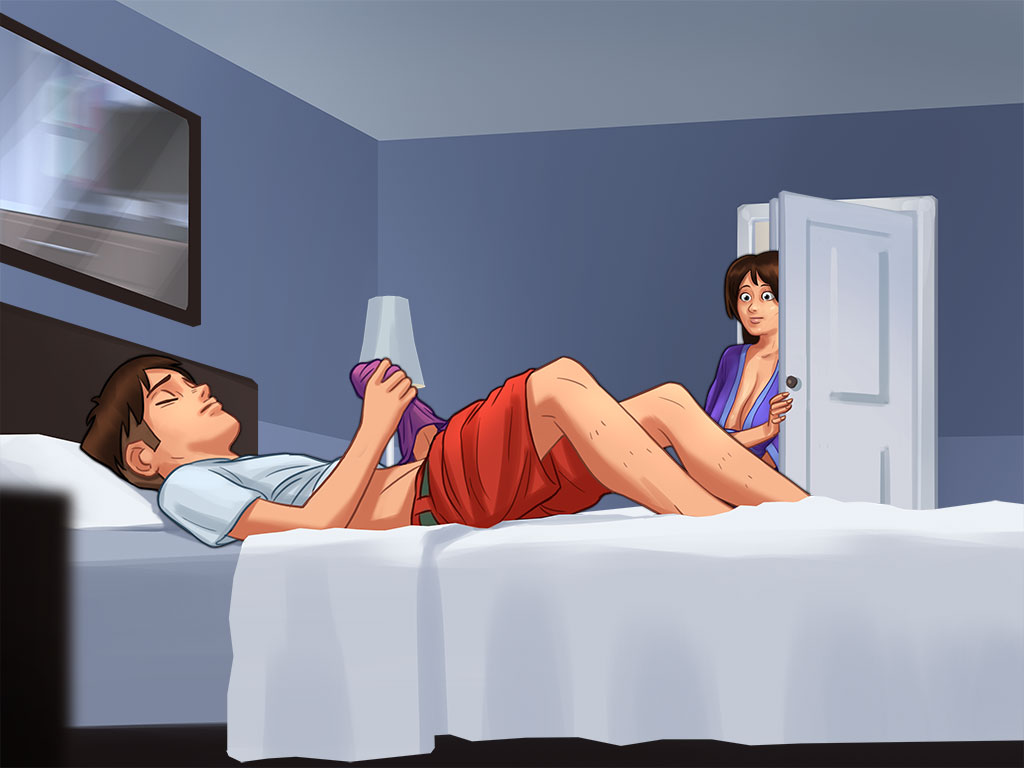 Set in a small suburban town, a young man just entering college is struck by the death of his father. Mysterious circumstances surrounding the death are only the beginning of his adventures as he learns that his father was in debt to a group of shady criminals. Adding to the list of problems, our young hero needs to save enough money for his college semester and find a date for prom night!
Developer: Kompas Productions – Patreon | Website | Wiki | Discord | Bug Report | Progress Tracker
Censorship: None
OS: Windows, Mac, Android
Language: English
Genre: 2DCG, Male protagonist, Point & click, Sandbox, School setting, Animated, Dating sim, Voyeurism, Exhibitionism, Incest, MILF, Masturbation, Sex toys, Camgirl, Oral sex, Titfuck, Footjob, Handjob, Anal sex, Vaginal sex, Virgin, Group sex, Big ass, Big tits, Footjob, Groping, Stripping, Twins, BDSM, Lesbian, Religion, Futa, Trans, Cosplay, Female domination, Prostitution, Pregnancy, Mobile game, Monster girl, Lactation, Multiple penetration
Android Users – uninstall old game version before installing this game version!!
Mac Install Note: Extract to a writable folder (eg, drag/drop to your desktop)
v0.19.1
Bug fixes:
Fixed a missing screen in the mall toilets.
Fixed Logger writing logging header to file when persistent.debug_log is disabled.
Fixed a crash when talking with Admiral Sploosh.
Fixed being locked inside the gym after yoga.
Fixed Odette disappearing during the evening.
Fixed an FSM action that wouldn't trigger on Diane's FSM.
Fixed hospital lobby background name.
Fixed soft lock in Erik's house during the karaoke tryouts if you go in the mornings/afternoons.
Fixed soft lock in school when progressing Roxxy and Bissette at the same time.
Fixed the Orcette package monopolising the mailbox when loading a save made after its delivery.
Fixed the bank statement randomly showing up in the week with no interest, now Monday's like clockwork.
Fixed Erik's mailbox occasionally displaying as having mail when that wasn't the case.
Moved the "clean auditorium" quest for dewitt from eve's button to the park douches button.
Fixed the game being playable without extraction on MacOS.
Fixed more Diane wardrobe malfunctions.
Content Changed
Restored incest content:
– Changed dialog for mother/sister/aunt
– Replaced some edited images from earlier v0.14
Patch Instructions
Download the "incestpatch.rpa" file, and move it to the "/game" directory
On macOS this is located: "Contents/Resources/autorun/game"
For Android:
Install the game, run it once and close, save the incestpatch.rpa file to "Android/data/com.kompasproductions.com.summertimesaga/files", overwriting any previous patches