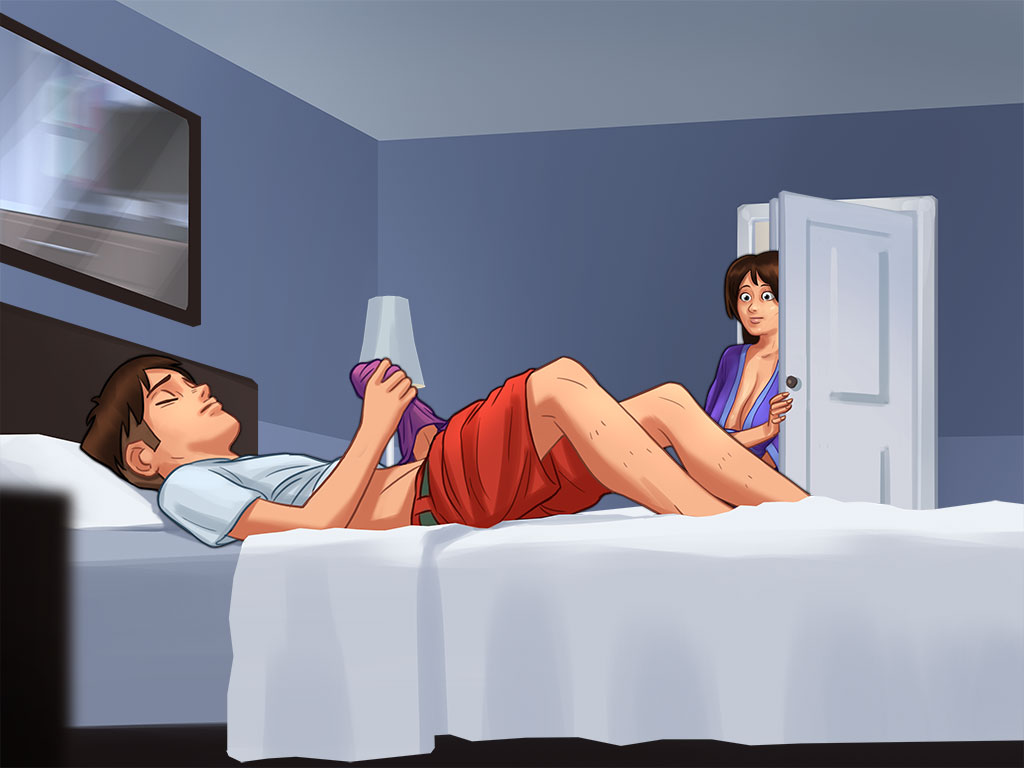 Set in a small suburban town, a young man just entering college is struck by the death of his father. Mysterious circumstances surrounding the death are only the beginning of his adventures as he learns that his father was in debt to a group of shady criminals. Adding to the list of problems, our young hero needs to save enough money for his college semester and find a date for prom night!
Developer: Kompas Productions – Patreon | Website | Wiki | Discord | Picarto
Censorship: No
OS: Windows, Mac, Android
Language: English
Genre: 2DCG, Male protagonist, Point & click, Sandbox, School setting, Animated, Dating sim, Voyeurism, Exhibitionism, Incest, MILF, Masturbation, Sex toys, Camgirl, Oral sex, Titfuck, Footjob, Handjob, Anal sex, Vaginal sex, Virgin, Group sex, Big ass, Big tits, Footjob, Groping, Stripping, Twins, BDSM, Lesbian, Religion, Futa, Trans, Cosplay, Female domination, Prostitution, Pregnancy, Mobile game, Monster girl, Lactation, Multiple penetration, Spanking
Android Users – uninstall old game version before installing this game version!!
Mac Install Note: Extract to a writable folder (eg, drag/drop to your desktop)
Passwords:
Sister's Computer: BAD MONSTER
Porn Channel Sub: L6bv12R
Porn Channel Pass: 12345
v0.20.9
Bug Fixes:
Made it really painfully obvious that you need to CLICK THE HEAD.
Improved finale warning to highlight lock-in and that the player should check their stats.
Added stat fail toasts when failing minigames due to being under-levelled.
Fixed posing issue with Maria's casual outfit in some quests.
Prevented exception when trying to reach the Main Menu during the Muay Thai minigame.
Hid Anon's auxiliary penis during Iwanka's first blowjob.
Prevent Jenny's pregnancy pre-empting the main story event the night after the showdown.
Added dialogue to animation loops introduced in 0.20.8.
Resolved QTE arrows not displaying on touchscreen devices when spam tapping or having transitions disabled.
Prevented breaking out of Maria's pregnancy dialogue leading to missing arm issues!
Fixed a few typos.
Corrected reference to Anon in sewer minigame to reflect chosen name.
Added hint variant for touchscreen devices to the strength training minigame.
Fixed staging issue when attempting to complete some Tony quests in the evening.
Resolved issue with confusing hint when only sleeping at the beach house.
Prevented time skip during finale resulting in broken backgrounds.
Content Changed
Restored incest content:
– Changed dialog for mother/sister/aunt
– Replaced some edited images from earlier v0.14
Patch Instructions
Download the "incestpatch.rpa" file, and move it to the "/game" directory
On macOS this is located: "Contents/Resources/autorun/game"
For Android:
Install the game, run it once and close, save the incestpatch.rpa file to "Android/data/com.kompasproductions.summertimesaga/files/game", removing any previous patches. You may need to create the "game" directory if it doesn't already exist.