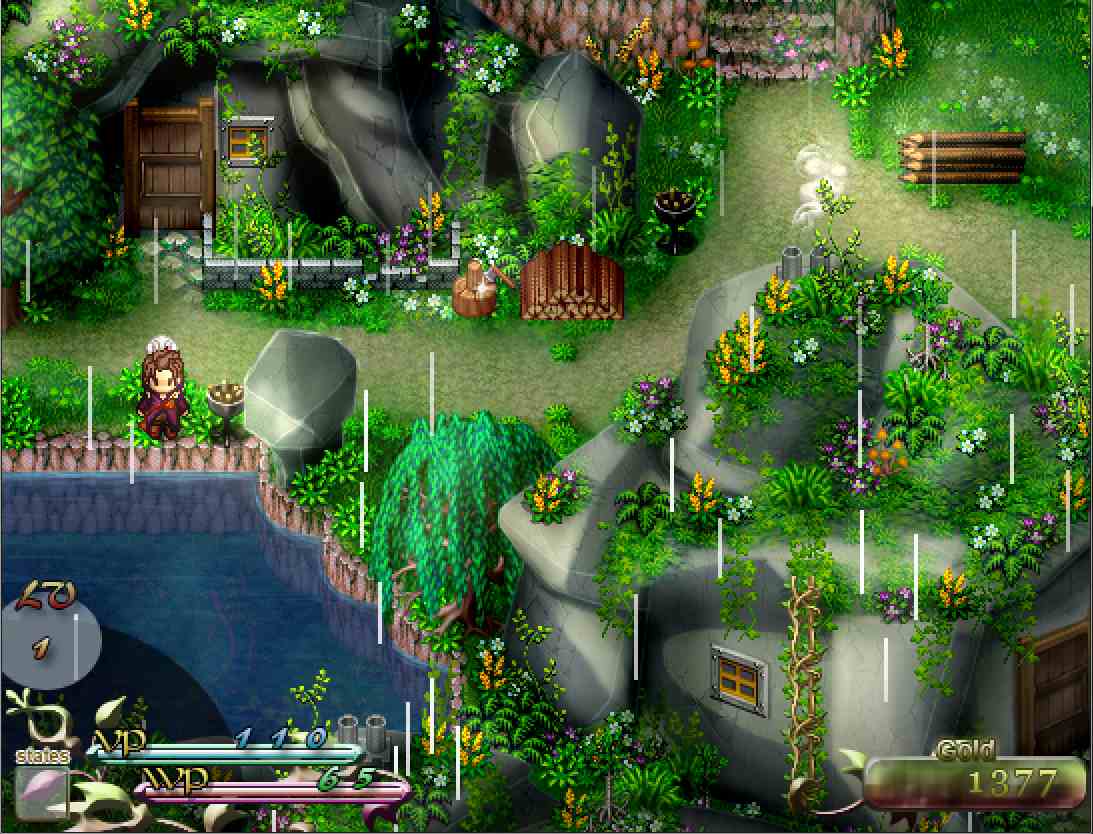 Black Garden is a free Adult fantasy RPG game about a young adventurer who gets defeated by the "Demon Lord" and is forced to become her minion. Starting at the lowest rank in the Demon Realm's army you are sent to a remote Goblin village to help with morale. You soon discover that the Demon Realm is populated mainly by lusty female Monster Girls and that your role as a minion of the lowest rank primarily involves being the village bicycle to raise morale and minion numbers for the Demon Realm's army. Will you rise through the ranks using your hard work and dedication, or will you sleep your way to the top and reclaim your stolen soul from the "Demon Lord"?
The game is not heavily plot focused and is designed to give players significant freedoms in how they approach their day to day lives as they build up their reputation with the locals and explore the ever expanding world.
Black Garden features a myriad of fetishes with the primary focus being on femdom. However, it is possible to avoid all sexual encounters by focusing on the exploration, farming and crafting aspects of the game.
–
Developer: FeyRing – Itch.io | Patreon
Censored: No
OS: Windows
Language: English
Genre: 2DCG, 2D game, Male protagonist, Fantasy, Female domination, Adventure, Anal sex, Bdsm, Big ass, Big tits, Monster girl, Oral sex, Pregnancy, Vaginal sex, Elf, Magic
Installation:
1. Extract and run.
CONTROLS:
[W][A][S][D] / Arrow keys – Movement
[SPACEBAR] / [ENTER] / [Z] – Confirm/Interact/Talk
[ESCAPE] / [Numpad0] / [X] – Menu/Exit/Cancel
[T] – Toggle Clock
[SHIFT] – Sprint/Skip Text
[F5] – Toggle Full Screen
[F6] – Toggle Screen Size
v0.1.8
One of the furniture is a lighting Candle Stand, craftable through Construction. The second is a giant Bunny Plushie, craftable with Level 2 Tailoring. You can gift this plushie to Aria and Saffron, which will place it in their respective houses.
Other than that, the rest of the features added are the same as with the 0.1.8 Patreon release. From my previous post:
The Smithing, Artifice, Construction and Tailoring rework too significantly longer than I planned. I didn't finish everything and will continue rolling out changes to this over the next few updates.
I initially planned to only rework Smithing and a small bit of Construction and Artifice, however, as it turned out, there were way too many cross discipline components changed along the way so the rework was much broader, even spilling into Alchemy and Tailoring.
Some weapons, armour and accessories were removed from the game. The players were compensated for lost items either by replacing them with similar items/gear or converting the lost items into absolute coin value (twice the sale price at merchants).
Make sure you check your equipped gear before combat as some of your equipment may be missing or unequipped!
Crafting recipes for Tier 2 gear have been added in this update. Mithril and Silver Ingots require a special Forge to smelt. You can craft this Forge at either Lvl 2 Smithing, Artifice or Construction. You will also need a special type of oil for each ingot which can be crafted with Lvl 2 Alchemy or Purchased from Aria at Affection levels 60 and above.
Construction Projects, like fixing the Bridge or Upgrading your House have vastly reduced material costs now.
Last, but not least, the Group scene for Werewolves has been added and can be triggered by losing to Werewolves inside the Opal Grotto map. Male Victory scene has also been added and can be triggered by winning a fight against any Werewolf in Emerald Forest.
Make sure to back up your saves before updating as this release involved a lot of rework in crafting systems.