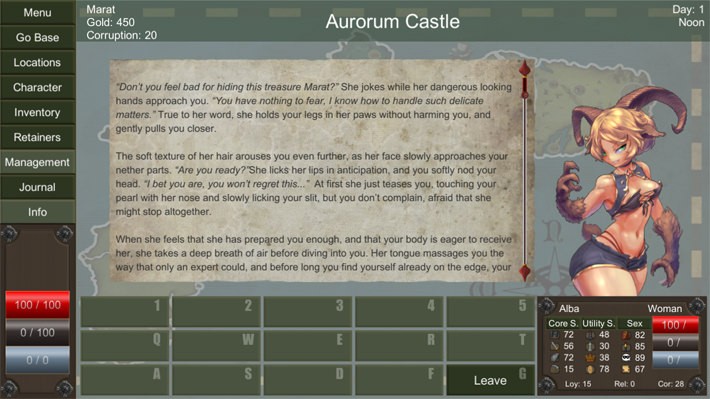 The game: Debauchery in Caelia Kingdoms (DiCK)
DiCK is a free adult text-based RPG about a MC that inherits the title of a city, few years after a Great Plague scourged the world and transformed a high number of the population in different kinds of beasts and monsters.
Your character has to travel through a world populated by monster-girls(and boys) to reach the capital city, to make his new title official. Along the way you will be confronted with dilemmas and choices, followers will join you, putting their fate in your hands, and ultimately you will shape your city, and the whole island. We have planned 6 endings, 3 for a pure route, and 3 for a corrupting one.
We aim to allow the player to customize itself as much as he wants, with different genders, heights, body builds, colours, clothing and hairstyles,while at the same time his choices will change his state of mind and either corrupt him or purify him, so you can play the adventure you want!
–
Developer: DuoDevelopers – Patreon
Platform: Windows
Alternate Name: DiCK
Language: English
Genre: Text-Based, RPG, Fantasy, Dating sim, Male protagonist, Monster Girl, Monster, Character creation, Oral sex, Anal sex, Vaginal sex, Combat, Furry, Gay, Management, Pregnancy, 2DCG
Installation:
1- Unzip
2- Start DiCK.exe
v0.5.1
Added Walfriede (pure) after you are done with Ludwick – Go to the stable while wandering around to get quick access to her house.
2 flirt scenes and a date for Walfriede
3 different topics to talk about with her, and they progress two times.
3 new sexy scenes for her.
New texts for most locations inside of the castle, many of them with other already existing NPCs like Abbadon, Helena, Faustina, Anton, among others! All scenes have a corrupt or pure version of them, depending on your own corruption or the NPC's one.