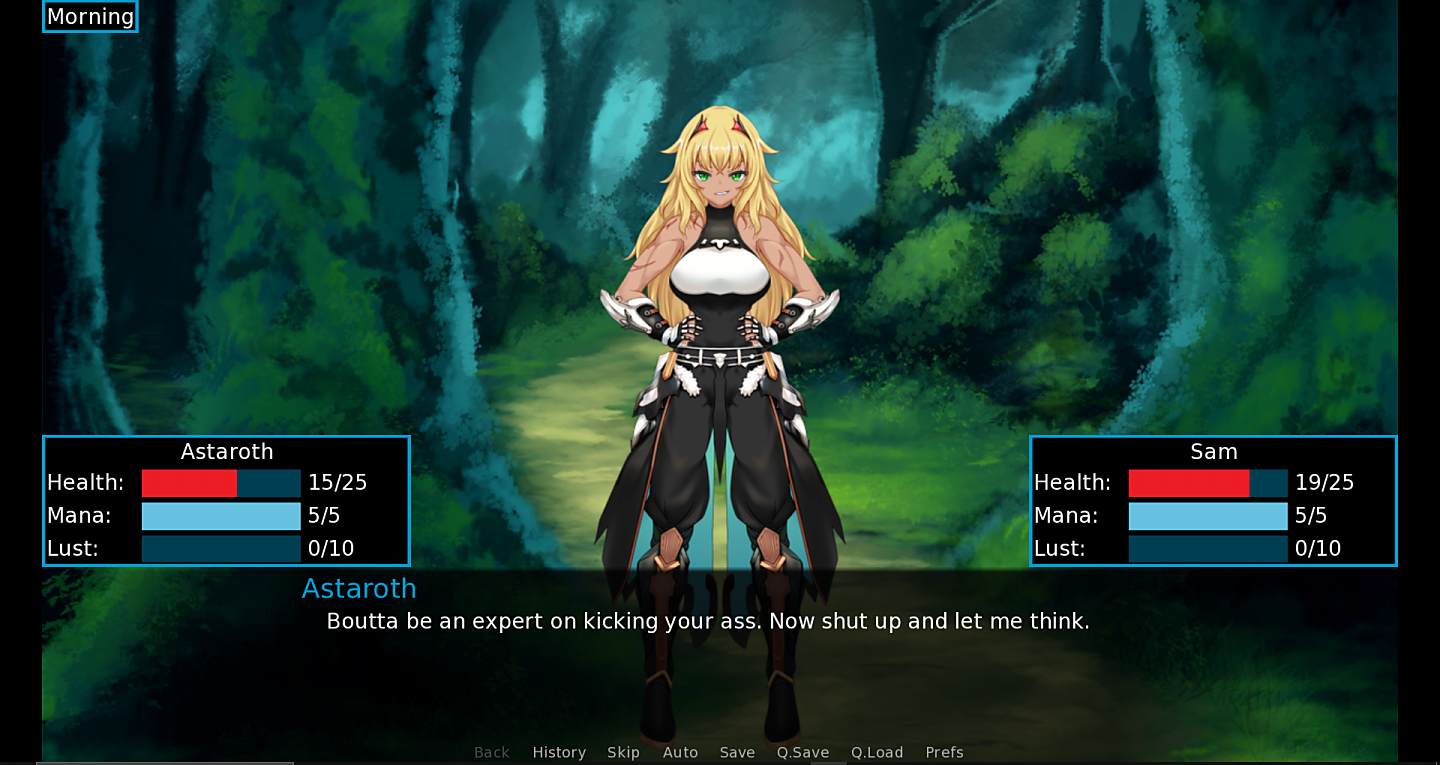 Divine Dawn is a text-based RPG in which you step into the role of a would-be hero, with dreams of greatness and no likelihood of achieving any of them in a peaceful world with no real genocidal threats. Then you nearly die several times in a row, discover traces of an ancient mystery and (possibly) impending doom, and go on a road trip with colorful cast of comrades to save the world! Maybe. You've got a lot of fighting, therapy, adventure, and monster girls to deal with before we get to that point.
Fortunately, you'll usually have a partner at your side to help you out in fights and offer witty(?) banter. But only you can decide if it's worth trading your humanity for the power you need – otherworldly energies offer much, but will change your body over time.
—
Developer: Cryswar – Patreon | Discord
Censored: No
OS: Windows, Mac, Android
Language: English
Genre: Text Based, Character Creation, Male Protagonist, Creampie, Oral Sex, Teasing, Adventure, Combat, Fantasy, Graphic Violence, Horror, Humor, Monster, Monster Girl, Religion, Romance, RPG, Turn Based Combat, Female Domination
v0.15
Celica now has art, courtesy of Mistimagi! She has 40 something expressions and a few layers of clothing, though some of the uhhh…less wholesome options aren't available ingame. YET.
Ashley's Nether training is complete, with parts 2 and 3. That means that Nether magic is finally available to the player, with 8 abilities (and various masteries). Expect a lot of debuffs, statuses, and weird mechanics, with good firepower.
Ashley got a 4 trust scene as well, with some philosophy to discuss.
Ashley sex battle now exists, because this is the second Ashley-focused update in a row apparently lmao. I swear she's not the creator's pet.
Celica got a 4 affection scene that pushes your relationship with her forward a bit, and maaaay lead to… places… in the near-ish future.
Metatron got a 6-trust scene that gives some character development and starts to explain her martial art. More importantly, it also gives her sleeveless art for a bit. THEM GUNS.
Various engine improvements; now most status effects can scale, the status effect window now has better descriptions and some new icons, lewd battles can now have statuses, etc.