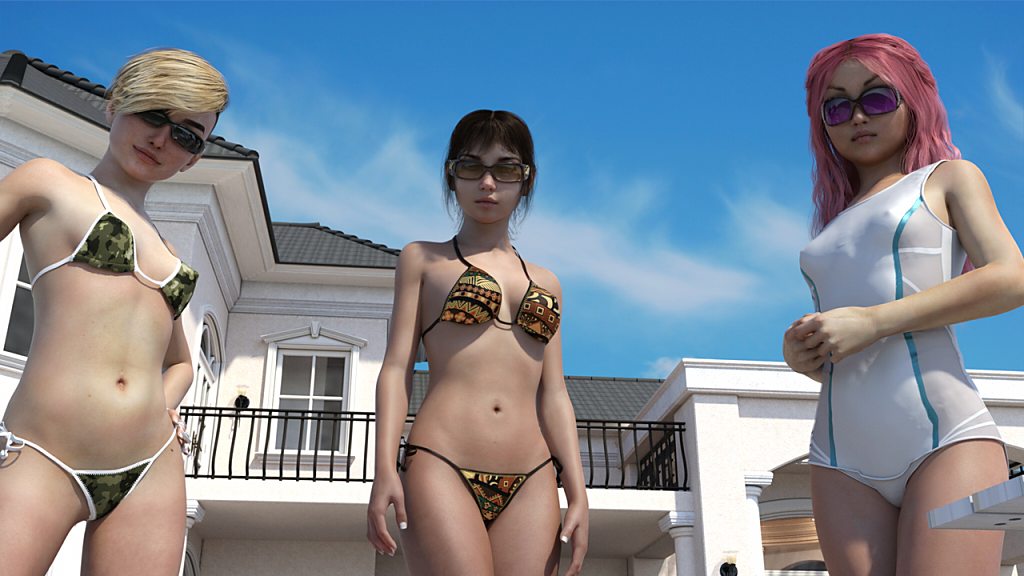 Doctor Amana: Sexual Therapist – Patient 001 (DAST-001) is intended to be the first in an upcoming series of virtual novels. This series features a non-linear narrative in which the MC is a patient, discussing his sexual encounters and romances with his therapist. As the patient tells the story to his therapist, you the reader will make choices that change the outcome of the story. Your decisions in the story will alter the nature of each of your relationships and determine what shape and form your sexual experiences take.
In our first story, Patient 001, you assume the role of Roger Harrington, a middle-aged corporate executive whose career has just suffered a major set-back. With his career in jeopardy and life as he knows it on the ropes, he begins seeking as much diversion and distraction as one man can possibly handle. The game features seven main love interests that can be pursued without exclusion. You choose which relationships Roger is involved in and whether those relationships are built upon love or lust. Your romantic choices are:
Emily – Roger's trophy wife to whom he has been faithfully married to prior to the events of the story.
Cassie – The young woman of Roger's household whom he's known his entire life.
Jane and Amanda – Cassie's two high school friends. One is a brash young rebel lashing out at her parents. The other is a young genius with a love of anime.
Lupita – Roger's new single mom Bolivian house keeper.
Nanami – Another executive from Roger's firm that has come from the home office in Japan.
Monica – Roger's new African-America personal trainer.
Stay loyal to your wife, find love in a new place, build a harem or swear off the insanity of women altogether, the choice is yours.
Developer/Publisher: Ianvs – Patreon | Website | Discord | Picarto
Censorship: No
OS: Windwos, Mac, Android
Language: English
Genre: 3DCG, Male protagonist, Slice of life, Animated, Cheating, Interracial, Milf, Vaginal sex, Voyeurism
Installation:
1- Extract to desired location.
2- Click on "Dr. Amana, Sexual Therapist.exe" to start playing.
Incest Patch:
Extract inside the main DAST folder. (Patch is unofficial so might not work properly)
v1.1.5
Synopsis
v1.1.5 is all about Amanda. Chapter 2 of Amanda's story features you and Amanda hitting the road on a little trip. Hotels, hot tubs and shenanigans ensue!
While this chapter of Amanda's story heavily favors the red path, fret not my romantic blue path partners. The upcoming Chapter 3 will favor the blue path and have many more opportunities for romance to make up for your shortcomings here.
Change Log
Bug fixes to v1.0.7b
Added "End of Content" notification
Amanda Chapter 02 (Consists of seven new scenes with different paths)
Typographical error corrections
Created a "jukebox" to manage music tracks and volume levels in the game (look for a patch in the coming weeks that implements this jukebox thus fixing the crackling, static played during certain tracks.
Redesigned the initial set up sequences (This should fix the "menu_shuffle" exception some players were experiencing)
Implemented a menu shuffling toggle (Previously if you had the menu shuffling option turned on, all menus were shuffled, even those during character creation. This allows more control over which menus shuffle and which ones don't)
In Progress
Music and Sound Fixes: Now that I have a new object managing all of the game's music, I need to spend some time normalizing the volume on all the tracks to remove the unwanted static. This object will also smooth the audio transitions between tracks and require me to use less code when calling and managing music in the script.
Once I have this done for the music, I'll repeat the process for the sound effects.
Android Version: Now that I have more time working from home and additional artists contributing to the game, this has freed up some of my time to begin digging into the terribly complex world of Android. I've nearly completed some online training in Android programming and have doubled down on breaking apart the Renpy/Android relationship.
Completing a fully functional Android version with all the bells and whistles currently available in the desktop version is a top priority along with creating new content. So stay tuned for progress updates in this department.
New Content: This week I will begin work on Cassie's 3rd Chapter in the game. Simultaneously I plan to spend much of this week and next generating enough content to keep the contributing artists busy. Right now they've caught up to what I had available and have been patiently waiting on me while I complete this update. Now it's time to feed the machine.
If all goes well, we'll be seeing some new Monica, Lupita and Jane content about the same time as we are releasing our Cassie update! Fingers crossed mates!