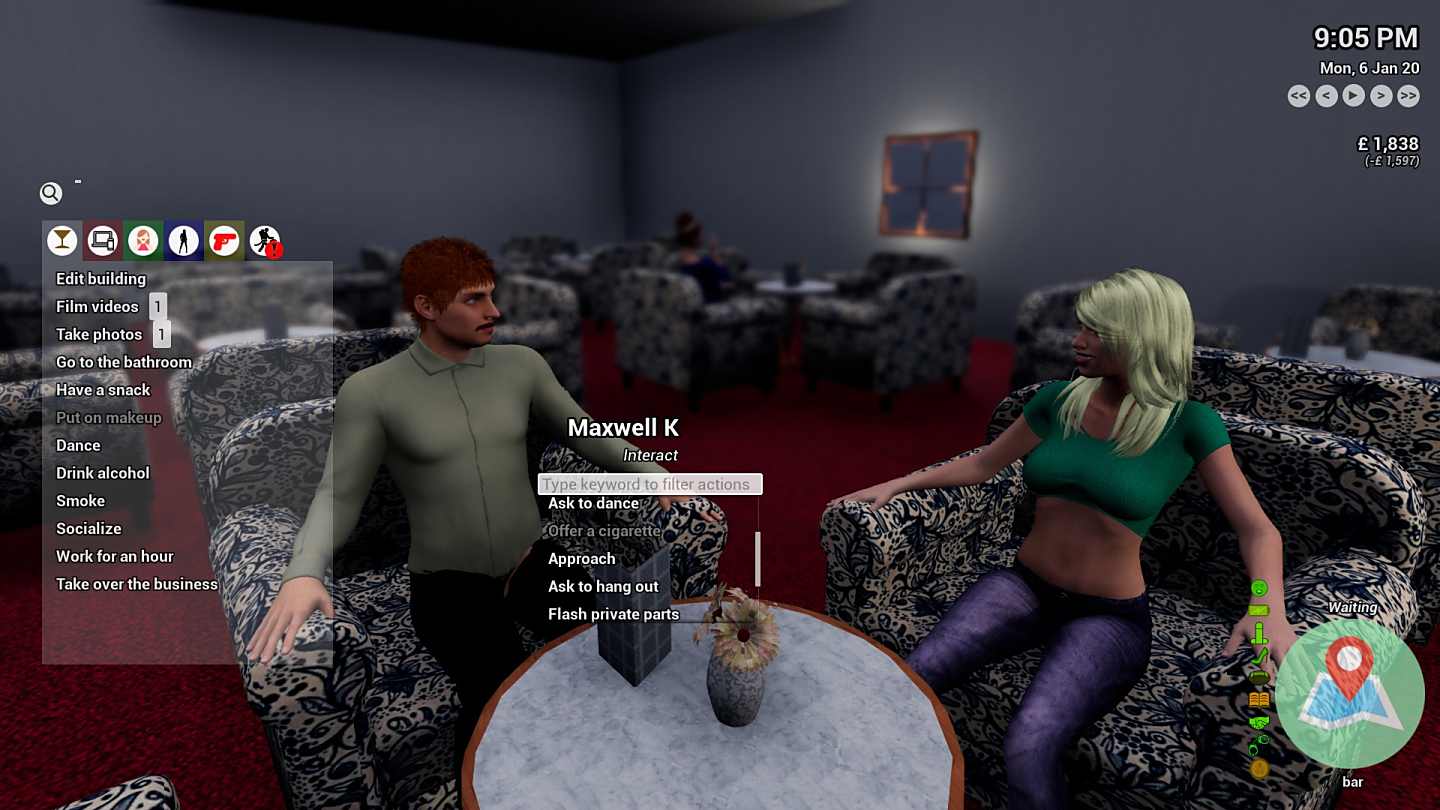 LifePlay is a life simulation RPG that allows you to play in 186+ real world cities. The game has extensive character customization and includes 632+ scenes, depicting life situations where your choice matters. The 3D sex scenes have 250+ animations, accompanied by well-written erotica.
With a new update every 2 or 3 weeks since its first release in April 2018, the game already has a lot of playable content you can enjoy for tens of hours. It's also very moddable – click on "Third Party Mods" from the main menu to check out what modders have made, or check the Docs folder to start modding yourself.
The game covers many different fetishes, but all of them are optional and can be disabled / enabled depending on your taste.
–
Developer: Vinfamy – Patreon | Github | Wiki | Discord | Itch.io
Censorship: No
OS: Windows, Linux
Language: English
Genre: 3D game, Animated, Simulator, Character creation, Male protagonist, Female protagonist, Dating sim, Vaginal sex, Oral sex, Group sex, Corruption, Pregnancy, NTR, Incest, Rape, Netori, Business simulator, Prison, Bestiality, Transformation, Lesbian, Gay
Installation:
Windows:
1- Extract to desired location.
2- Click on "LifePlay.exe" to start playing.
Linux:
1- Extract to desired location.
2- Set LifePlay.sh as executable
3- Click on "LifePlay.sh" to start playing.
Note: Old saves from previous versions are always compatible with the latest version, but you have to manually copy the LifePlay/Content/Saves folder into the new version first.
Requirements To Run the Game:
(very likely you already have them installed if you've played other Unreal Engine games)
DirectX End-User Runtime
Visual C++ Redistributable

v4.23
– This is a Kink of the Month update focusing on Sex Worker. It's one of the most popular kinks, and there is always an overabundance of ideas from the brainstorm whenever it wins. For this update, I prioritized those that are most different from what already in the game
– If you're a por nstar, depending on your fame, you may get recognized in public. The fan will either simply ask for a selfie, or try to proposition you. You can then demand money straight up or demand to film the whole thing and share online as a 'Fuc k a Fan' video, which increases your fame instead.
– While looking for Johns, you may receive a high-paying offer to be the gift in a secretive birthday party, either alone or with other workers as well. It turns out the birthday boy/girl is an A-list celebrity (using one of the real face imports I did last year). There's a chance that the celeb is so satisfied with this 'gift' that they become one of your regular Johns from then on, which in time could end up as a sugar arrangement or an actual relationship.
– If the Netorare module is enabled and you have a significant other with perversion > 70, you may end up finding out that your SO is hustling as a sex worker behind your back. Not only that, but they're using your apartment for in-calls whenever you're not at home. You can decide to confront them and either put an end to this and demand a cut, and / or set up a hidden camera to watch your SO with their Johns, who could turn out to be a group, a colleague or even a relative.
– If you're a unversity student who's also a por nstan, you go to a lecturer's office for help with an assignment. You notice this lecturer seems strangely nervous around you. It all makes sense when they bring up their web browser to show you something related to the assignment, only for you to notice your Por nhub profile as one of their bookmarks. You can either pretend not to see it, or seduce your secret fan. Once you've slept with them once, they will find regular excuses to be alone with you in their office.
– If you're a unversity student who's also a por nstar, you're working on an assignment in a pair with another coursemate, who admits they've watched your videos. Depending on their interpersonal and perversion, they may be direct about having some fun as a break or be shy about it and wait for you to offer. When done once, they'll try to work in pairs with you again in the future.
– On the other hand, if they're the same gender as you, this coursemate working in pairs with you may express their admiration for the skill you've shown in your por n performances instead. They ask you to teach them to improve their ability to satisfy a partner. This lesson could be done with their current partner, or you could suggest another practice target (who could become their partner afterwards unless already yours). After this first lesson, from time to time, they may continue to ask you to have fun with them and their partner, up to you whether you want to demand money for such service.
– While hanging out with a friend or relative (if the Netorare module is enabled, it can even be your SO), they admit they're having money troubles and need some quick cash to pay off a debt. You remember that one of your regular Johns have a thing for fresh meat and is willing to pay top money for someone not normally available for sex work. You can then join them for a threesome or just watch and take your 'commission'.
– One of your regular Johns brings a friend and you serve them, although your John's friend was initially reluctant having just started a committed relationship with someone (who your John hasn't even met), but they gave in to peer pressure in the end. A few days later, you get confronted by a relative you thought were single, who told you that the reluctant guy/girl you served earlier was their brand new boyfriend/girlfriend! They demand that you bring them along the next time your regular John calls you, for the perfect revenge.
– If you're getting married, one of your regular Johns offers you a small fortune to be a wedding guest and then be the one to actually bang you on your wedding night instead of your newly-wed spouse. If the John is also interested in your spouse's gender, the offer involves them banging your spouse as well. You could reject the offer or try to convince your spouse that wedding night sex is only sentimental anyway and the money could go a long way to financial security for your life together.
Content Changed
This patch restores Non-Consensual, Corruption, Bestiality and Incest to LifePlay after the original author was forced to drop them. These modules will be independently expanded and supported further in the future by me, the Mysterious Modder, who is a third party not in any way affliated with, linked to or under any direction by Vinfamy.
In addition, for Vinfamy's Kink of the Month poll, again completely independently from the original author and without his permission or approval, I will do the following:
– Whenever 'Cowgirl' wins, I will accept ideas from the community to expand the Corruption module (both starts with C)
– Whenever 'Reverse Cowgirl' wins, I will accept ideas from the community to expand the Rape / Non-Consensual module (both starts with R)
– Whenever 'Doggy' wins, I will accept ideas from the community to expand the Bestiality module (because … dogs)
– Whenever 'Missionary' wins, I will accept ideas from the community to expand the Incest module
Patch Instructions
To install, copy the whole LifePlay folder from my mod into your LifePlay's game directory. If you then go into LifePlay/Content/Modules and see the folders vin_Corruption and vin_Base both in there, you know you installed the patch correctly.
Also, these modules are disabled by default, so you would need to go in game. Esc > Mod Manager > tick the ones you want > Confirm.