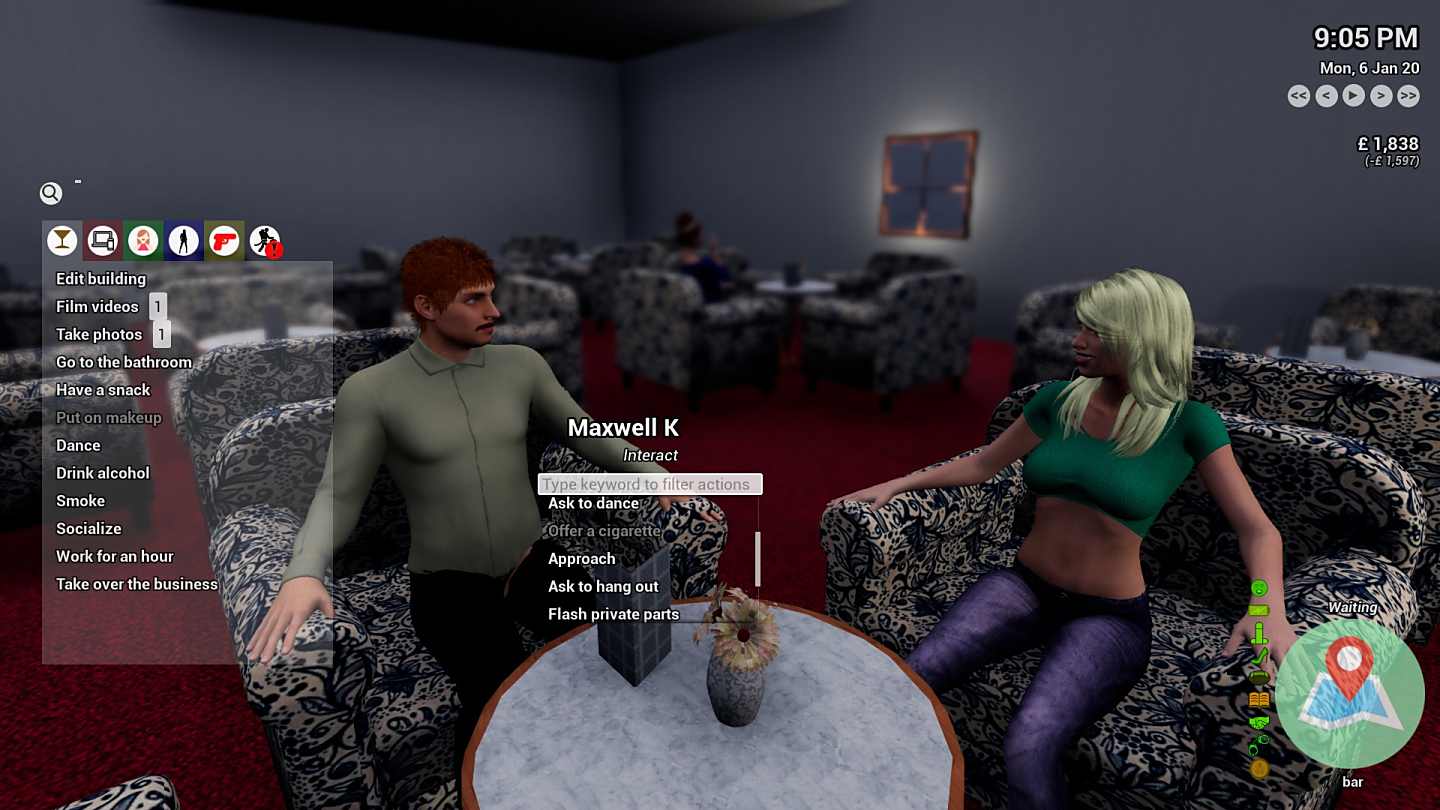 LifePlay is a life simulation RPG that allows you to play in 186+ real world cities. The game has extensive character customization and includes 632+ scenes, depicting life situations where your choice matters. The 3D sex scenes have 250+ animations, accompanied by well-written erotica.
With a new update every 2 or 3 weeks since its first release in April 2018, the game already has a lot of playable content you can enjoy for tens of hours. It's also very moddable – click on "Third Party Mods" from the main menu to check out what modders have made, or check the Docs folder to start modding yourself.
The game covers many different fetishes, but all of them are optional and can be disabled / enabled depending on your taste.
–
Developer: Vinfamy – Patreon | Github | Wiki | Discord | Itch.io
Censorship: No
OS: Windows, Linux
Language: English
Genre: 3D game, Animated, Simulator, Character creation, Male protagonist, Female protagonist, Dating sim, Vaginal sex, Oral sex, Group sex, Corruption, Pregnancy, NTR, Incest, Rape, Netori, Business simulator, Prison, Bestiality, Transformation, Lesbian, Gay
Installation:
Windows:
1- Extract to desired location.
2- Click on "LifePlay.exe" to start playing.
Linux:
1- Extract to desired location.
2- Set LifePlay.sh as executable
3- Click on "LifePlay.sh" to start playing.
Note: Old saves from previous versions are always compatible with the latest version, but you have to manually copy the LifePlay/Content/Saves folder into the new version first.
Requirements To Run the Game:
(very likely you already have them installed if you've played other Unreal Engine games)
DirectX End-User Runtime
Visual C++ Redistributable

v2023.04 Beta
– This is the Beta update for April, adding new content for three kinks: Missionary (paul Ince…), Vore & University. Please report any bugs you find on Discord's Bugs channel https://discord.com/invite/eUEUhc6 or on the game's new Github https://github.com/Vinfamy-New/LifePlay. There will be another Stable update by the end of the month that fixes bugs.
– Missionary (paul Ince…):
— Rela not living with you can now call you over to their place if you've already crossed the line. There, you aso get offered the option to favorite their place on the map for more frequent future visits.
— At home, when you select "Gather relatives", you can choose to organize a family dinner that simply improves rapport with everyone that accepts your invitation … unless you decide to add a bit more spice to the food
– If you've done the forbidden with at least two relas, they eventually find out among themselves and suggest you accept your role as a freeuse plaything for them and the rest of the relas interested in your gender.
— Children born by paul Ince… has a 50% chance to receive a random big penalty to either attractiveness, fitness, intelligence or fertility.
— If you get caught sleeping with your relative's SO and they get angry, they'll also at least move out, preventing some scenes from triggering that no longer makes sense
— Add additional checks to prevent companions who are family members from introducing you to their parent/ sibling like normal NPCs
— Add additional checks to prevent the game from treating your parents as related to each other
– Vore:
— This is a new optional module, disabled by default. Enable it first in Esc > Mod Manager. Since this is the first ever Vore update, it focuses on the essential mechanics and animations rather than too many scenes despicting scenarios. Those will come in future Vore updates, or if you're impatient, just check out the lpscene file for the demo scene in LifePlay/Content/Modules/vin_Vore and adapt its scripts (which already includes placeholder code for assets to be added) and write your own scenarios.
— New Animations: minimize & entrance animations for oral, anal, vaginal and penis (M swallows F, F swallows M, F swallows F, M swallows M)
— (will be added in the v2023.04 Stable update in a week's time) New Endoscopy images for inside stomach, inside rectum, inside uterus and inside bladder used as backdrops in front of which post-swallow solo / adult scenes can take place. \
— Demo Scene: At any hospital or clinic, you can "Take part in vore experiment" where you're paid to test a drug that would miniaturize a human to enter another human's body via various orifices safely, which would revolutionize medical check-ups and surgeries. You choose whether to enter a random test subject or invite someone you know. You choose which orifice to enter and can insist on having someone also entering with you. While inside, you could end up getting excited and decide to play with yourself (if you're inside an uterus, you could make her pregnant). Of course, if there's someone entering with you, you could hook up instead.
– University:
— When a suject's lecturer hands out an important course assignment that you're capable of getting a high grade with, you may get approached by a classmate who's struggling with the subject to cheat and do the assignment for them. You can name your price: money, a date (attraction boost), nothing (rapport boost), sex or sex with their SO. Alternatively, if you're sleeping with the subject's lecturer for your current grades anyway, you could simply share.
– If you have at least 40 rapport or attraction with a classmate, depending on their highest stat (intelligence, attractiveness, interpersonal, fitness), they'll eventually invite you to hang out with their social circle, where you get to meet a bunch of other university students similar to them (i.e. if you become friend with a hot girl, she can take you to a party full of hot girls)
– At university, you can now "Hunt for Scholarships", where you get money deducted from your tuition using your academic, community or sports achievements …. or by sleeping with the interviewer. Scholarships vary by value but you can stack them to eventually pay nothing for school or even get paid to study.
Content Changed
This patch restores Non-Consensual, Corruption, Bestiality and Incest to LifePlay after the original author was forced to drop them. These modules will be independently expanded and supported further in the future by me, the Mysterious Modder, who is a third party not in any way affliated with, linked to or under any direction by Vinfamy.
In addition, for Vinfamy's Kink of the Month poll, again completely independently from the original author and without his permission or approval, I will do the following:
– Whenever 'Cowgirl' wins, I will accept ideas from the community to expand the Corruption module (both starts with C)
– Whenever 'Reverse Cowgirl' wins, I will accept ideas from the community to expand the Rape / Non-Consensual module (both starts with R)
– Whenever 'Doggy' wins, I will accept ideas from the community to expand the Bestiality module (because … dogs)
– Whenever 'Missionary' wins, I will accept ideas from the community to expand the Incest module
Patch Instructions
To install, copy the whole LifePlay folder from my mod into your LifePlay's game directory. If you then go into LifePlay/Content/Modules and see the folders vin_Corruption and vin_Base both in there, you know you installed the patch correctly.
Also, these modules are disabled by default, so you would need to go in game. Esc > Mod Manager > tick the ones you want > Confirm.