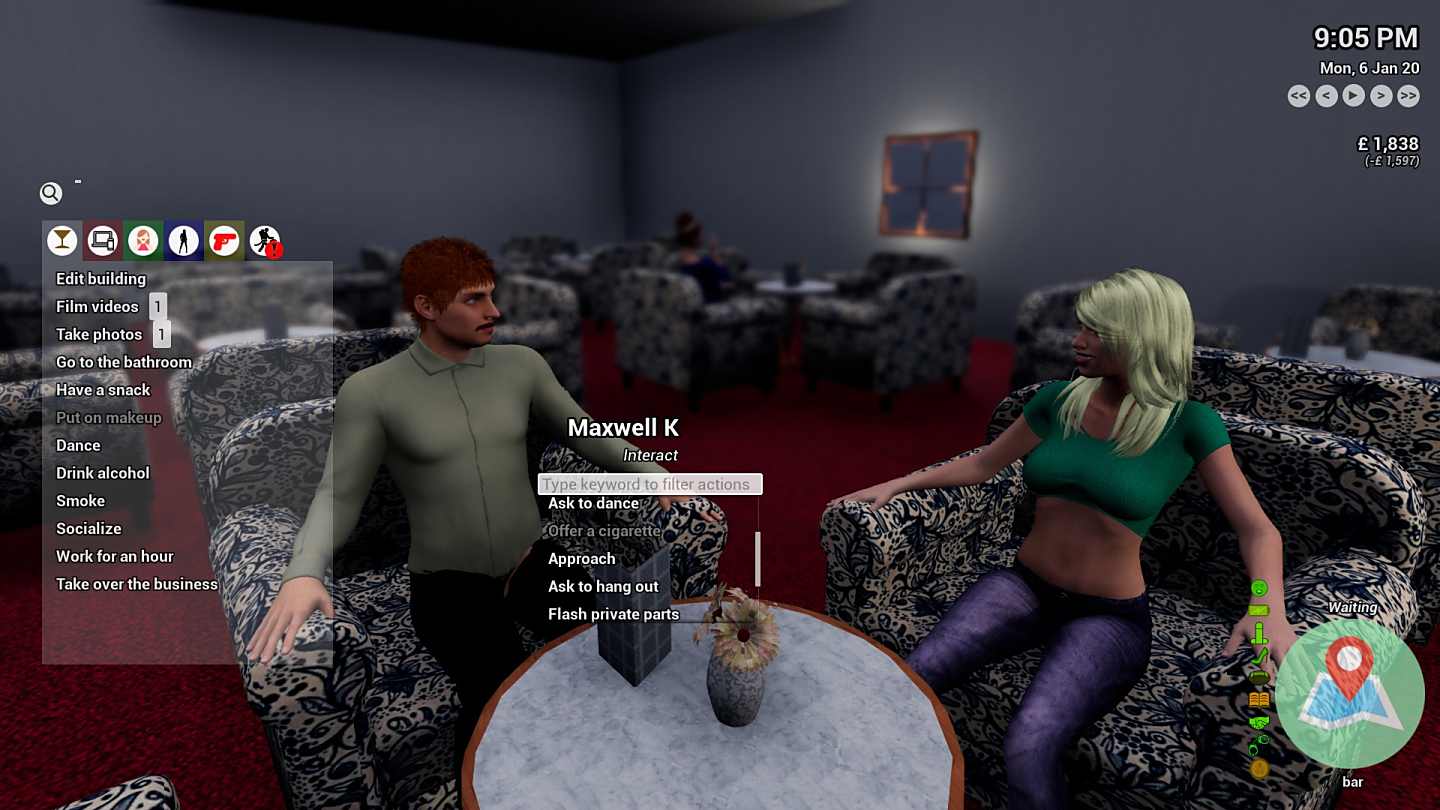 LifePlay is a life simulation RPG that allows you to play in 186+ real world cities. The game has extensive character customization and includes 632+ scenes, depicting life situations where your choice matters. The 3D sex scenes have 250+ animations, accompanied by well-written erotica.
With a new update every 2 or 3 weeks since its first release in April 2018, the game already has a lot of playable content you can enjoy for tens of hours. It's also very moddable – click on "Third Party Mods" from the main menu to check out what modders have made, or check the Docs folder to start modding yourself.
The game covers many different fetishes, but all of them are optional and can be disabled / enabled depending on your taste.
–
Developer: Vinfamy – Patreon | Github | Wiki | Discord | Itch.io
Censorship: No
OS: Windows, Linux
Language: English
Genre: 3D game, Animated, Simulator, Character creation, Male protagonist, Female protagonist, Dating sim, Vaginal sex, Oral sex, Group sex, Corruption, Pregnancy, NTR, Incest, Rape, Netori, Business simulator, Prison, Bestiality, Transformation, Lesbian, Gay
Installation:
Windows:
1- Extract to desired location.
2- Click on "LifePlay.exe" to start playing.
Linux:
1- Extract to desired location.
2- Set LifePlay.sh as executable
3- Click on "LifePlay.sh" to start playing.
Note: Old saves from previous versions are always compatible with the latest version, but you have to manually copy the LifePlay/Content/Saves folder into the new version first.
Requirements To Run the Game:
(very likely you already have them installed if you've played other Unreal Engine games)
DirectX End-User Runtime
Visual C++ Redistributable

v5.1
– This update is the first Kink of the Month update for June, focusing on Interracial. Note that this module and all scenes and stats associated with it is disabled by default, you need to enable the module first in Esc > Mod Manager.
– 6 new stats for both the player character and NPCs: Black Fetish, South Asian Fetish, Arab Fetish, Latin Fetish, East Asian Fetish & White Fetish. For NPCs, these stats are randomized when new NPCs are first generated and will then affect the attraction to player (of course, you can edit them afterwards by going into Contacts > Edit Stats).
– The 6 new stats will affect the orgas m rate during adult scenes with people of particular races (alongside the stats for favorite positions and proneness to orgas m). They are also not static and increase a bit each time you or an NPC triggers an adult scene with a particular race (and a bit more each time you or the NPC reaches orgas m with that particular race).
– Make some adjustments to the current IR scenes so that the new fetish stats for NPCs stay consistent to what it says in the scenes themselves (racist person won't have high fetish for your race, the crazy fan won't have low fetish for you, the friend who asks you to be a bull only does so if their SO is actually into your race, etc).
– The makeInterested() function (which is used a lot for generating NPC couples and potential interested lovers for the player) now also makes the subject at least moderately interested in the target's race, not just gender.
– If you're dating someone of Arab or South Asian descent (possible also if Latin or East Asian, but much lower chance) and have slept with them (chances double if you were their first), there's a chance their parents will eventually give them an ultimatum to either get you to marry them now, or break up with you and marry a 'nice traditional' boy/ girl from a family they know all the way back in their home country. You can give in and get married, or convince your bf/ gf to become estranged from their parents (success depends on their attraction to you) or just let them leave you to please their parents.
– (This works as a follow-up for the 'bad ending' in the scene above, but also any other situations too) Any exes who are dating or married to a person whose race they're not all that interested in compared to their own attraction to you, may eventually miss you and intially ask to 'stay friends' and hang out, then depending on their perversion, fail miserably during the date itself and end up sleeping with you again.
– Once the above happened, they will occasionally call you over to satisfy their needs when their SO is away. If the Netori module is enabled, the SO will eventually catch you in the act, only to confess their own fetish for watching their partner get smashed by someone of your race.
– When you're hanging out with a single friend of a different race at home, they may catch a glimpse of a relative living with you and ask you to hook them up. You can either simply say the relative isn't available, or explain that the relative has said some pretty racist stuffs about your friend's race in the past so it wouldn't work. If the latter, the friend will suggest a blind date and promise to change your relative's racist attitude for good after one night of passion. If you say yes, the blind date's success depends on how racist your relative is and your friend's attractiveness and interpersonal stats.
– If the Netorare module is enabled and you're dating or married to someone of the same race, you may eventually discover their por n collection full of interracial stuff with a particular race. If you ask your SO about this, they will confess their long-held racial fetish but insist they've never cheated on you. You can then offer to pick someone of this race from your contacts or pay a big sum to hire your SO's favorite pornsta r earlier to fulfill this huge fantasy of theirs. If your SO is female and happens to be trying for a child, they may also make the ultimate request to not use any protection and try to get impregnated with a mixed child.
– If you're dating or married to someone of a different race (a race you have a fetish for) who has high perversion and at least a bit masochist (or you've already agreed to a open relationship), while messing around one night, they have a pleasant surprise for you as they invite some friends they grew up with to all share you.
– While at any stores that sell alcohol, you come across someone (whose race you have a fetish for) being a victim of a racist tirade from someone your own race. If you decide to stand up for them, they praise you as an 'ally' to their community and invite you to the neighbourhood party they're shopping for, obviously full of people their own race. Of course, you'll be a kid in a candy shop there and may end up with quite a few number exchanges or even some group fun.
– When hanging out with a friend of a different race and at least decent rapport, they invite you to their home where either their single sibling or widowed parent is proud to show off their country's traditional cuisine. If you praise their cooking and manage to engage in a passionate conversation about food with this relative (which requires either high interpersonal or high cooking yourself), your friend will eventually notice the chemistry, explain their relative's recent loneliness and offer to leave you two alone …
– Some bug fixes and minor improvements
Content Changed
This patch restores Non-Consensual, Corruption, Bestiality and Incest to LifePlay after the original author was forced to drop them. These modules will be independently expanded and supported further in the future by me, the Mysterious Modder, who is a third party not in any way affliated with, linked to or under any direction by Vinfamy.
In addition, for Vinfamy's Kink of the Month poll, again completely independently from the original author and without his permission or approval, I will do the following:
– Whenever 'Cowgirl' wins, I will accept ideas from the community to expand the Corruption module (both starts with C)
– Whenever 'Reverse Cowgirl' wins, I will accept ideas from the community to expand the Rape / Non-Consensual module (both starts with R)
– Whenever 'Doggy' wins, I will accept ideas from the community to expand the Bestiality module (because … dogs)
– Whenever 'Missionary' wins, I will accept ideas from the community to expand the Incest module
Patch Instructions
To install, copy the whole LifePlay folder from my mod into your LifePlay's game directory. If you then go into LifePlay/Content/Modules and see the folders vin_Corruption and vin_Base both in there, you know you installed the patch correctly.
Also, these modules are disabled by default, so you would need to go in game. Esc > Mod Manager > tick the ones you want > Confirm.