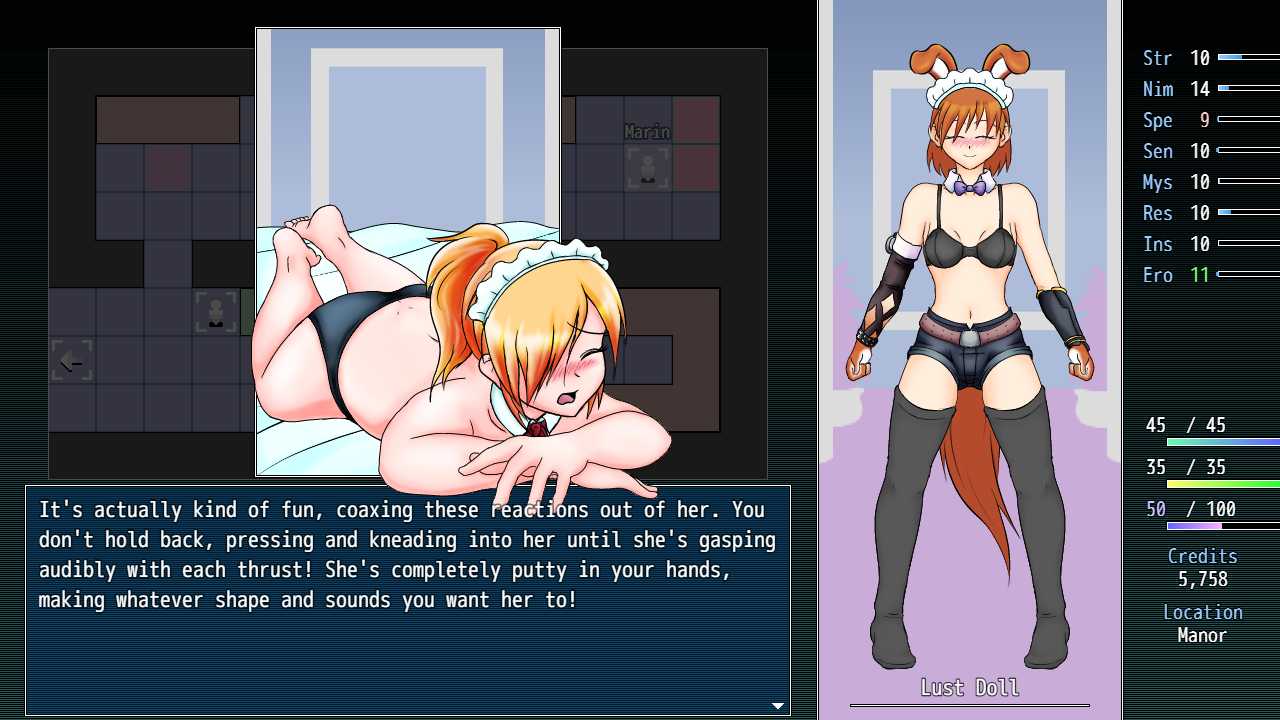 Lust Doll Plus is set in a post-apocalyptic semi-modern/future world, where you start alone and confused in a dangerous place, with literally nothing (not even clothes on your back), and go on to carve out a piece of the world for yourself. There'll be a main storyline to follow, but the emphasis is on it being an open world game where you just screw around and have fun.
There's a large emphasis on body configuration and gender identity. You choose who you want to be at the beginning, but your body may change over the course of the game, depending on your actions.
You'll also be able to control what kind of content you can see in the game. For example, if you wish for your character to have sex with only males or only females, or if you don't want to see a particular kink, then you can disable them.​
–
Developer: Indivi – Patreon | Wiki | Twitter | Discord | Itch.io | GameJolt | Newgrounds
Censorship: No
Platform: Windows, Mac, Linux, Android
Language: English
Genre: Rpg, Futanari-xxx, Masturbation, Sex toys, 2dcg, Character creation, Male protagonist, Sex toys, Virgin, Mobile game, Pregnancy, Creampie
Instructions:
1- Extract to desired location.
2- Click on "Game.exe" to start playing.

r45.1
-Changed to allow progression of Cassie's route without subbing to Fawn
-Fixed graphical issues with shibari while pregnant and futa
-Fixed beret being worn during Lin Lin revenge scene
-Fixed hair clipping issues with Top Hat
-Fixed Fawn being present in certain place when tied up in private dungeon
-Fixed being able to go to abandoned lab with Linda before you're supposed to
r45.0
-Added Temple in Forest Park Inner
-Added a bit to Cassie's route
-Added reclamation of Science Lab Tower second floor
-Added pregnancy for Linda
-Fixed boots over gimp suit when pregnant
-Fixed being unable to run after Camilla fight
-Fixed Mistyra being able to strip unremovable clothes
-Fixed losing to Linda in private dungeon not doing anything
-Fixed gimp suit erasing boobs
-Fixed bunch of Linda's postroute options being available ahead of time
-Adjusted Linda's bikini bottoms when worn on player
r44.1
-Added tribal (both sides) facial tattoos
-Fixed missing thicc graphics for certain crotch tattoo
-Fixed softlock if crotch locked while subbing to Linda in private dungeon
-Fixed losing to Linda in private dungeon being treated as winning afterwards
-Fixed bug where wrong dialogue plays on pillory stocks
r44.0
-Added a bit to Linda's route
-Added Linda to Island
-Added Linda to Private Dungeon
-Added pillory stocks with Cassie (player domme)
-Added cock sleeve to Naughty Kitty store in underground mall.
-Added fapping with cock sleeve and dildo
-Fixed soft lock in Camilla and Nymosa's extended bad end