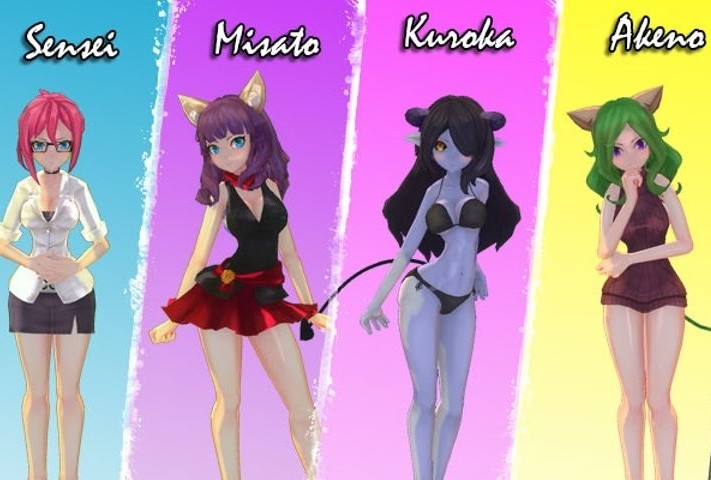 Monster Girl Tailes is a 18+ hentai adventure game based on harem anime where you find sexy monster girls and then seduce them into lewd acts.
Story
You are the newest student to the Monster Girl Hunter Academy. For as long as you can remember you have wanted to be a monster girl hunter, and now you've finally been accepted into the academy.
There is just one problem. You're a lousy fighter. Abysmal. The worst.
However, you have a secret talent nobody knows about. Every girl you sleep with falls in love with you. If only you could find a way to turn that to your advantage.
–
Developer: InterLEWD Creations – Patreon | itch.io | Twitter
Censorship: No
OS: Windows
Language: English
Genre: 3D Game, Male Protagonist, Action, ADV, Simulator, Dating Sim, Monster Girls, Straight, Big Breasts
Installation:
1- Extract to desired location.
2- Click on "Monster Girl Tailes.exe" to start playing.
v0.33.0
Improvements
Graphics: Player's genitalia will respect selected skin colour i.e. Brown or Tanned
Graphics: Place interaction icon in front of founder statues so it is more easily seen.
Level Streaming: Upgraded and fine tuned technology responsible for streaming levels at play time.
Rescue Me: Game Menu option added to teleport player back inside player bounds or above ground.
Performance: Miscellaneous changes to increase and maintain frame rate
Bug Fixes
H Scenes: Kuroka's service H scene works again.
Spawning: Player now spawns in correct position on start of new game or load game
Spawning: Player should launch into the sky less often after spawning.
Graphics: Greenfen Forest terrain renders grass, dirt and leaves again
Known Issues
Camera clips through characters and terrain.
Girls hover above ground.
Tails clips through player and monster girl characters.
Player's run animation looks weird.
Player's legs look too long.
Water flickers in Fast quality mode.
Kuroka's Facial Expressions do not work.
Kuroka's Boobs clip through clothing when moving sometimes.
Yuki's does not start the race or move at all.
Sometimes character's legs bend in ways they shouldn't.
Legs and feet are sometimes twisted in H scenes.