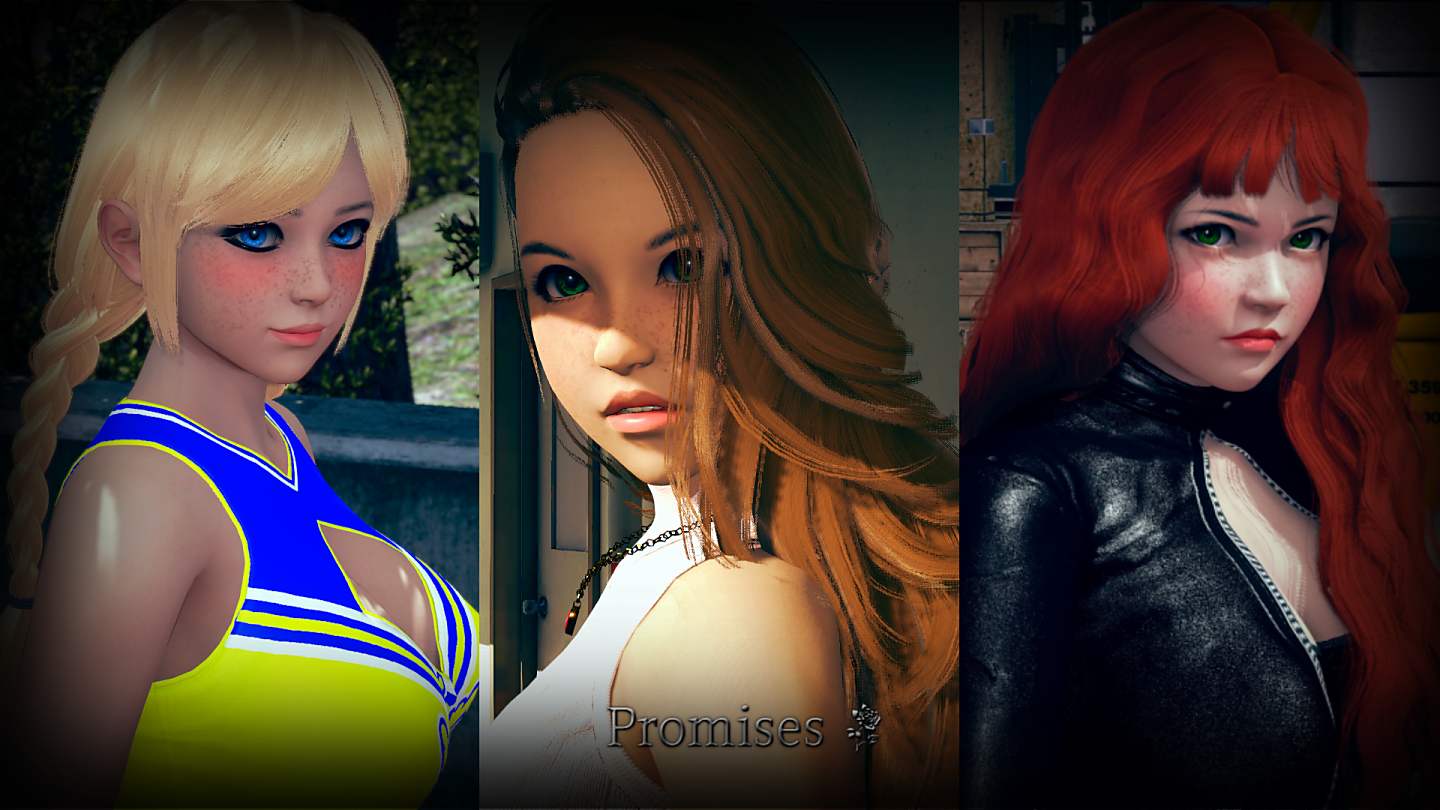 Promises is a story-rich AVN series which revolves around the MC in the present and, as the seasons progress, a series of background characters from the past which have big influences on the present life for the MC. You play as the main story MC (Default name: Tim McSorley) A college sophomore who recently moved to the crime driven South Lexton City. Despite being an undercover agent for a secret heist organization you want nothing more than to just relax in your warm comfy bed. With a distant past you can't seem to remember much about, you make your best efforts to live a normal life in the present. But a new arise of choices and situations aren't really making that goal easy. How you choose to balance your current life is all up to the current choices you make in the present. Changing choices and promises you made in the past however aren't possible… or are they?
–|
Developer: Tiimx Studios – Patreon | Itch.io | Discord | SubscribeStar
Censored: No
OS: Windows, Mac, Android
Language: English
Genre: story rich, romance, animated, incest, slice of life, male protagonist, female protagonist, action, oral sex, groping, choice based
Installation:
Download and Extract
Android: Download, Install, and accept permissions
Notes: Some saves made BEFORE version v0.04f (v0.04e and earlier) will not load due to a major bug fix in v0.04f. This problem has been resolved and isn't planned to happen again for future releases
v0.21e
-Added Episode 5: A total of 3000 Images + 360 Animations
-Fixed a major multi-game persistent variable bug (requires game restart)
-Improved prologue and early game images/animations
-Added dialogue box opacity toggle
-Added Animated/Static Image toggle (ep5 scenes and newer)
-Added some ambient sounds and slider (ep5 scenes and newer)
-Fixed missing club scene not playing for Ep3 non-Molly hangout path
-Fixed Main Menu ESC key save/exit popup bug
-New Music
-Reworked Main Menu
-Improved animation transitions, looping, and overall quality
Beta to Public (v0.21e) Changelog:
– Additional music reworking
– Adjusted early scene transitions
– Minor script adjustments
– Minor render adjustments
Note: This update involves major script changes and choices on older saves may not work. To prevent flag errors in game, please start a new season.