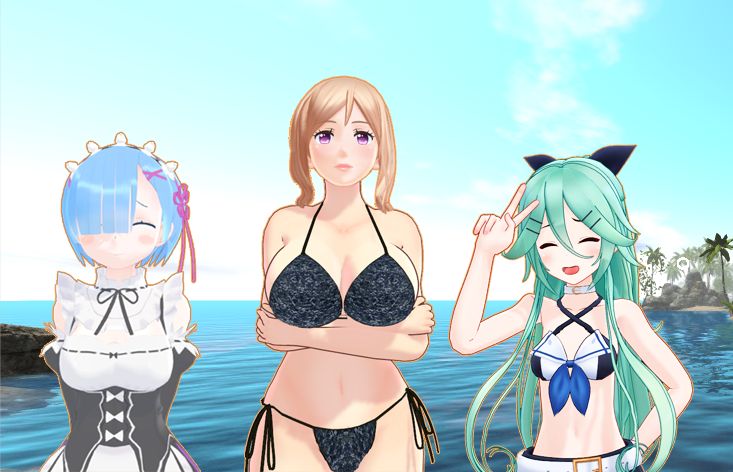 Your family is enjoying a holiday criuse when suddenly a big storm appears and sinks your ship. You and your relatives drift to a strange island and your new life starts here!!!
In the game, in addition to trying to survive as many other survival games, you can also fight with monsters and bosses to level training like a RPG game! The world of the game is a magical world, so there will be miracles appearing.
Developer/Publisher: SEGameX
Censorship: None
OS: Windows 64-bit
Language: Engrish
Genre: 3D game, Animated, Adventure, RPG, Male protagonist, Incest, POV, Survival, Monster girl, Monster, Maids, Vaginal sex, Oral sex, Titfuck
Installation:
1- Extract to desired location.
2- Click on "R-Life.exe" to start playing.
v0.8.5c
Add Yuudachi to compass, you can easily find her.
Fixed sometime enemies stuck on walls, spawning on rooftops.
Mutants appear only in waves: 10-15-20.
Unlock new weapons without picking them up.
Shotgun damage increased.
Increase the range of the sound of Bonus. (H-Pictures search is easier)
Adjust some things…
v0.8.5b
Z-Event easier.
Reduce movement speed of some zombies in Z-Event.
Reduce ammo pick up time.
Add the enemies of Z-Event to the Compass.
Player run faster.
Fixed sometime enemies don't appear to complete wave.
Add locations to return to the island in the city.
Fixed Player's hand when holding a gun.
v0.8.5
Main Content: Z-Event (Location: School, Testing)
New Character: Yuudachi (Unlock her on Z-Event)
New H-Scene: Yuudachi (+5)
New 5 H-Pictures: It was at school when the Z-Event was taking place. It's just a test for fun, I'll put it into the book in the inventory like on Island soon.
New H-Action: You can perform H when Yuudachi loses consciousness to save her. H while fighting to heal. (Need to unlock it first)
H-Voice: Yuudachi voice. (Moans, Fighting, Talk)
Mini game when H-Action with Yuudachi.
New Weapon: Guns (Only in Z-Event now)
Zombies: They currently cannot climb walls, so you can easily kill them by jumping to high places => Challenge yourself! I'll make them more dangerous in the future!
Fixed enemy running around in the air in Dreamworld.
Improved camera in Dreamworld, slower but smoother.
Now when you die in Dreamworld the progress is still saved.
Some other small things…
Notice:
Gun Supplies will be dropped from the sky to a random position in the city on certain waves, please pay attention!
The difficulty of Z-Event still needs to be improved, so I need everyone's help.
This build is not yet the full version of v0.8.5, because the project is now more complex than I usually divide the content into small parts to do then join them to make it easier. The remaining content is being resumed and it is about to be completed. It will take about 1 more week. In the meantime! Please try Z-Event and let me know your opinion on it so I can improve it better in the full version. Thanks