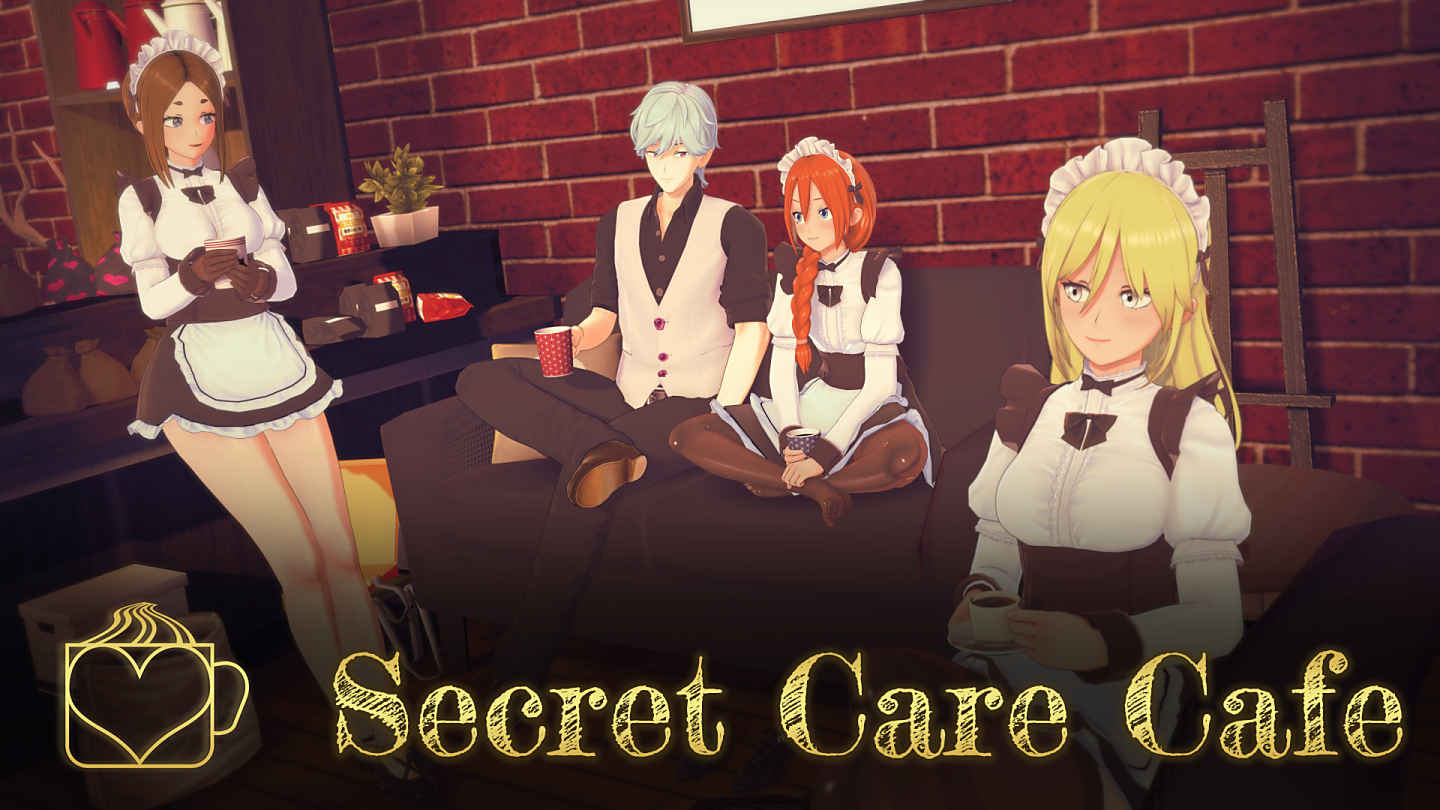 Everyday seemed like nothing was changing. Go into your cubicle, put in numbers to the sheets, prepare presentations, hope for bonus every quarter. Only to see your manager get all the credit for your work. Was it your fate to spend the rest of your days at the same place, being just an insignificant pawn in your own life? No!
You've had enough! With the help of your loyal girlfriend Cynthia, you took a loan, left your old workplace behind and opened a Maid Cafe! Cynthia and two of her good friends become maids that will help you with everyday struggles!
You can be the owner of a cafe where your customers will feel at home, have pleasant conversations with the maids and drink coffee in peace, while you learn more about your maids. If you spent enough time with them, they even might develop a romantic interest in you.
Or you can go with the naughtier option for your cafe. If you buy a special items in the shop and give them to your maids, you can o rder them to take special care of the clients. Ask them to meet with clients after work to know them better, help them with their issues or even serve them in a sexy way. That can even provide your maids with special benefits and unlock special interactions in the cafe with said clients.
Clients coming to your cafe will ask for their preferred drinks and dishes. Your job is to stock up on the items a day before while during the day you assign to each client a maid, preferably the one they like the most, and prepare the orders, while the maids entertain the guests, making them order more than they could ever eat or drink. Getting more and more tips for you is their specialty.
After each work day it's time to prepare for the next day. You can choose to spent time with your girlfriend to deepen the relationship or you can learn more about your new colleagues. If maids gain enough information from the client, you can look through client's book to learn more about guest's preferences and special abilities. Remember to stock up on the items and if you have some cash laying around, why not buy some special items for your new friends or for the cafe?
While talking with your maids you can encounter some sweet scenes, where you learn more about them, maybe a funny event where something stupid and cliche happens. But if your maids get lewd and your relationship with them is deep enough, scenes can get more and more risky and sexy.
Instead of talking with your favorite maid, you can ask them to meet up with clients, learning more about them. But if maids are lewd enough there will be a moment during the meeting with the client where maids will ask you how far should they go with a client. It's all up to you.
Your actions and decisions have an impact.

After you'll get comfortable with basics of the game, you'll unlock new maids for your cafe and special rooms where there are new ways for you and your maids to improve and serve the clients. Keep your cafe clean and your maids rested to avoid Bad Endings.
Random events might trigger after each day of work. This makes sure you will get different experience everyday.
Game has both NSFW (not safe for work) and SFW (safe for work) mode. Thanks to that option, if you are not interested in lewd content or if you just aren't in the mood right now, you don't have to worry about it popping out on you. SFW mode has some scenes changed but most of nsfw events just doesn't show up while SFW is turned on.
Hunt for specific events to fully fill the CG gallery by encountering them during gameplay! Buy and earn new skins for your cafe and maids!
–
Developer: Rare Alex – Patreon | Itch.io | Discord | Twitter
Censored: No
OS: Windows, Mac
Language: English
Genre: 2D Game, 3DCG, Adventure, Animated, Big ass, Big tits, Creampie, Groping, Handjob, Male Protagonist, Management, Milf, Oral Sex, Teasing, Vaginal Sex, Group Sex, Harem, Multiple Penetration, Swinging, Anal
Installation:
Extract and run.
v0.8.8
– added 2 new events = 1 new main story event and 1 nsfw Ame's chat event
– added new idle and invite animation for each girl (8 in total) to the bunny skin
– added Swimsuit Cynthia's Feet Work to the GH
– updated 4 icons in upgrade menu that was just a copy of other icons
– few changes so skins should load faster
– [mac] changed the splash screen during installation
– fixed a bug with Cynthia's GH and camera animations discrepancy
– fixed a bug that introduced Fitness Addict even if you didn't see Jock's aftermath event or Cynthia didn't have Triangle Pin
– fixed a bug skipping Cynthia's first talk event if you saw it in previous saves (you might have to see it again to unlock it in gallery)
– fixed a bug that skipped showing Sergil's and Amber's Take Out cg's in gallery like it is skipping the hidden cg if it's not discovered
– fixed a bug making Cookie's first time with Sergil animations being out of order
– fixed a bug with wrong font for chocolate cake in auto buy
– fixed a bug with invisible characters in sfw rooms if you had bunny skin on
– fixed a bug that made Rai sprite jump around the scene in event where Cookie finds her video
– fixed a bug Gyaru Guy and girl speaking out of order
– fixed a bug in first Cynthia event where Sergil's mouth was not connected to his body and fixed characters icons
– corrected a lot of typos