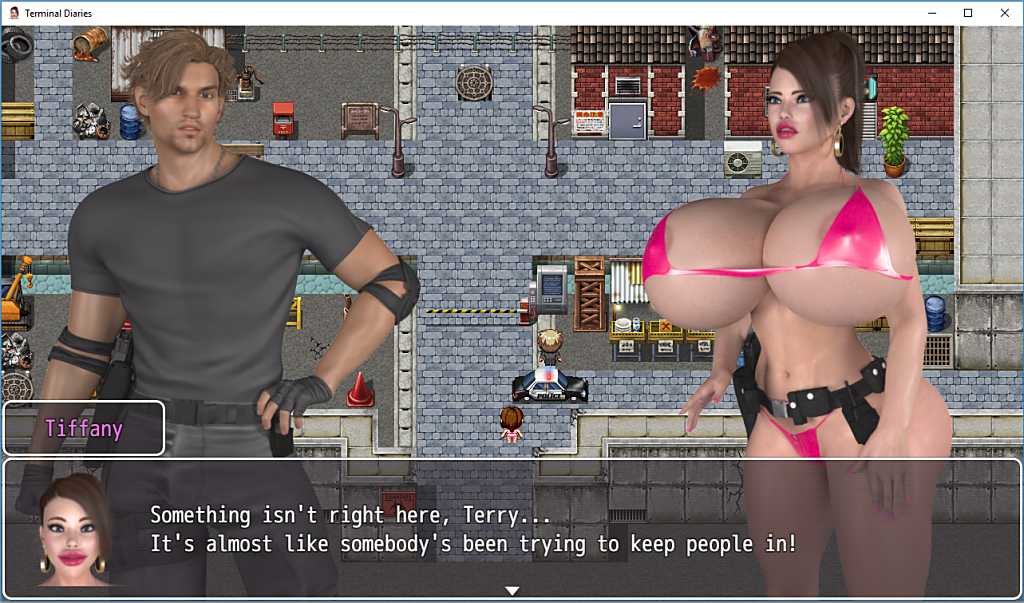 Terminal Desires is an erotic, zombie themed, role playing game made with RPG Maker MV. Set in a fictional version of Earth where incredibly skimpy outfits and huge proportions are the norm.
Control police officer Tiffany Neil as she and her partner investigate a mysterious distress signal from the small, secluded town of 'Ashton Lake' and uncover the horrors within.
Explore the town, face fearsome enemies in combat, make important story defining decisions and sexual choices. Will she submit to her every desire? Or will she resist and uncover the shocking truth hidden deep within the town's walls? Her fate, along with the town's is yours to decide…​
–
Developer: Jimjim – Patreon | Blog
Censorship: No
OS: Windows, Mac, Linux
Language: English
Genre: Oral, Female protagonist, Vaginal, Very Big tits, Very Big dicks, 3dcg, 2dgame, Adventure, Combat, Monsters, Impregnation, Zombie, bestiality
Installation:
1- Extract to desired location.
2- Click on "Game.exe" to start playing.
PASSWORD: Fister
v0.09
[NOTE #1: Remember, you can skip through dialogue by holding "W". And you can hide the dialogue window with "Ctrl".]
[NOTE #2: Due to necessary upcoming code changes, v0.10 will require fresh save files. As such, there is no need to keep your saves from v0.09 or previous builds.]
*Added the remaining casino story content.
– 2 story scenes.
– 1 boss fight/sex scene. (Tiffany & Lara vs "The Fister" unique enemy type.)
– These scenes will be extended in v0.10 with additonal images.
*Added a new bonus 2D combat sex scene between Tiffany and a Male Zombie for Day 1-2. Illustrated by @flowerxl.
– 2D scenes can be enabled from the "Toggle Content" Key Item.
– This scene is a test to see how popular this idea is.
*Adjusted the layout of some rooms in the Penthouse Suite on "Casino – Floor 5".
*Fixed a bug where Tiffany & Debra could leave Jebadiah's Farm after securing Barney, without speaking to Jeb first.
– This was causing Debra's Quest to not progress properly, eventually causing the player to become stuck in the Pharmacy with her in the party.
*Fixed a bug where Tiffany could drop back down to "Casino – Floor 1" after defeating Andre on Day 2 and replay the initial scene + get free items.
*Fixed a bug where The 'Ziana' & 'Zandre' sex scenes on Day 3 was being incorrectly recorded as Human sex scenes.
*Fixed some typos and other minor bugs.
~~~ ANY v0.02a+ SAVES SHOULD BE COMPATIBLE TO LOAD ~~~
~~~ SIMPLY COPY AND PASTE YOUR SAVE FOLDER FROM v0.02a+ TO v0.09 ~~~