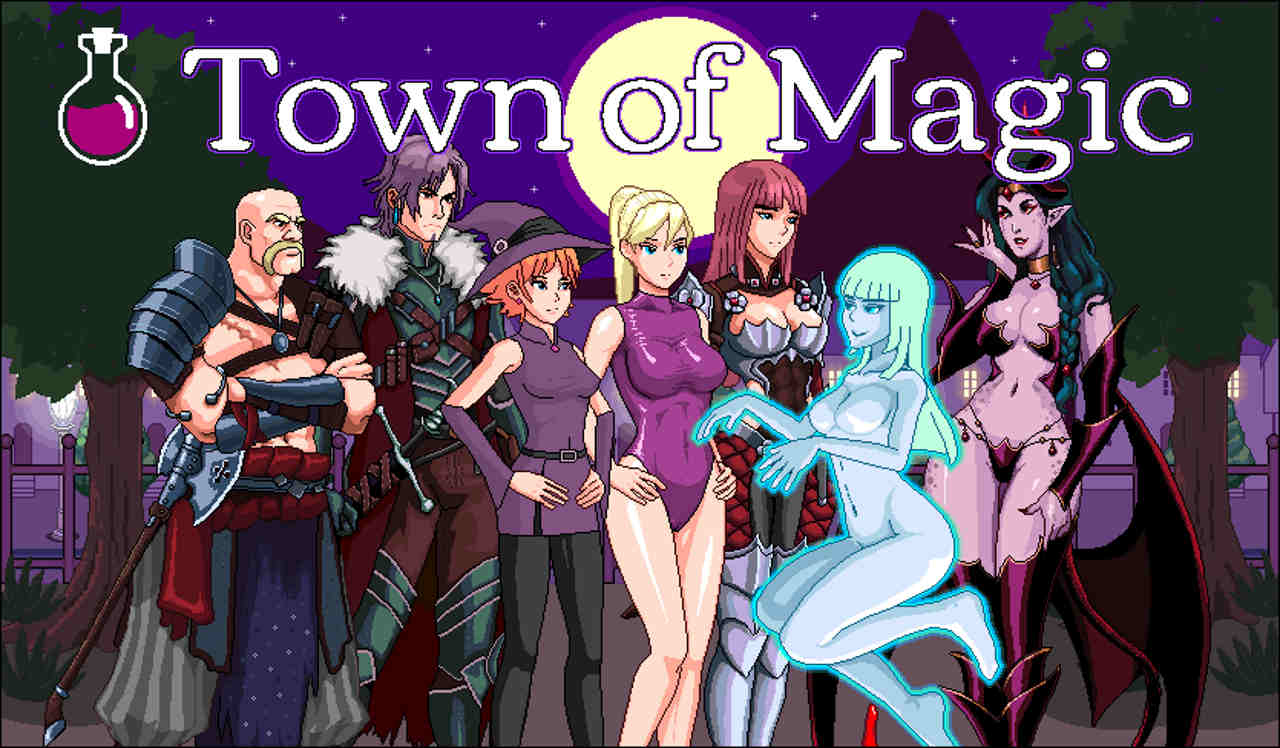 Town of Magic is a free adventure game about Celica, a young mage in training, and her magical and erotic adventures in the magical town of Agranor.
The game is an Adventure Visual Novel where you decide where to go and what to do. It also features a pixel art animated battle system!
STORY SYNOPSIS
You control a girl of mysterious origin named Celica. She has just arrived in the magical town of Agnaror to train to become a mage.
Upon arriving in town, you'll be greeted by members of a mage guild called "The Red Phoenix Guild." They will help you train and provide you with knowledge in the arts of magic.
Weirdly enough, you'll soon find out that the monsters are sexually attracted to you. But, of course, it could be something that has to do with Celica's past.
You will also meet interesting characters with questionable morals and intentions. Some of whom you'll become friends with. Some, something more…
In the magical town of Agnaror, things are not always as they seem. The town has a long history filled with battles against demons.
While on a mission, you'll meet a strange ghost. Little did Celica know that this ghost would change her life forever!
GAMEPLAY AND FEATURES
An adventure game with a combination of visual novel and RPG elements!
Our game has a rich story and interesting characters. It also features a "level up" system, equipment to find, and skills to learn.
Form Bonds and Relationships
Meet new people and form relationships that help you along your quest. The way you behave towards them will affect their relationship with you. Some may help you throughout your adventure and during battles.
Discovery and Exploration
Decide where you go and what to do! Then, explore the town, and discover new locations and events during your adventure.
Learn to possess characters
Later in the game, you'll also be able to possess and control various characters.
Change outfits
The game features lots of outfits to choose from. Change Celicas's style to one that suits your taste.
Gorgeous Graphics, Full Animations
Experience impressive pixel art during battle, events, and sex scenes.
Battle Mode
Outside town, you can test your magic on various monsters in battle. Be careful, though; some of them will try to have their way with you in combat!
Collect Magic Items and Equipment
Discover hidden items and equipment that give you various benefits in events and battles. Some of them may even change your character's appearance!
Multiple Status Ailments
Instill status ailments such as poison, paralysis, petrification, and more! But be careful, as enemies may do the same and leave you exposed!
Dynamic Day and Night
Time passes with every event and everything you do. Different events happen at different hours!
Combine and Create New Items
Use alchemy formulae to combine items and craft magic potions to aid you!
Learn multiple magic spells
Discover and learn different magic spells that will help you during your quest and in battle!
Level Up Skills and Abilities
Strengthen your magic as you level up. Learn new skills from equipment that will help you!
—
v0.62.011
– Updated Game Engine to Ren'Py 8.0.1
– Damage values are displayed on enemies
– Added 9 New Locations
– Improved Fortuneteller's relationship reading
– Revised XP gains for weak allies
– Magnified Skills and Relations for Big Buttons setting.
– GUI Code improvements
– Added New Enemy
– New Sex Events
– 7 New Events
– Added variation images for six existing characters
– New Characters
– Added a New World Map
– Increased Level Cap to 80
– Added Party Member Viewer