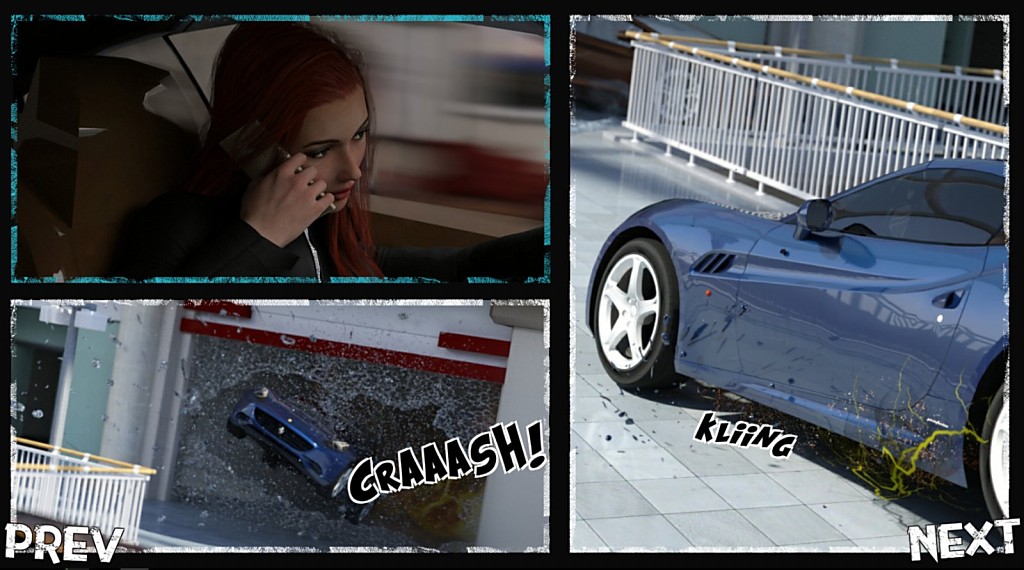 Agent Romanov is an active Agent of Heels and takes part in missions every now and then. Some of them end up slightly worse than anticipated, but she has never found herself in a situation she couldn't handle on her own… not until now that is.
Help Agent Romanov choose the right decisions (or not) as she discovers and interacts with a new life form.
See her freed from the struggle of a really… really invasive parasite or help her get more and more powerful as she loses what's left of her humanity. The story is yours; we just take care of the writing. The story will develop as the users ask for it, so you can make your own decisions inside and out the game. The story is obviously already written but nothing is carved on stone.
If you have a big enough chisel, you'll find the stone you need in this Patreon polls and posts.​
–
Censorship: No
Developer: beWilder – Patreon
Platform: Windows, Mac, Linux
Language: English
Genre: 3DCG, Adventure, Female Protagonist, Sexy Girls, Big Tits, Big Ass, Monsters, Aliens, Tentacles, Parody, Blackmail, Corruption, Exhibitionism, Female Domination, Footjob, Groping, Group Sex, Handjob, Lesbian, Male domination, Masturbation, Mind Control, Multiple Protagonist, Oral Sex, Possession, Prostitution, Rpg, Stripping, Superpowers, Teasing, Transformation, Vaginal Sex, Voyeurism
Installation:
1- Extract to desired location.
2- Click on "AgentsOfHeels.exe" to start playing.
v0.23
– Technical information
⦁ Version: 0.23.0
⦁ Weight: 4.33 GB
⦁ Weight Packed: 3.31 GB
– Content
This version is the continuation of the End Game phase for Good Nat, and the beginning of the same End Game for Corrupt Nat, including both sets of loyalties. From here on, the defining feature of the paths is who you've chosen to side with: Heels, Ivy and Maeda, or Solo (coming later).
Heads Up! While not necessary, it is advised that Corrupt Nat players, like Good Nat players were in the previous version, keep copy of a save of your playthrough thus far, as once the introduction to Mission #3's day begins in this version, you will be kept within event line until the conclusion of the Mission for all future versions.
⦁ [SPOILER] 3 new Main Story Scenes for Corrupt Nat, for those who have stayed loyal to Heels. One is a short reintroduction to the main story, kickstarting the Mission #3 and acting as a notice to players to ready for the End Game. Nat's Mission #3 kicks off with some worry as she deals with internal affairs. She's got to get back on her feet long enough to get the job done, but with time not on her side, she'll need some new tools for the job, and she'll get them.
⦁ [SPOILER] 2 new Main Story Scene for Corrupt Nat, for those sided with the villains. Maeda has found himself on the backfoot in a dangerous game, and he's only got one chance to escape his fate. Luckily, he's been working an inside source, so what will Nat do when push comes to shove?
⦁ [SPOILER] 1 new Mission #3 Scene for Good Nat, picking up where her last encounter with Scout left off. A detour on the way to HQ is a risk, but its needed, because without every tool in her arsenal Heels is in real trouble. A hero has got to rise to the occasion.
⦁ Added 3 playable days to Corrupt Nat's playtime (up to Day 25), matching Good Nat's and the Mission timeline. Corrupt Nat now also has the time needed to complete all side content and exploration at an easy pace before Mission #3 automatically begins. Please note, Bad Nat has no additional content, or time.
⦁ 71 new CGs, ~28,400 words of new text.
– Features
⦁ This version contains the first scenes in the preamble build-up to Mission #3 for Corrupt Nat and continuing our End Game phase for the Good Nat path. (Bad Nat still to come). As of this version, we now have 2 of the 3 Nats we've come to know and love toeing the line on the opening of the Main Mission #3 action.
⦁ 2 New Outfits, including 1 new permanent looks to see Nat through to the final stages of the game. Nat's Good/Corrupt/Bad qualities begin to take second priority to her choice of allegiances as we reach the climax action of Mission #3 now for 3 of our 4 distinct combinations of paths.
⦁ [SPOILER] The birth of an icon is complete! The Black Widow rises!
– Community Feedback
⦁ We've taken another short list of typos down from eagle-eyed players who have reported them. We've updated about half a dozen scenes with minor fixes, as well as fixed a few broken portraits as well. There are of course, countless more to find and correct, more than any 2-man team can completely quality control. If you find more, please let us know so we can attempt a future correction before we reach the end of the game's development. Thanks to all those who pointed these out to us!
⦁ We've received word some time ago of some potential errors in scene conditions, specifically on the Good Nat path post Mission #2, where some Bad Nat exclusive (and mutually exclusive with Good) scenes play between Good Nat's. We suspect this is due to the player's ability to chance paths during Mission #2, but so far we have been unable to recreate the situation on our end after fixing a similar issue in a recent version. We're on the lookout for any sign of this bug, so please aid us with community feedback if you find this is happening to you.
– Known Issues
⦁ There is an issue with Mac OS's Catalina which is not addressable by us on the developer side, but can be worked around on the user's end. "Problem is specifically with the guardian system that won't let un-noterized applications run on Catalina. The solution is to chmod -R 777 "/appdirectory/" from the terminal as the application did not have the executable flag set. (Example: chmod -R 777 ~/Desktop/AoH_023_Mac). After this guardian catches it and control clicking on the app lets it be opened." Repeat: Then you've got to CONTROL+Click (not double click like normal). That should allow the app package to run, if not, please tell us!
⦁ We have one Known Issue with the Gallery UI which will be taken care of in future versions, when time permits. The scenes listed in the UI all come with a colour coded icon in the top left which denotes which version of Nat it corresponds too (Standard/Common path, Good, Corrupt and Bad). However, for now this icon is only denoting Standard/Common for all scenes, which will need to be manually fixed for each scene in future. For now, the scene name text label denotes which path the scene should correspond to.
⦁ There is a known issue involving the main story and conditions on the Nat character paths. If the player ignores the main story to the point they miss completing Mission #1 (Day 5ish start) by the time Mission #2 kicks off (Day 12), they will be stuck in a limbo state of having missed the main plot of the game. We will be resolving this minuscule player experience in future versions, possibly with a Bad End since Nat has purposely ignored all story actions for weeks, until after it's too late to resolve the story. Anyway, a heads up on it, try not to do that alright?