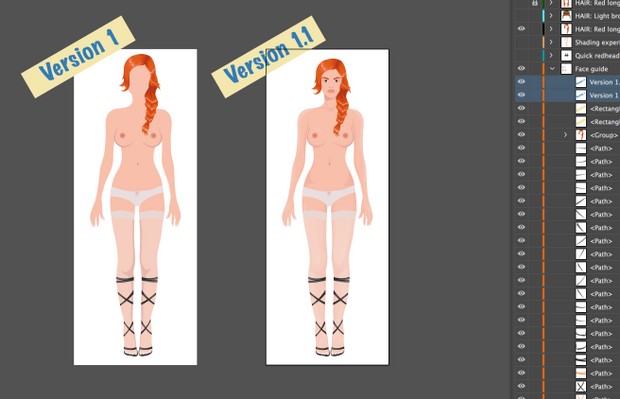 Female Agent is the story of a Western intelligence officer sent undercover into Bangkok's red light district. There she has to strip, suck and fuck her way towards catching a dangerous international terrorist.
Developer: Crushstation
Censorship: No
Language: English
Genre: Secret Agent, Undercover, Sex, Brothel
v1.4.9
Bugfixes by Hyneman and Tommygun
This degree gotta mean something – Fixed a bug which made huge one-time XP gains to work incorrectly – including the situation when all degrees yielded the same +0 in Law/Psychology/Accounting, among other things.
There are other poses, you know – Agent now gets more XP in sexual skills from partners in serious relationship – and less XP from one night stands.
Bigger is better – Agents with E cups now get more XP in Titfuck than their less-endowed colleagues.
She knows her business – Agent now gets XP in all relevant sexual skills during Kink Vignettes and other sexual encounters with different NPCs. (excluding operation Lioness for now)
Partner counter – Fixed a bug which allowed for constant increase of partner counter in LRS vignette. Thanks SuperMaxo for reporting it on Bitbucket.
Zombie dad – When parents are seperated (dad is dead) and the player changes the parents to together, dad stays dead. Fixed: added some logic. Also made the 9/11 dropdowns appear correctly.
Unknown girl variables in Wet T-shirt contest – Fixed it by adding some logic. Thanks Tommygun
You know how I can tell if a 18-year-old girl is lying? When her mouth moves – When selecting no drug use, you could still get a stoner boyfriend in ther relationship tables (you liar!). Cause: partner selection widget not working correctly. Should be fixed
Give me "F"! Give me "A"! – University cheerleading section has been slightly reworked: Agents get correct amount of XP and Canadian Agents have a correct probability to become cheerleaders.
Where is the farm? – Location of Camp Peary is now correctly shown as near Williamsburg, VA. Thanks to the reporter on Bitbucket.
Syria posting bugs – XP is now correctly gained for Agents in Syria. Cause: faulty calculation of a variable.
I'm not that old! – HECATE now correctly identifies Agent's age. Cause: wrong variable set. Fix: changed the variable.
…neither is he! – Game now correctly identifies whether Agent's first boyfriend is older than her or not. Cause: faulty logic. Fix: added a variable tracking boyfriends' age
There's always a chance – Fixed a bug which allowed 0% success rate on one of the rolls. Cause: faulty conditions in dice roll calculation.
I dare you – Fixed a bug which set extremely low (or high) initial Daring values for Agent. Cause: missing brackets.
Magic drinks – Fixed a bug which allowed Agent to drink alcohol in Cathouse which was ordered back in the Corinthian. Cause: variables had old values. Fix: reset the variables. Thanks Yorath for reporting this on Bitbucket.
Stamina bug – Fixed a typo which showed wrong text snippet for Operations Officer recruits with Stamina = 1.
Header bugs – Fixed several minor bugs in headers.
Gap year time travel – Time progresses correctly now for Surval graduates taking a gap year. Cause: a typo in header.
Ave Lingua Latina – Agents who were studying law have regained the ability to show their knowledge in JTF briefing. Cause: legacy code. Fix: updated code.
Gamer girls rule – Fixed a typo which prevented Agent to gain XP in "Video Gaming", the most useful skill there is.
Elite university applications – Fixed typos which applied wrong modifiers to high school cheerleader and working poor Agents when they attempted to enroll at elite universities.
Money is time – Fixed a typo which made Agents with an allowance in university to lose free time, instead of gaining it.
Naming bugs – Fixed a bug with Surval roomie names. Cause: missing commas in an array.
Rock is for life – Agents now gain XP when they play in a band in university.