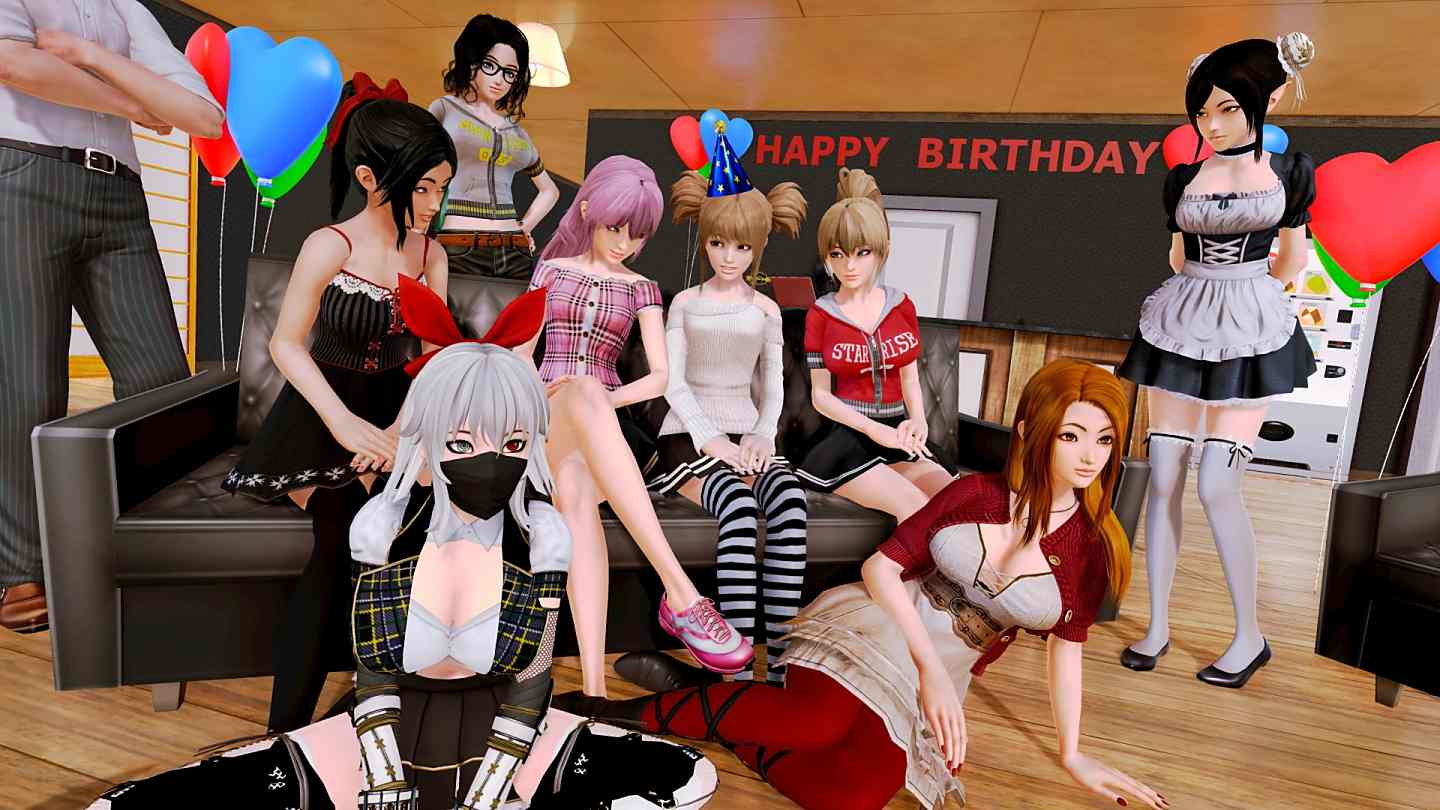 You've inherited the "Harem Hotel", a hotel where 8 beautiful women stay! Upgrade your hotel, build friendships with girls, follow their stories, and train them. Harem Hotel includes fully animated and completely uncensored lewd scenes, an array of stats and traits to build and unlock, many outfits to use and unique characters and fetishes.
–
Developer: Runey – Patreon | Discord | Twitter | SubscribeStar | Wiki
Censorship: No
OS: Windows, Mac
Language: English
Genre: 3DCG, Male protagonist, Animated, Incest, Harem, Dating sim, Trainer, Lesbian, Urination, BDSM, Male domination, Female domination, Exhibtionism, Group sex, Creampie, Cosplay, Ahegao, Corruption, Lactation, Anal sex, Big tits, Footjob, Groping, Masturbation, Mobile game, Oral sex, Slave, Spanking, Titfuck, Vaginal sex, Virgin, Voyeurism, Sandbox
Sequel: The Toymaster
Installation:
1- Extract to desired location.
2- Click on "Harem Hotel.exe" to start playing.
Incest Code:
Input the code truestory on your pc in your room to turn Felicity and Emma (the cheerleaders) from "Clones" to "Twins."
v0.15.1
Various bugfixes and polishes.
v0.15
Added a total of 64 scenes
Added the map to the pause menu
Redesigned the stats screens
Added 12 outfits to the store
Redesigned and polished much of the GUI
Remade the splash clip
Lin:
    2 Story Events
    Remade Repeatable Missionary sex
Added 4 outfits to Repeatable Missionary sex
Added Repeatable Cunnilingus with 7 outfits
Remade Lin's 13th event
Remade Repeatable Anal sex
Added 3 outfits to Repeatable Anal sex
Added 6 outfits to Repeatable Handjobs
Added 'Freestyle' sex
Remade the "Clean my room" option
Remade the "Lift your skirt" option

Jin:
1 Event
Nia:
1 Love & Slave route event (same event)
Kali:
    1 Story Event
Remade Repeatable Missionary sex
Added 4 outfits to Repeatable Missionary sex
Added 4 outfits to Repeatable Blowjobs
Remade 22nd event (anal introduction)
Remade Repeatable Anal sex
Added 4 outfits to Repeatable Anal sex
Remade Repeatable Thighjobs
Added 4 outfits to Repeatable Thighjobs
Added 'Freestyle' sex
Ashley:
    1 Story Event
Added a foursome to her repeatable content
Remade 6th event
Remade Repeatable Blowjobs
Added 5 outfits to Repeatable Blowjobs
Remade Repeatable Cowgirl sex
Added 5 outfits to Repeatable Cowgirl sex
Remade 9th event
Remade Repeatable Anal sex
Added 5 outfits to Repeatable Anal sex
Remade 19th event
Remade Repeatable Footjobs
Added 5 outfits to Repeatable Footjobs
Added 'Freestyle' sex
Kate:
2 Events
Maria:
    1 Story Event
Remade 13th event (Kali's thighjob introduction)
Remade 3rd event
Remade Repeatable Blowjobs
Added 3 outfits to Repeatable Blowjobs
Remade Repeatable Cowgirl sex
Added 3 outfits to Repeatable Cowgirl sex
Remade Repeatable Anal sex
Added 6 outfits to Repeatable Anal sex
Remade Repeatable Cunnilingus sex
Added 3 outfits to Repeatable Cunnilingus sex
Added 'Freestyle' sex
Hana:
        1 Event
Added repeatable missionary sex
Android:
1 Story Event
Remade many of her kitchen options
Remade 22nd event
Felicity & Emma:
1 Story Event
Autumn:
    2 Story Events