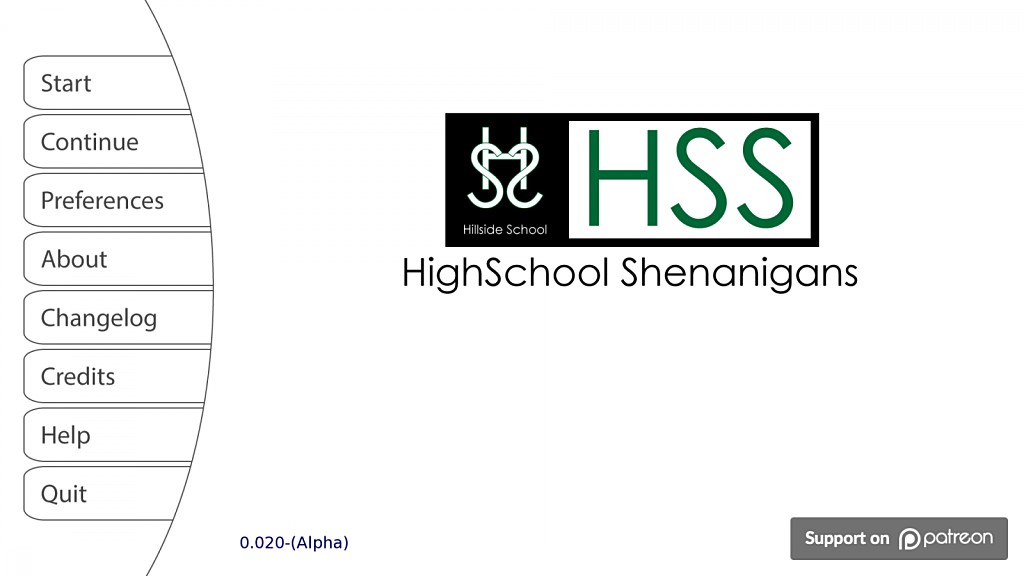 You're playing as "Marten" (pick you own name, of course) a end of high-school student who's about to have some new adventures during his last months of high school, the following summer, and maybe more. You're gonna decide who to hook up with, whether or not having a hot mom and a hot sister is gonna be a problem or an asset, how to get your motorcycle done before the summer, so you'll be able to go on that road-trip you've been planning for a couple years, and generally just trying to work out what you want to do with your life.​
Developer/Publisher: Studio Errilhl – Patreon
Censorship: None
OS: Windows, Mac
Language: English
Genre: Date Sim, VN, RPG, Incest, Mom, Sister, Fetish, Domination, Submission, Male Protagonist, BDSM, Love, Teacher, Teen
Installation:
1. Download
2. Extract to desired location.
3. Click on "HSS.exe/HSS.app" to start playing.
v0.1
281 renders
8 animations
Added / updated the intro logo (same as on Patreon / web)
Added a alarm-clock icon to the notification area of the phone
Added a camera shutter sound-effect
Added a cheat-mode for money (click on the money under the calendar to add $100)
Added a cheat-mode for the weather
Added a couch for Marten's room
Added a credits-page
Added a custom-styles file
Added a dynamic image-fetcher for the stats-animations
Added a evil/good choice for choice-menus (with graphics)
Added a few more options to the "Other" settings page in preferences
Added a few preferences options to the Preferences screen on the main menu
Added a finished bike-ride button (currently no action associated)
Added a hint for the event at the Cafe
Added a kitchen scene with… some new information and such
Added a new scene during intro / after skippable, when you've talked to Jules
Added a pan-image for the intro-talk
Added a PlayStore button to the phone (for future actions)
Added a search through all app-lists for the real-time search
Added a selected-setting for the stat-screen (colors the faces in when selected)
Added a semi-transparent background when using the phone (to minimize distractions)
Added a separate alignment stat for Marten
Added a separate custom confirm screen for the main menu, to be used for some choices (like fullscreen)
Added a starting point for dream-sequences
Added a way to buy the couch and the wallart (WIP)
Added a way to swap between already bought wallart as well as buy new
Added an ease-in for tooltips, to prevent them being too jarring
Added an exit from the garage location
Added an outline to the money-indicator below the calendar
Added Anne stat figure-rotation
Added badges / thumbnails for some choice-menus
Added Catherina stat figure-rotation
Added doors to the outside location
Added Juliette stat figure-rotation
Added Karen stat figure-rotation
Added Lilim and Aruru action figures to Marten's room (which will be expanded on at a later date)
Added map-icon to the UI
Added Marten stat figure-rotation
Added Miss Novak's latest iteration
Added missing night-time images for home-location
Added new graphics for Catherina
Added new graphics for Jules, Karen and Anne
Added new graphics for Marten
Added new graphics for Ron
Added real-life apps (games) to the store
Added red / green lock-icons on the achievement screen to make them easier to distinguish
Added side-images for Jules
Added some images for Karen and Martens scenes
Added the ability to "install" apps from the ingame playstore (needed for story progression)
Added the first bits of the updated "fix your bike" minigame
Added the first dream-event for Jules
Added tooltips to the achievement screen
Added wallart (different ones) for Marten's room
Changed the bathroom events to only happen if the weather is nice (basically to ease off a bit on the need for renders)
Changed the images in the upstairs frames to self-made art (might be some changes still)
Changed the tooltips to be dynamically displayed on mouse-movement
Cleaned up a bit of code in functions.rpy
Cleaned up some files, moved some screens to a separate file (all the phone-stuff)
Cleaned up the code for the in-game menu and position for items on it
Closed #5 – todo – add/change character level/system – deemed unnecessary
Closed #22 – todo – adding sorting options to achievements screen
Closed #28 – todo – add wallpapers for phone (closed with wontfix)
Closed #34 – todo – fix reflection of Jules during intro / upstairs – due to new GFX, no longer needed
Closed #95 – todo – rooms too dark – due to new environments, perhaps not such a big issue anymore
Closed #107 – todo – fix up the inventory (looks and functionality)
Closed #108 – todo – add search-bars for phone (contacts) and inventory – set as "wontfix" as seen as not needed
Closed #138 – Set up phone images for Catherina
Closed #175 – create rainstorm outside kitchen
Closed #176 – todo – look into placeholder functionality – currently on hold, and marked as "wontfix"
Closed #185 – todo – create a notification when receiving text-messages
Closed #192 – todo – finish the app-install screen
Closed #201 – Update help-file with instructions on using "b"-button to hide exit-arrows – no longer needed due to fixing the "h" (hide screens) functionality
Closed #202 – locking the bathroom door causing issues (currently removed the option alltogether)
Closed #204 – problem going outside when raining
Continued on the Catherina storyline
Continued working on Martens room and the new upstairs hallway
Disabled the panties in Jules' bedroom for this update
Enabled tooltips for choice-buttons
Finished the drone-flying minigame button layout (WIP)
Finished the look of the app-store, with content and randomized lists of content
Finished updating the images for Marten's bedroom
Fixed #177 – bug – sometimes opening the phone shows a black background, no icons
Fixed #182 – bug – "Marten" shows up during dinner events even when another name is picked
Fixed #183 – bug – working on bike in the evening transports you to shower
Fixed #184 – bug – "new message" icon-color doesn't trigger when receiving a new message
Fixed #186 – bug – phonescreens not closing properly when using the menu-button to close the phone
Fixed #187 – bug – time-skip didn't work on transition between day/night in Marten's room
Fixed #188 – bug – ability to click buttons in the bathroom while choice-menu was visible
Fixed #189 – bug – positioning / size bug for the phone-overlay at night-time
Fixed #190 – bug – room not loading during daytime
Fixed #191 – bug – timing when interacting with Jules in bathroom
Fixed #193 – bug with the notifications after stats change
Fixed #194 – bug – clicking sink while at toilet errors out
Fixed #195 – bug – no exit-arrows after kitchen spill-event
Fixed #197 – bug – "rain inside livingroom"
Fixed #198 – switching from night to daytime in bathroom crashes the game
Fixed #199 – wrong images for bathroom during nighttime
Fixed #200 – bug – Martens bedroom doesn't change when clicking from daytime to nighttime
Fixed #203 – sound settings in the preferences menu not working correctly
Fixed #206 – outside, doors overlaying rainstorm
Fixed #212 – leaving the toilet to go to the bathroom landed you in the livingroom
Fixed / Added a new gallery-image (01) (to match the updated intro-sequence)
Fixed a bug in the achievements screen where show/hide locked/unlocked achievements would show the wrong category
Fixed a bug in the bathroom where the lock function didn't work if you left the door unlocked
Fixed a bug in the bathroom where you could go (inside the bathroom) from the toilet to the whole bathroom, and get the "bathroom is occupied" message
Fixed a bug in the character's name/role-setup (missing "shortname" attribute)
Fixed a bug making the outside looking very dark when raining
Fixed a bug not letting you enter Jules' bedroom from the top of the stairs
Fixed a bug on the Alarm-screen (on the phone) where turning off the alarm didn't reset the time set on the clock
Fixed a bug where Catherina didn't take the money if you had more than 2000 when talking to her
Fixed a bug where finishing the bike didn't trigger the achievement
Fixed a bug where multiple hits for the same app would show more than once in the realtime search
Fixed a bug where the game was still looking for the "rainstorm"-variable
Fixed a bug where the prompt to pick up phone didn't disappear
Fixed a bug where the talk with Jules happened in odd locations (after intro)
Fixed a bug with going outside from different rooms
Fixed a bug with Marten's bedroom at night and going to sleep
Fixed a bug with the custom quit screen on the phone (wrong z-order)
Fixed a bug with the kitchen scene with Anne where it didn't update (so it repeated)
Fixed a bug with the location-map where you could go to Jules' room without the needed requirements met
Fixed a bug with the new bike-fix scenes (where switching from day to night or vice versa didn't work)
Fixed a bug with the phone-backgrounds causing alignment issues
Fixed a display bug on the custom main preferences screen (text alignment was off)
Fixed a minor bug during intro where the logo would show up repeatedly
Fixed a missing scene in the kitchen event with Anne
Fixed a position issue with the carkeys in the livingroom
Fixed a position issue with the overlay for the phone in the menu
Fixed a problem with the stats infoscreen
Fixed a random jump bug after clicking on the change-weather in the calendar
Fixed a size-issue with the achievement-screen, where descriptions spanning 4 lines overlapped the achievements
Fixed a small bug with the "I forgot my phone" menu, if it happened outside, it would not go anywhere
Fixed a small position bug in the choice-menus
Fixed a variable-name bug when starting the driving outside the home
Fixed an issue with bad weather in the garage
Fixed an issue with images going into Marten's bedroom at night
Fixed an issue with the buy wallart options which prevented you from swapping out the art if you'd bought all of the items
Fixed an issue with the livingroom daytime door to the garage (wrong light used when showing text or menus)
Fixed an issue with the new bathroom location (it didn't show up as it should – wrong assignment to a couple variables)
Fixed fridge / winecooler door-buttons in the kitchen
Fixed some issues going from daytime to nighttime in the livingroom
Fixed some issues with advancing time in the garage and outside
Fixed some issues with the choice-menu alignments
Fixed some issues with the in-game menus in Marten's room
Fixed some issues with the intro (missing in-game menu, among other things)
Fixed some issues with the wallart in Marten's room
Fixed some minor graphical bugs due to missing transparancies after changing to .webp for the graphics
Fixed some minor issues with the stats-page
Fixed some phone-screen bugs
Fixed the battery on the phone not losing power over the day
Fixed the call-screen
Fixed the nighttime bad weather functionality in the livingroom
Fixed the upper floor bathroom with outside rain if the weather is bad
Implemented Miss Novak's stats-animation
Implemented Ron's stats-animation
Introduced a new hint for the bathroom peeking
Introduced Lilim and Aruru (the demon and angel making up Marten's conscience)
Modified / rewrote the ingame (on phone) gallery code
Modified / simplified / added a notification for unlocked images
Modified internal folder-names
Modified Ron's and Catherina's story a bit
Modified starting relation values a little bit
Modified the choices-code a little bit to better cater for multiple bad/good choices
Modified the door in the kitchen (towards the pool) to work properly (open/close)
Modified the first info-screen a little bit, to have the close-button only available as you actually scroll to the bottom
Modified the function for saving, so the screenshot is now devoid of the phone (nothing shows but the screen itself)
Modified the intro-animation (shorter, smoother)
Modified the phone in the menu so it will hide the phone if it's showing
Modified the preferences screen (main menu) a little bit
Modified the say-screen to move the different nameboxes into the character definitions instead
Modified the stat-screen
Moved the money under the calender
Realigned the menu-text on the game-menu (before game-start)
Redid the livingroom graphics
Redid the Preferences screen on the phone
Redid the top menu icons for stats, cleanliness and map
Redid the upper floor door-buttons
Renamed a bunch of variables and location names
Reworked the choice-screen to function better with multiple choices and different styles
Rewrote a bit of the convo from the Internet Cafe, to better match the characters
Rewrote the intro a bit
Rewrote the text for the infoscreen
Started (added text) for a new intro-scene for Anne
Started converting all sprite-images to layeredimage
Started on new minigame – Drone flying (for spying on… you know)
Started work on a quick-move map (this is currently working fine, but for now just for Marten's house)
Started working on a new home for Marten and his family (Fully 3D)
Started working on Jules' tablet, to be able to use it for teaser-images and other content pertaining to Jules
Updated and fixed plenty of problems with Marten's house in-game
Updated Anne phone and other thumbnail images
Updated Bathroom
Updated events with relation-modifiers
Updated image-handling for screens, to be more dynamic
Updated Jules' room
Updated Karen's character / images
Updated Kitchen
Updated Livingroom
Updated Marten's room
Updated Marten's room (finished in current state)
Updated some stats and descriptions
Updated the Catherina event chain
Updated the code for the inventory-display, and fixed a few minor bugs regarding new panties picked up
Updated the gallery-screen and bathroom event with Jules with new graphics
Updated the stats-screen for the NPCs to be similar to the inventory-screen (WIP)
Updated Upstairs Hallway
Updated Upstairs landing (finished in current state)
v0.025
Added event-variables so only one event can happen per person per day
Added logic and variables for alarmclock (so it can be used, there just isn't a method for changing it)
Added max-stats for main NPCs (just the stats, the logic is not implemented yet)
Added that if you're dirty when going to bed, you add 10 to filth_val (regardless if you skip to next day, or sleep in normal way)
Added that you get dirty walking to school in bad weather and/or rainstorms
Changed all the graphics from .png to .webp – should definitely affect the overall game-size
Closed #39 – todo – expand on cleanliness in-game
Closed #136 – bug – rollback not working correctly – not able to reproduce
Closed #160 – bug – settime adding an hour in the morning – not a bug, intentional, only happening on weekends
Closed #172 – todo – create rain/bad weather outside livingroom
Closed #173 – todo – create alarm clock icon for the phone
Fixed #105 – todo – create an alarm-screen
Fixed #133 – todo – redo the wall on the upper hallway, and change image on wall
Fixed #134 – bug – Karen-events doesn't always trigger after deciding to meet up in the evening
Fixed #139 – todo – create phone-images for characters
Fixed #155 – todo – lightswitch in bathroom had small GFX-issue
Fixed #156 – todo – recreate phone-menu visuals
Fixed #159 – bug – icafe event chain
Fixed #161 – bug – rain stops during dialogue / choices outside
Fixed #164 – bug – multiple events on the same day
Fixed #165 – todo – Marten's bedroom in the morning was lacking the wallet (if not picked up)
Fixed #174 – bug – occupied bathroom at night not showing correctly
Fixed #178 – bug – no dissolve on Changelog in menu
Fixed a minor glitch with the "end of day" event, where the background wouldn't update to night-time
Fixed a minor issue where Ron's same-day visit didn't happen
Fixed an issue where you couldn't pick up the toolbox after completing that day's repair-events
Fixed an issue with time when arriving late to
Modified the preferences screen to use a hover-state on buttons to distinguish them better
Modified the preferences screen to use persistent variables
Moved the unfinished items from the 0.025 project to the 0.026 project on Github
Redefined persistent. to p.
Redid the game-menu (Load, preferences and so on)
Redid the Help-page
Redid the preferences menu in the main menu
Removed some superfluous bathroom lightswitch images
Set up pygame to check screen-resolution before allowing different windowed modes
Setup a choice before ending days
Sorted the contact-list on the phone
Updated the About-page
Updated the in-game help screen on the phone
Updated the preferences page
Content Changed
The patch switches the game from landlady / housemate to mother / sister, basically returning the incest version
Patch Instructions
Just plop the patch.rpy into the game-directory where you installed the game