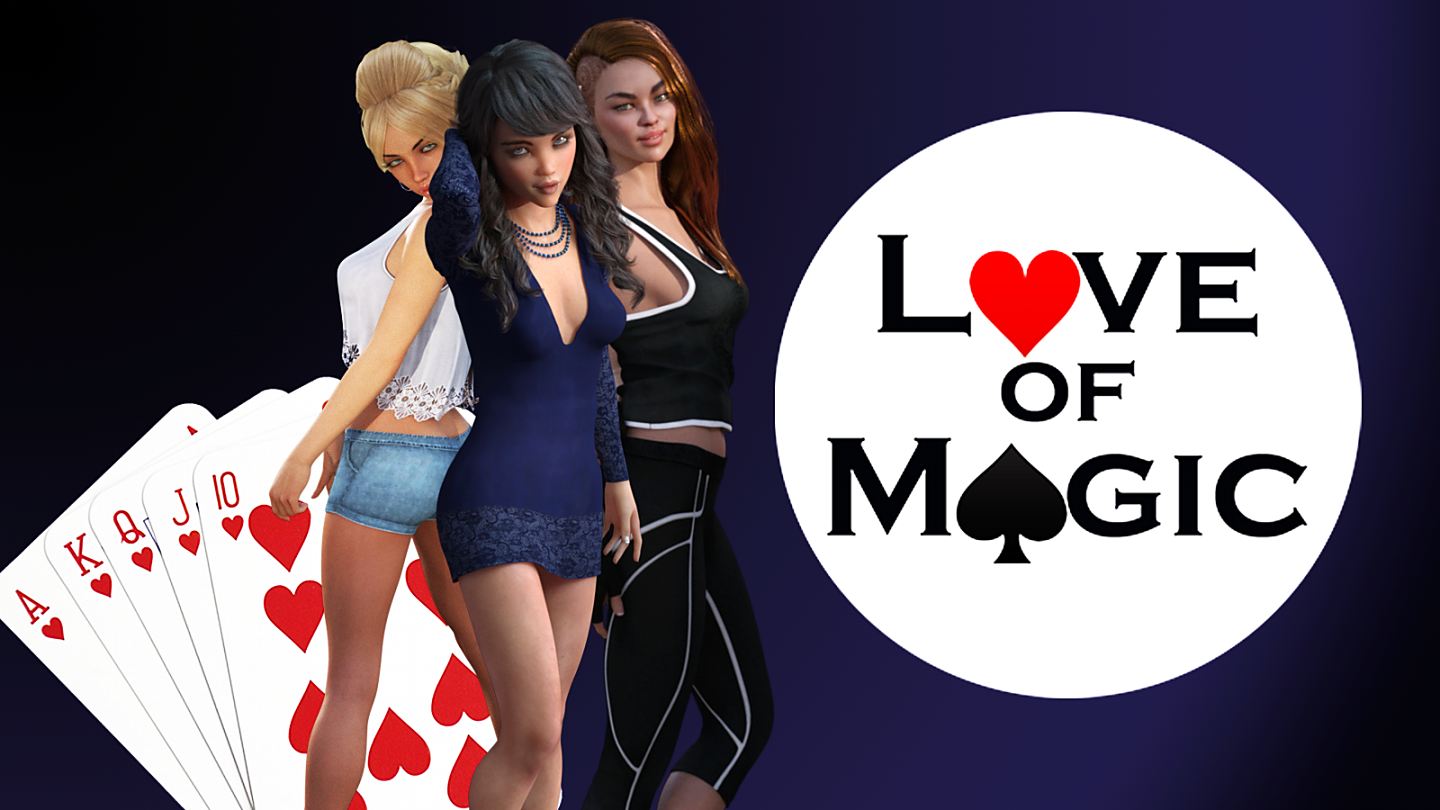 Welcome to the world of Magic, where demi-Gods drink in your local pub, and the great grand-daughter of King Arthur is your study-buddy. Fight your way through the Paths of Elsewhere, romance a variety of gorgeous women, and discover your destiny.​
Newly awoken to your powers and chased by undead creatures you arrive in Edinburgh to learn the arts of Magic. What awaits you, though, is a destiny 1,500 years in the making. Find true Love. Discover your Power. Play Poker.​
–
Developer: Driod Productions – Itch.io | Patreon | GameJolt | Website | WIKI | Discord
Censored: No
OS: Window, Linux, Mac, Android
Language: English
Genre: 3DCG, Animated, Male protagonist, Mobile game, Groping , Handjob, Tentacles , Teasing, Virgin, Oral sex, Vaginal sex, Anal Sex, Sex Toys
Installation:
Windows: Just download and click Love of Magic.exe
OSX/Linux: Download. Then chmod +x Love of Magic.app/Contents/MacOS/* (to give it execution privileges)
Android: Download, install as usual.
v0.5.14
– Typos and fixes
– Increased card movement speed
– Rewrote the Threads of Love 2 event
– Fixed Setting UI layering issue
– Fixed up how saves were generated in the computer to make it more consistent (always save *before* the conversation triggers, but in the sub-window if there is one)
– Rewrote the help text button and cleaned up the computer interface
– Finished up Diana's Threads of Love II event.
v0.5.13
– Fixed new cards not having alpha enabled
– Fixed size incorrect across resolutions
– Added support for collecting cards
– Added support for card visualizer
– Added support for setting / keeping card backgrounds
– Used card backgrounds in Elsewhere outing
v0.5.12
– Rewrote the Card rendering / dragging code
v0.5.11
– Added 3 new enemy classes (Hellion Guard, Lieutenant and Captain)
– Added a new Day 97+ purchaseable outfit for Emily
– Did some very aggressive speed optimizations for Addressables; let's see if it worked.
v0.5.10
– Fixed the Arachnids not triggering correctly
– Named the Defiler
– Dirty Dancing now advances time
– Enter advances dialog
– Typo pass
v0.5.9
– Fixed Bella not correctly granting you the gem
– fixed overlapping characters in Crowley + Bar tending action
– Cleaned up the main menu
– New enemy set (Arachnid Guard/Princess/Queen) for Elsewhere
– Redid Mom's character, added more animations and emotions
– New event with Molly (Studio day 80+)
v0.5.8
– Added a small recurring event to Black Rose II
– Added in the first part of Diana's Threads of Love event
– Bella's event at the Gym (day 92+ morning)
– Added a task progress tracker
– Added the option to have external wallpapers by placing PNG/JPGs into the savegame folder
– Fixed a bug where wallpapers wouldn't save out
– Fixed a bug where you can start a fight with Katie after losing Strip MMA on the same day
– Jump to day now includes a jump to bedroom
– Typos fixed