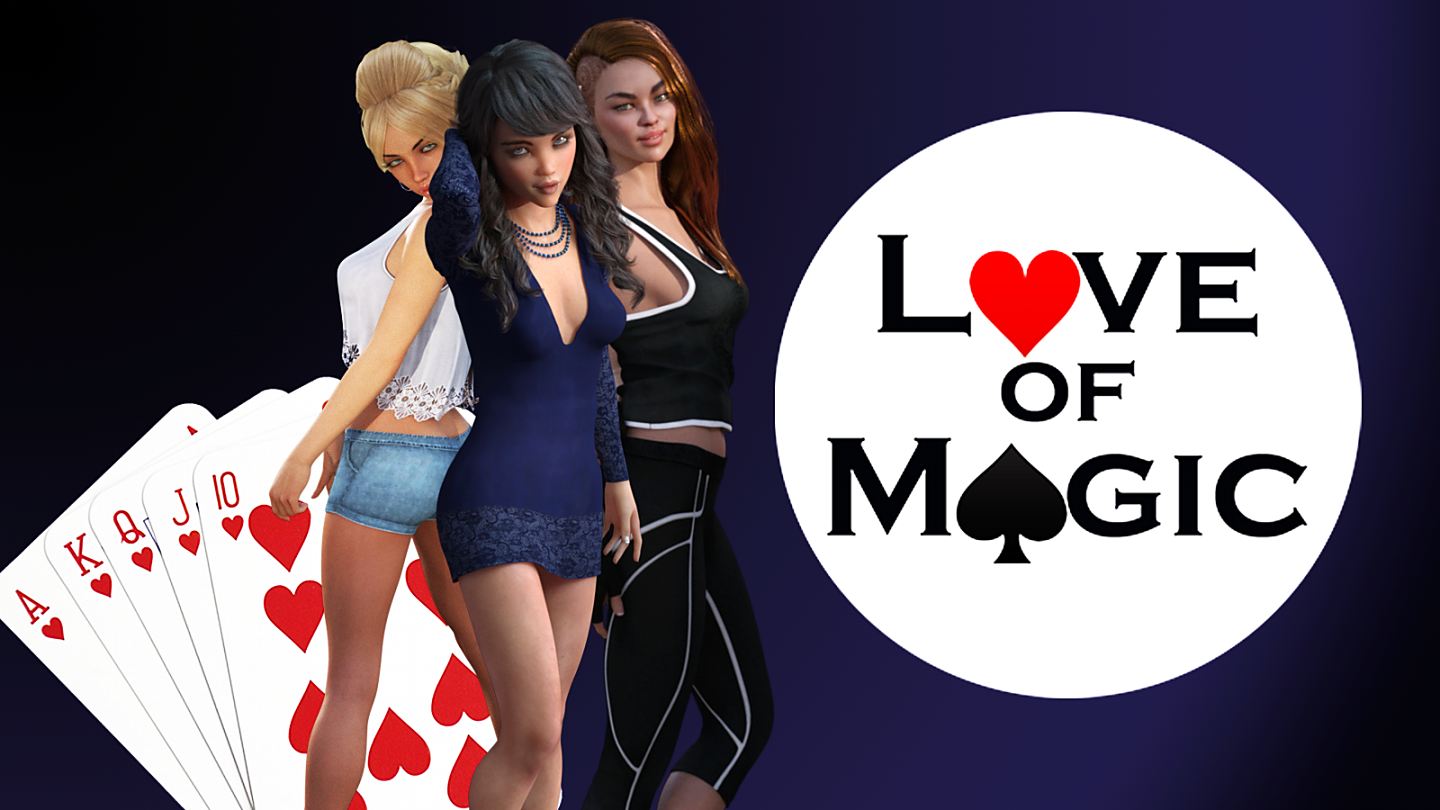 Love of Magic is an erotic Visual Novel sandbox RPG, inspired by Urban Fantasy and Slice of Life games like Persona.
Welcome to the World of Magic. A world alive with prophecy, where gods walk among men and the elvish princess of your dreams might just be your classmate. You've never believed in magic, but when the Spark awakens in you and you find yourself hunted by undead creatures you leave rural Maryland for sunny Edinburgh. You're looking for answers to your new powers, but what you're about to find is something far greater. Find your Companions. Experience True Love. Discover your Destiny.
—–
Developer: Driod Productions – Itch.io | Patreon | Website | WIKI | Discord
Censored: No
OS: Window, Linux, Mac, Android
Language: English
Genre: 3DCG, Animated, Male protagonist, Mobile game, Handjob, School Setting, Tentacles , Teasing, Virgin, Oral sex, Vaginal sex, Anal sex, Sex toys, pregnancy, animated, BDSM, creampie, group sex, harem, Masturbation, Stripping, Adventure, Combat, Fantasy, Humor, Romance, Sandbox, Turn based combat
Installation:
Windows: Just download and click Love of Magic.exe
OSX/Linux: Download. Then chmod +x Love of Magic.app/Contents/MacOS/* (to give it execution privileges)
Android: Download, install as usual.
v0.6.17c
– Fixed Xochi's onsen event not advancing time
v0.6.17b
– Typo fixes
– Added a cleaner trigger for Warthog complete conversation
v0.6.17
– Act X complete
– Day 182 now advances time
– Fixed glitched text at end of act, and updated it visually
– Typo pass
v0.6.16
– Day 182 (End of Act X)
– Character switch would use the incorrect character name.
– Fixed a visual glitch on character switch on widescreen monitors
– Fixed a visual glitch with Kath in Texas sequence
– Giving Katie the bottle of whisky now completes the Lancaster questline
– New post-texas event with Merlin
v0.6.15c
– Fixed incorrect outfits after rollback
– Typo fixes
– Added guards to stop the incorrect events from triggering after a partial Act X rollback
v0.6.15b
– Fixed a bug that might cause an Act End save to hang
– Fixed a bug where going through Texas second would re-generate an act end save.
v0.6.15
– Completed reordering Act X to fit better into the dual path direction
– New event: Texas attack
– New Event: Texas post-mortem
– New Event: Dresden post-mortem
– Ctrl no longer speeds through text while characters changing
v0.6.14b
– Fixed a bug where reloading the savegame after going through Dresden sequence would prompt you to play again. It is now setting the flag ACT10 at the opening of the Dresden sequence.
– Fixed a bug where MC's character was missing from the world map
– Fixed a bug where the two fixers headshots were hidden during Katie's first sequence
– Fixed a bug where Emily might not show during Honor Guard quest start
v0.6.14
– Dresden combat night
– Shifted Katie's story to begin day 167 instead of 168
– Disabled strategy game while I rewrite it
– Fixed up some minor typos and character overlaps for Dresden event
v0.6.13
– Dresden fight complete
– Act X has officially started, rollback initiated if you're on the dresden path.
v0.6.12
– Akane scene in Teahouse, evening after receiving her Shadowhunter gear
v0.6.11a
– Minor typos and quick fixes
v0.6.11
– New Dresden line event day 176
– New Dresden line event day 177
v0.6.10
– Typo fixes
– New fantasy book from Dylan: Steven Brust's Book of the Jhereg
v0.6.9
– Lingerie event for Molly, Dojo Late Night
v0.6.8
– Followup to Lingerie for Emily event, night time in Camelot Bedroom 1+ day after buying it
v0.6.7
– Fixed various clipping issues on the Dojo event
– New day 173 and 174 events for Katie
– New things to buy in the DressXpress store (lingerie for Emily)[no followup yet]
– New things to buy in the DressXpress store (clothes for Akane or Molly)[no followup yet]
v0.6.6
– New Late Night event in the Dojo
v0.6.5
– New Katie day 172 event on dresden path. Requires bottle of whisky from Chloe.
v0.6.4
– Katie event day 171 on dresden path
v0.6.3
– Katie event day 170 on Dresden path
– Fixed a bug in the title sequence if you were on day 166 exactly
v0.6.2
– Small event the next time you get RP after completing the For The Horde / BFG questline
– New music for King's Dragon
– Day 168 event for Katie (if on Dresden path)
– Day 169 event for Katie (if on Dresden path)
v0.6.1
– HonorGuard Kingdom event
v0.6.0
– Finished the VCR questline
– Added a new Kingdom Event (Anger Issues)
– New Flawless gem.
– Typo pass