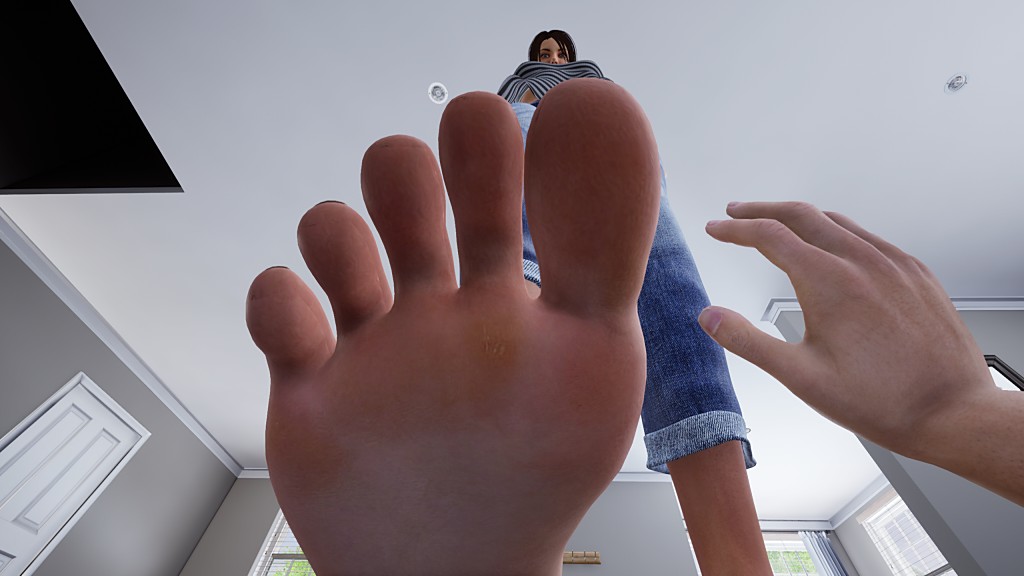 Micro Vacation is a 3D game based around the Giantess fetish. You play as a university student who on the morning he's supposed to leave for a vacation finds himself in his bed at a tiny size for an unknown reason. The player then tries making his way through the house collecting/crafting things and trying to get help from the now giant women who he lives with to try and get back to his regular height.​
Developer: Eezi
Censored: No
OS: Windows 64-bit
Language: English
Genre: 3D game, Giantess, Male protagonist, Vore, Foot fetish
Installation:
1. Extract and run.
v0.29
-Day/Night system.
-Three new positions for Sarah
-A new scenario.
-New items.
-More collectibles. [In-Progress]
-More sleeping positions. [In-Progress]
-Changes to the room you start it. [It now acts as a sort of tutorial]
-Scrap now spawns randomly.
-More things are now climbable.
-Cheat menu "L"
-Can change clothes in collectibles menu.
-Removed the fish hook item.
-Reworked climbing so it uses line tracing.
-Added physics to small objects.
-Grab item mechanic for small physical objects.
-Upstairs bathroom is finished and accessible.
-Sarahs room is finished and accessible.
-More videos for the TV to play. [In-Progress]
-Third person mode. [Experimental]
-Player censored option.
-Some settings now get saved.
-Blue dots above scenario triggers.
Bug fixes
-Fixed player animations not blending correctly.
-Fixed clothes clipping issues.
-Fixed the scene after exiting the vent playing twice.
-Turbo sprint now activates while running.
-Closes UI when in scenarios. [In-Progress]
-Player rotation now gets saved.
-Main menu settings now carry over.
-Fixed the falling animation loop.
-Adult content warning now 1080p.