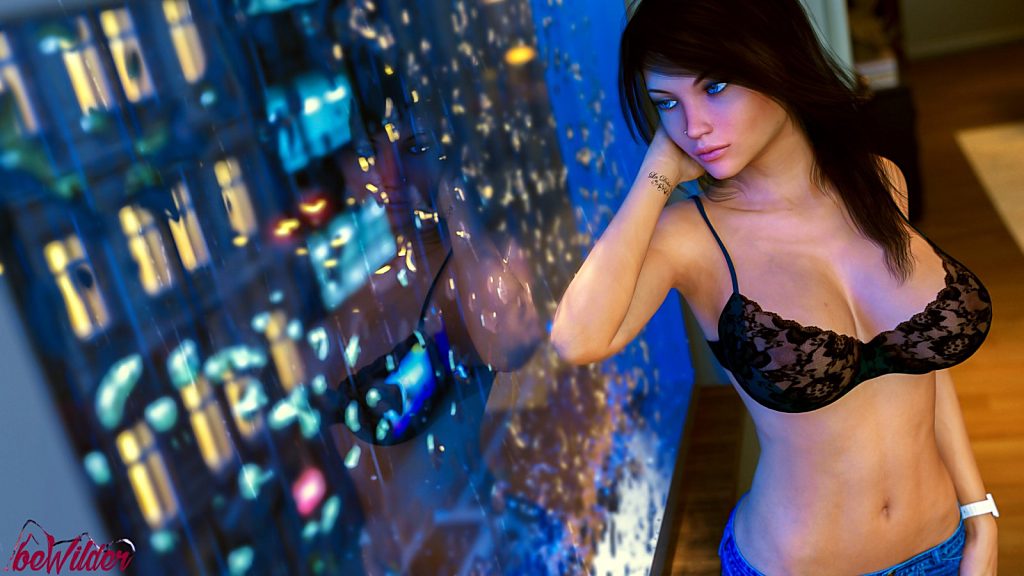 Our heroine Noemi (call her Noe, everyone else does) is the only child of an Italian (Florentine) immigrant to the USA, who is also a self made entrepreneur and chef. She runs her own restaurant in a small neighbourhood in suburban Philadelphia with her fiancé Brad and her long-term waitresses, who are like sisters to her. Life has been good to her… too good.
It all comes crashing down around her when her father is sent to an early grave and his secret debts come to light. As his only heir, they become Noe's and just like that she is under a burden of a 6-figure payment. That's not her only problem however as the biggest chain restaurant in town opens its dozenth location just across the street. She learns first hand how cut throat the food business can be at the hands of Mr. Baines and his chain "Salvatore's Deli".
Noe shows us just how hard it is to fight off crushing debt and a lecherous, treacherous rival restaurateur all while trying to keep her dream shop open. She's by no means alone however as her eternally optimistic fiancé, a trio of trainee waitresses (Kriem, Frankie and Kelsey), and her last remaining regular, the grizzled ex-cop 'Old Roy' all back her up in the head-to-head with the world.
Will she make it to her long awaited wedding day? And will she be the same person as she was when all this began? That's up to you now, isn't it!? C'mon by 'Little Toscana' and see what we're serving up!"​
–
Developer: beWilder – Patreon | Discord
Prequels: NTR Origins: Noe Way Out , NTR Origins: Sour Kriem
Censorship: No
OS: Windows, Mac, Linux
Language: English
Genre: 3dcg, big ass, big tits, cheating, creampie, corruption, exhibitionism, female protagonist, female domination, groping, handjob, lesbian, male domination, management, masturbation, milf, ntr, oral sex, romance, rpg, sexual harassment, teasing, titfuck, vaginal sex, virgin, voyeurism
Installation:
1- Extract to desired location.
2- Click on "Noemis_Toscana_Rebirth.exe" to start playing.
v0.16
This jumping update adds another set of 20 full days as Noemi in her life struggles, and that's more than just her debts. This time updating adds the first triple play to the Sal arc, drawing him up to 8 scenes, as his partnership with Noe continues to bare fruits. Meanwhile, the Main Story takes a single step forward after a long while at rest. It's one small step for us, one giant leap into dangerous new schemes aimed at Noe! We'll feed more of this beast in good time, but for now it's time to let other plans pay off!
– Technical information
⦁ Version: 0.16 ("Salivate" Release)
⦁ Weight: 2.71 GB
⦁ Weight Packed: 2.12 GB
– Content
⦁ 4 Full Scenes (for 73 Total).
⦁ 84 New Scene Rendered CGs (for 1049 Total)
⦁ Added 20 new days to the playable game time for True Mode (now up until the end of Day 269 / Month 9 Day 30 – Thursday)
⦁ 5 Completely New Gameplay Rendered CGs (for 182 Total)
– 3 New Waitressing Outcomes for the Restaurant Manager section, 1 each for Kriem, Frankie and Kelsey, completing their Lv2 block for Good Outcomes. This also completes the first subblock of any job + level for all girls.
– 2 New Noe Self Improvement Outcomes for the Downtime section, 1 each for Yoga (Open Mind) and TV Binge (Romance). These Outcomes bring both activities' chains to 4 links.
⦁ ~30,000 New Words of Text and Dialogue
– Features
⦁ Continuation of the Sal arc, it's first time as the major focus the fourth arc to be majorly developed to 8 scenes total and counting.
⦁ The revival of the Main Story arc, bringing that back into our focus for a while as we see some more restaurant battling become a part of the game again, and see more personalities on Easy Street clash. This arc is now up to 20 scenes, as the early Act 1 wraps and we see a transition to a new Act 2.
⦁ Another rebalance of the Nerve system of unlocks for all the gameplays, this time a smaller refinement built on the back of the last version's major reshuffle. Now the entire list of Nerve points is all good for something as every value from 1-20 unlocks more sexy and better Outcomes overall, across the board in the Restaurant Manager!
⦁ In addition to the point above, we've added a new UI widget to Sal's side of the road showing off all ways Nerve increases will help unlock new Outcomes in the game. Now you the player can see the underworkings of the game from the surface. The new UI is as much a heads up as to what's still to be implemented as it is for what's unlockable for now, but this helpful screen will allow players to see step-by-step how each of the jobs are being updated, and where the hotter, higher level outcomes are to be found.
⦁ Also reworked is the Trap section on Sal's screen, now with light up icons and a direct readout of the trap chances, added since we were already cleaning up the rest of the screen. We haven't rebalanced the trap chances, just updated the UI, but now it's looking much more like a game screen than before.
– Community Feedback
⦁ We've added some simple UI pieces to help sand out some rough edges in the game experience. Specifically we've added a middleman pop-up when pressing the Home button, so now a "Unsaved Progress Will Be Lost" message rather than jumping straight to the Main Menu. This will save some heartache for anyone how makes a slip press of the button. Also on our list is fixing a glaring typo on one of our tutorial boards, for a cleaner look and feel. We're still looking for places like this to improve the game where we can so if there are things about the Noemi experience you'd like to see improved, do tell us!
⦁ We've taken another pass at some older scenes, particularly from versions v0.1-3, updating and fixing some typos send in by various players. Thanks for the notice to a number of guys and gals!
– Known Issues
⦁ There is an issue with Mac OS's Catalina which is not addressable by us on the developer side, but can be worked around on the user's end. "Problem is specifically with the guardian system that won't let un-noterized applications run on Catalina. The solution is to chmod -R 777 "/appdirectory/" from the terminal as the application did not have the executable flag set. (Example: chmod -R 777 ~/Desktop/NoemisToscanaRebirt_v0_16_Mac). After this guardian catches it and control clicking on the app lets it be opened." Repeat: Then you've got to CONTROL+Click (not double click like normal). That should allow the app package to run, if not, please tell us!
⦁ We've altered the way in which Repeat scenes are found and loaded in the Downtime section, as we eliminated a bug that allowed the game to skip over the next outcome in the activity chain if you already met the conditions for later ones. This means now players will see them in order as they should, however it may also mean that occasionally you will see the current repeatable 1 extra time more than needed if you increase the corresponding stats via scenes. It is a minor nuisance, but one we will look to correct in the future. For now, you may see a handful of repeatable 2-3 times instead of 1-2, rather than skip any.