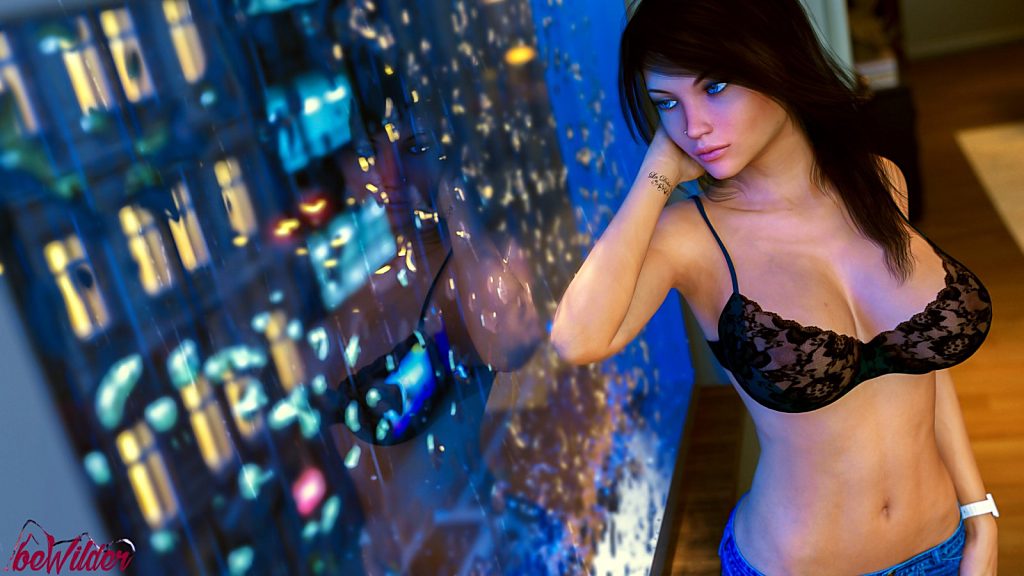 Our heroine Noemi (call her Noe, everyone else does) is the only child of an Italian (Florentine) immigrant to the USA, who is also a self made entrepreneur and chef. She runs her own restaurant in a small neighbourhood in suburban Philadelphia with her fiancé Brad and her long-term waitresses, who are like sisters to her. Life has been good to her… too good.
It all comes crashing down around her when her father is sent to an early grave and his secret debts come to light. As his only heir, they become Noe's and just like that she is under a burden of a 6-figure payment. That's not her only problem however as the biggest chain restaurant in town opens its dozenth location just across the street. She learns first hand how cut throat the food business can be at the hands of Mr. Baines and his chain "Salvatore's Deli".
Noe shows us just how hard it is to fight off crushing debt and a lecherous, treacherous rival restaurateur all while trying to keep her dream shop open. She's by no means alone however as her eternally optimistic fiancé, a trio of trainee waitresses (Kriem, Frankie and Kelsey), and her last remaining regular, the grizzled ex-cop 'Old Roy' all back her up in the head-to-head with the world.
Will she make it to her long awaited wedding day? And will she be the same person as she was when all this began? That's up to you now, isn't it!? C'mon by 'Little Toscana' and see what we're serving up!"​
–
Developer: beWilder – Patreon
Prequels: NTR Origins: Noe Way Out , NTR Origins: Sour Kriem
Censorship: No
OS: Windows, Mac, Linux
Language: English
Genre: 3dcg, big ass, big tits, cheating, creampie, corruption, exhibitionism, female protagonist, female domination, groping, handjob, lesbian, male domination, management, masturbation, milf, ntr, oral sex, romance, rpg, sexual harassment, teasing, titfuck, vaginal sex, virgin, voyeurism
Installation:
1- Extract to desired location.
2- Click on "Noemis_Toscana_Rebirth.exe" to start playing.
v0.15.1
– Content
⦁ 12 New Gameplay Rendered CGs (for 177 Total)
– All 12 are New Waitressing Outcomes, 3 each for Noemi, Kriem, Frankie and Kelsey.
– Added now are a new Proactive Success Outcome (Tier #2) for each girl as they boldly act to increase their tip earnings for the day and succeed greatly. These are currently the highest earning outcomes in the game by far.
– Also includes are new Reactive Success Outcomes (Tier #2) for each girl, counters to the newly added Alice/Beth traps from last version.
– Lastly, a new set of Reactive Neutral/Failures (Tier #2), triggered when girls play it safe but there are no traps in fact set for that job that day. These outcomes are slightly more generous for earnings and stress compared to the base starter versions of this same attitude type.
– Features
⦁Added the first slate of Mid-level trap counters and Tier #2 Proactive/Reactive sets in the game to the Waitress job for all girls as part of the Restaurant Manager section, deepening the new layer of tactical play we added to the gameplay section in the v0.14 update. There's even more to be gained from the risk and reward of a higher Little Toscana rep, because not only do the traps get tougher now as Noe's Rep flourishes, but the counters get bigger and brasher too. The girls get very provocative when set to be Proactive as well, with a new set of flirty, even dirty, outcomes to earn.
v0.15
This step-up update adds another set of 25 full days to Noemi's life and times as she pushes on through the debt she's under. This version adds another triple play to the Asana arc, bring her to 12 scenes, but what's more it opens the first playable sub-path of the game to life: The Asana Love path. Noe will have more choices to make, but she'll also face the consequences of some sooner than she's expecting as well. In addition, we've pushed another scene of the Sal arc into the light of day as the early priming of his own antics and schemes is readying to take off soon!
– Technical information
⦁Version: 0.15.1 ("Both Sides of Easy Street" Release)
⦁Weight: 2.55 GB
⦁Weight Packed: 1.98 GB
– Content
⦁4 Full Scenes (for 69 Total).
⦁71 New Scene Rendered CGs (for 965 Total)
⦁ Added 25 new days to the playable game time for True Mode (now up until the end of Day 249 / Month 9 Day 10 – Friday)
⦁ 1 New Permanent Outfit Variant: Asana's "Barely Covering Up" Casual Tank Top and Heeled Sandals
⦁ ~25,750 New Words of Text and Dialogue
– Features
⦁Continuation of the Asana arc, it's third of for the foreseeable future final development update as our main focus, bringing the third majorly developed character arc to 12 scenes total now, 10 on the common path, and 2 now on the newly added (and first playable) sub-arc path, the Asana Lovepath. This path becomes available with Noe's direct choice within the game. It's clearly signposted.
⦁ Continuation of the Sal arc, getting our villain good and ready to take over the focus in the coming updates now that some of the early loadbearing scenes have been published. His arc is now 5 scenes long and growing.
⦁A vastly rebalanced Nerve system of unlocks for all the gameplays. We have changed the rate at which new Lvs of Restaurant Manager outcomes are unlocked and added to the pool on Noe's Nerve count. Originally all jobs unlocked new Lvs every 4th point, on 4/8/12 and 16. This was wasteful in that the individual point pick-ups between the 4th of each set were meaningless on their own. We've moved to a staggered system now where each job unlocks new outcomes on a different point, Waitressing Lv2s on 4, Cooking on 5, Promo on 6 and Entertain on 7, then back to Waitressing Lv3s on 8, etc. etc. This means individual stat boosts to Nerve via the scenes are now import and valued too. We were going to include a new UI widget in game to further detail/reflect this new system's depth and breath, but in the interest in time/quality we have postponed this a version. We want to do it right first time, and it is highly likely we will be rebalancing this system again in the next version(s) to make use of all Nerve points 1-20.
– Community Feedback
⦁ We've gone through the gameplay balancing once again, this time making a number of smaller changes that collectively should help better the pace of the game. The changes are too many to succinctly detail, but highlights include:
– Increasing the basic Lv1s Waitress earnings by ~15%, adding bigger earnings throughout the game, but most noticeably in the early months days.
– Increase to the Rep cost of Cooking Proactively as this is a potent boost.
– An alteration to smooth out the Cooking bonus (now at max x10 instead of x12 when mixed with the max Rep multiplier)
– Other stress-to-earnings alterations on lower Lv outcomes.
⦁ The UI has been given another small update, to make for better player feedback and polish. The list of updates include:
– Setting the Promo task's attitude bar to default to Proactive on start (it's always been set to this by default in the coding and handling, but the UI never showed it until now)
– Closer icons on the foot of the job boxes to more clearly reflect the effects of the jobs
– Added locks to the Proactive attitude when Little Toscana's Rep is too low to use them
– Switched order of Competitive and Romance icons on the Day Screen so they match with the Progress Tracker's order when hovering over a character arc for detailed info.
– Altered the code handling choices and the choice UI, so that now warning messages like the "End X Path" messages and other notices are displayed in red text instead of green, as is more fitting with a serious warning.
– Added the foundation code to allow for both a Nerve unlock widget as part of Sal's side of the Restaurant Manager screen and a cleaner experience using the Home Button, allowing for a standard "Unsaved Progress will be Lost" message, which we expect to include in a coming version.
Thanks to a few people for highlighting this!
⦁ We've updated a number of older scenes and some Poker repeatable outcomes with Noe's tank top portrait now that we have it rather than the original with her black bolero on.
⦁ In a similar vein, we've updated the triggering conditions on a pair of older scenes as well. Damon's #6 ("Dipping Toes into New Things") and Beck's #7 ("Bigger Table, More Fun") each have their primary stat increased by one, as they originally matched the previous scene in the arc which adds to that stat anyway. This change will not alter the game experience beyond keeping the progression in a steady and upward design.
– Known Issues
⦁ There is an issue with Mac OS's Catalina which is not addressable by us on the developer side, but can be worked around on the user's end. "Problem is specifically with the guardian system that won't let un-noterized applications run on Catalina. The solution is to chmod -R 777 "/appdirectory/" from the terminal as the application did not have the executable flag set. (Example: chmod -R 777 ~/Desktop/AoH_017_Mac). After this guardian catches it and control clicking on the app lets it be opened." Repeat: Then you've got to CONTROL+Click (not double click like normal). That should allow the app package to run, if not, please tell us!
⦁ We've altered the way in which Repeat scenes are found and loaded in the Downtime section, as we eliminated a bug that allowed the game to skip over the next outcome in the activity chain if you already met the conditions for later ones. This means now players will see them in order as they should, however it may also mean that occasionally you will see the current repeatable 1 extra time more than needed if you increase the corresponding stats via scenes. It is a minor nuisance, but one we will look to correct in the future. For now, you may see a handful of repeatable 2-3 times instead of 1-2, rather than skip any.