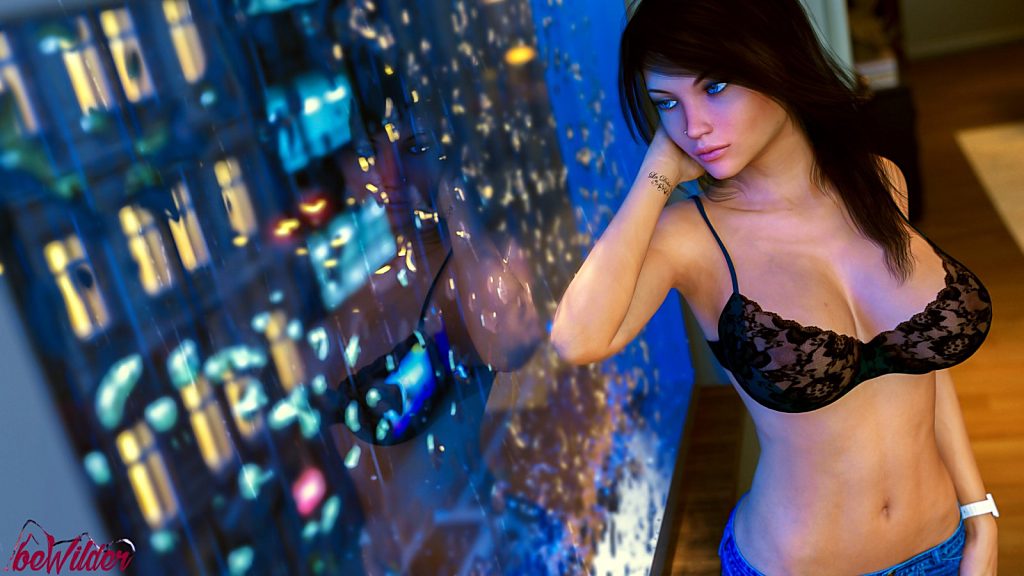 Our heroine Noemi (call her Noe, everyone else does) is the only child of an Italian (Florentine) immigrant to the USA, who is also a self made entrepreneur and chef. She runs her own restaurant in a small neighbourhood in suburban Philadelphia with her fiancé Brad and her long-term waitresses, who are like sisters to her. Life has been good to her… too good.
It all comes crashing down around her when her father is sent to an early grave and his secret debts come to light. As his only heir, they become Noe's and just like that she is under a burden of a 6-figure payment. That's not her only problem however as the biggest chain restaurant in town opens its dozenth location just across the street. She learns first hand how cut throat the food business can be at the hands of Mr. Baines and his chain "Salvatore's Deli".
Noe shows us just how hard it is to fight off crushing debt and a lecherous, treacherous rival restaurateur all while trying to keep her dream shop open. She's by no means alone however as her eternally optimistic fiancé, a trio of trainee waitresses (Kriem, Frankie and Kelsey), and her last remaining regular, the grizzled ex-cop 'Old Roy' all back her up in the head-to-head with the world.
Will she make it to her long awaited wedding day? And will she be the same person as she was when all this began? That's up to you now, isn't it!? C'mon by 'Little Toscana' and see what we're serving up!"​
–
Developer: beWilder – Patreon
Prequels: NTR Origins: Noe Way Out , NTR Origins: Sour Kriem
Censorship: No
OS: Windows, Mac, Linux
Language: English
Genre: Female protagonist, Adventure, Corruption, Age, Lesbian, Milfing, Voyeurism, NTR, Cuckoldry, Hotwifing
Installation:
1- Extract to desired location.
2- Click on "Noemis_Toscana_Rebirth.exe" to start playing.
v0.13
This update adds a new slate of 18 fresh days, all for Noe to get a lot looser. That's up 210 days, or 7 whole months, of Noe workin' it! This version adds a big bump to the Asana arc, bring her to 6 scenes and a lot of tender closeness should you open up your mind to match. In and out of the studio, she has an unexpected pull on our heroine, but will Noe let herself fall into the older woman's hands? That's for you to decide now!
– Technical information
⦁ Version: 0.13 ("Ku'uipo" Release)
⦁ Weight: 2.31 GB
⦁ Weight Packed: 1.74 GB
– By artist request, we have reduced image compression on our CGs for a better, cleaner, crisper image experience. This is why the file size has jumped by a wide margin (x2) for this version. That's the trade off, and we will be listening to player feedback on this going forward, whether the quality jump is worth it.
– Content
⦁ 4 Full Scenes (for 60 Total).
⦁ 95 New Scene Rendered CGs (for 818 Total)
⦁ 2 New Gameplay Rendered CGs (for 161 Total)
– 1 New Waitressing Outcome for Noemi, the second and last Lv2 Good outcome. It is automatically unlocked and added to the pool as Noe reached 4+ Nerve.
– 1 New Poker (Self Improvement) for Noemi on the Downtime segments, brining that event line to #4 now.
⦁ Added 18 new days to the playable game time for True Mode (now up until the start of Day 210 / Month 8 Day 1 – Monday)
⦁ 2 New Permanent Outfits: Asana's Sea Breeze tied sarong party dress, and Clair's "Going Out" party leathers.
– Features
⦁ Continuation of the Asana arc, it's first focused development update, bringing the third majorly developed character arc to 6 scenes total now.
⦁ Expanded the range of the game's playing style with a third track along with our arc, with new content tied to the Open Mind stat, as well as scenes to unlock at Asana's studio during Noemi's days off, now alongside Beck (Competitive) and Damon (Romance).
⦁ Opened up the content types and fetishes with the addition of Lesbian scenes, with future additions to come as Asana's arc develops.
⦁ Added Noe's second Waitress Lv2 Good outcome to the Restaurant Manager section, completing her first subblock of Waitressing outcomes.
– Community Feedback
⦁ We've fixed a numerical indexing issue on the end of version / days left count which would consider the last full day of play as the 0 count, and read out -1 on the day the end of version would take place. It also wrongly gave the day before the final day as the last day. Thanks to a few people for this notification.
⦁ We've taken another pass on the Sal traps for this version. Now successful counters will only hit Sal's rep by 1-2 points instead of 2-5 for all Lv1 traps (currently the only implemented level). This should mean that Sal will have a better chance of keeping a semi-stable rep during the gameplay making him slightly more challenging, but not causing players to have to alter their playstyle. Other bonuses for a successful counter are as yet untouched. Thanks to haywire_hero for bringing this situation to our attention.
– Known Issues
⦁ There is an issue with Mac OS's Catalina which is not addressable by us on the developer side, but can be worked around on the user's end. "Problem is specifically with the guardian system that won't let un-noterized applications run on Catalina. The solution is to chmod -R 777 "/appdirectory/" from the terminal as the application did not have the executable flag set. (Example: chmod -R 777 ~/Desktop/AoH_017_Mac). After this guardian catches it and control clicking on the app lets it be opened." Repeat: Then you've got to CONTROL+Click (not double click like normal). That should allow the app package to run, if not, please tell us!
⦁ We've altered the way in which Repeat scenes are found and loaded in the Downtime section, as we eliminated a bug that allowed the game to skip over the next outcome in the activity chain if you already met the conditions for later ones. This means now players will see them in order as they should, however it may also mean that occasionally you will see the current repeatable 1 extra time more than needed if you increase the corresponding stats via scenes. It is a minor nuisance, but one we will look to correct in the future. For now, you may see a handful of repeatable 2-3 times instead of 1-2, rather than skip any.