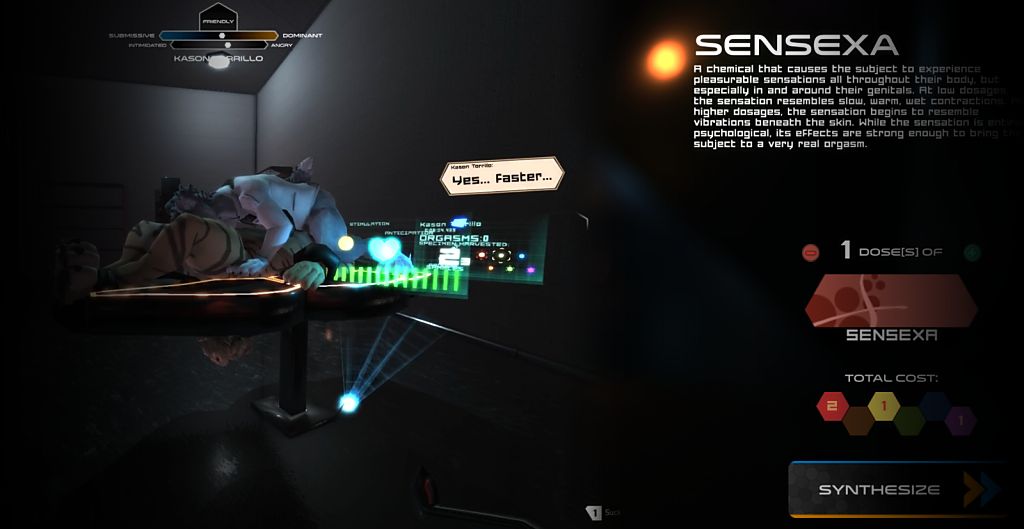 The entire game is being built with scalability and flexibility in mind, which means better art, better performance, and way more features to play with! The game will be thematically similar to Rack: you'll perform sexual experiments in a laboratory environment, using the proceeds from your research to unlock more clients, more gadgets, and more ways to experiment.​
Censorship: None
Developer/Publisher: Fek – Website | Patreon
Platform: Windows, Mac, Linux
Genre: 3DCG, 3D game, Anal sex, Animated, Character creation, Creampie, Female protagonist, Furry, Futa, Trans, Futa protagonist, Gay, Handjob, Lesbian, Male protagonist, Oral sex, Sex toys, Vaginal sex, BDSM, Spanking
Language: English
Installation:
1- Extract to desired location.
2- Click on "Rack2.exe" to start playing.
v0.2.10b
– At long last, I'm beginning to hammer out the subject sensitivity, endurance, and orgasm numbers. 63 of the game's interactions should now behave roughly as intended in terms of getting the subject (and the player!) off – check the spreadsheet to see which ones are still being worked on: https://docs.google.com/spreadsheets/d/1UDXBGDJDMCe9VN8QBMGmyGWlkh44clTfOXsZxSeHvQw/
– The bug that was causing the screen to melt when selecting a test subject (or occasionally while in the shower) has been fixed
– Several new bugfixes have been made in regards to the long-standing "TriLib bug" (where embellishments and clothing don't load, or load with white textures), along with some new reporting mechanisms to help me track down where and why the bug still happens for some users.
– A new toy has been added: the vibe wand! Once you've unlocked it, you can craft it at the Gyro Dock.
– I'm aware that the bugtracker is being eaten alive by bots. My disappointment with the bugtracker system I'm using is immeasurable, and I intend to switch, eventually.