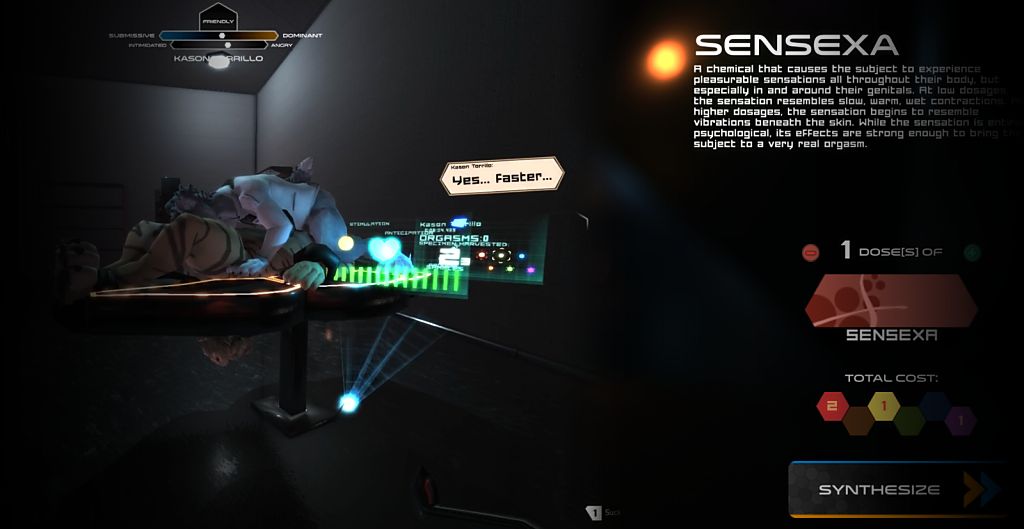 The entire game is being built with scalability and flexibility in mind, which means better art, better performance, and way more features to play with! The game will be thematically similar to Rack: you'll perform sexual experiments in a laboratory environment, using the proceeds from your research to unlock more clients, more gadgets, and more ways to experiment.​
Censorship: No
Developer: Fek – Website | Patreon
Platform: Windows, Mac, Linux
Genre: 3DCG, 3D game, Anal sex, Animated, Character creation, Creampie, Female protagonist, Furry, Futa, Trans, Futa protagonist, Gay, Handjob, Lesbian, Male protagonist, Oral sex, Sex toys, Vaginal sex, BDSM, Spanking
Language: English
Installation:
1- Extract to desired location.
2- Click on "Rack2.exe" to start playing.
v0.2.11
– This build is mostly focused on polishing the interaction reticles for all of the game's body-on-body interactions: making sure they're positioned properly over the interaction point, that they adjust as expected based on the subject's position and the camera angle, and that the player's movements line up with their input pattern.
– Feedback is now displayed intermittently while interacting with a subject via particle effects, so you don't need to keep looking over at the monitor to tell whether you're going too fast / slow.
– Reticle positioning and upDir alignment has been completed for all 71 of the body-on-body interactions currently in the game.
– Some animation polish has been done for 10 body-on-body interactions: hand.polishCock, mouth.cunnilingus, mouth.rim, hand.teaseMouth, mouth.lickBalls, mouth.lickClit, mouth.lickCock, mouth.lickFeet, butt.grindOnCock, and vagina.grindOnCock
– Base sensation and arousal values have been polished or modified based on playtesting and feedback for 9 body-on-body interactions: penis.rubClit, hand.crushBalls, mouth.biteAss, mouth.biteBalls, mouth.biteClit, mouth.biteCock, mouth.biteFeet, mouth.biteNipples, and mouth.suckToes