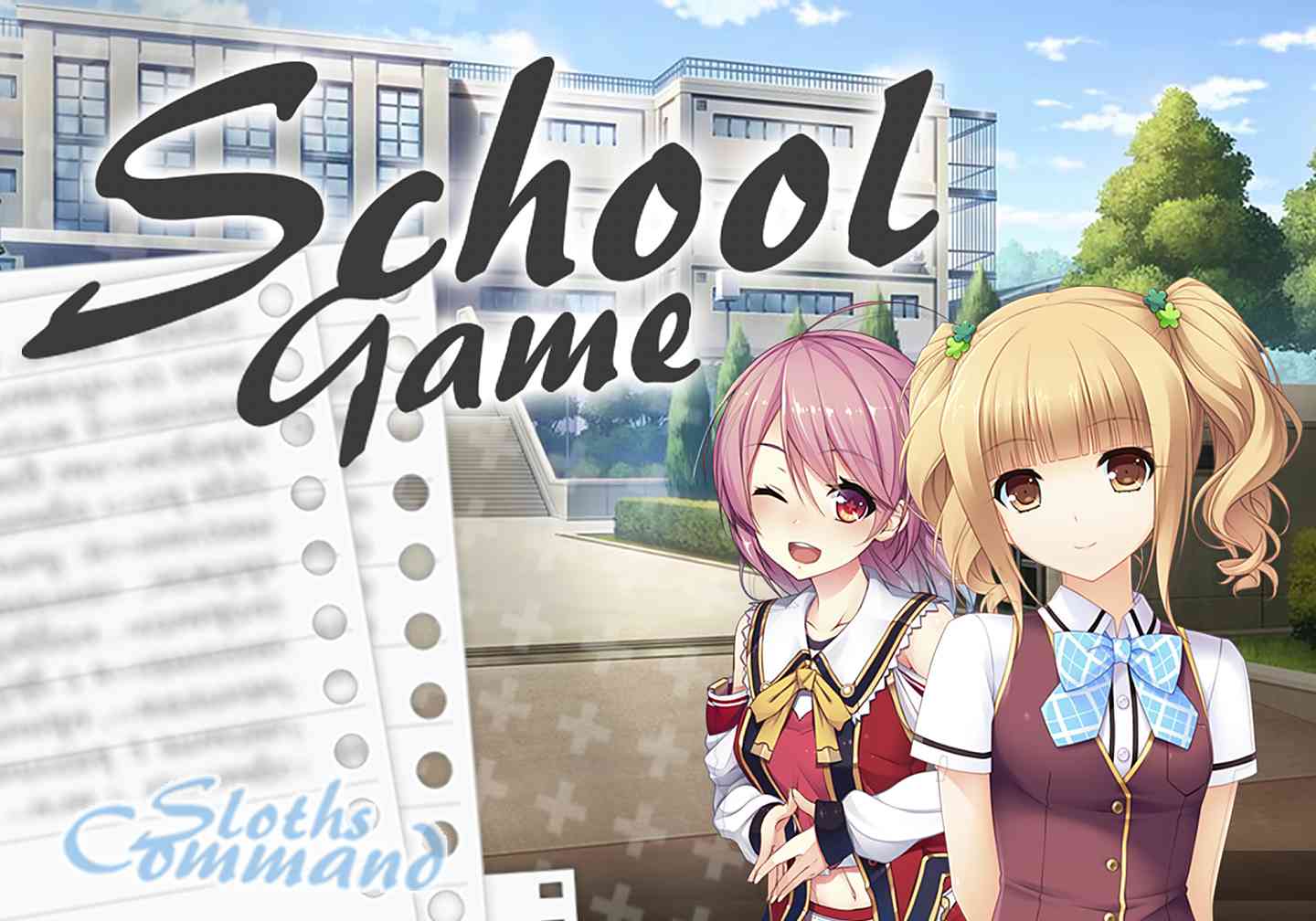 School Game is a game with RPG elements. You create your character and evolve in a school environement. Learn skills, buy equipement, meet classmates, build your reputation and budget, be a member of the student council and various clubs, and improve your relationship with the head of the student council, which you may decide to replace. Isn't it what everyone wanted in high school, even in student years: complete freedom of action?​
—
v0.928
New content:
— Now, to have sex with a randomized NPC or get a blowjob from him, instead of the usual relationship glasses, you can use fear glasses. If NPC refuse sex/blowjob, an option of intimidation will appear. In addition, now you can try to bribe a randomized NPC with money to have sex with you/give your character a blowjob. Especially for this option, NPCs are generated with new influence statistics – corruption and the very probability of successful bribery is influenced by the nature, current financial situation of the NPCs, as well as many other factors.
— Randomized female and male NPCs have new types of faces, eyes, noses, and in general, their faces will now be strikingly different from each other. This will create a significant variety in the overall choice of the available randomized NPCs: some will be more Asian in appearance, others European, and still others are mestizos.
— Now, when you extort money from a randomized NPC, even with a high level of relationships, this interaction will be considered aggressive. They will no longer just give your character money.
— The work of fear in randomized NPCs has been changed: more interactions have appeared in actions in the category of romance, which can be successfully performed by intimidating a randomized NPC. This also includes actions of 18+.
— A new action has been added to the category of romantic interactions – "Undress for me". For its success, you can use the usual relationship points, fear, or try to bribe a randomized NPC. In addition, it has quite a lot of development branches, which in turn manifest themselves depending on the method you choose to interact with the selected randomized NPC.
— In the interactions in the category with neutral actions, a new interaction has appeared – debt of money. Now your character can borrow money from any randomized NPC, and the possible amount will depend on his greed, your relationship and some other factors! In addition, an event with "debt collection" has been added to the game, if you forget that you once borrowed money from the RNPCs.
— Now is possible to force a randomized female NPC, who lost to your character in battle, to give a blowjob. In addition, some formulas/mechanics/systems related to the post-fight selection system have been redone, as wel
– Now with randomized NPCs, you can break the existing romantic relationship. This choice appears if you meet with the selected randomized NPC, instead of the "Let's date!" button.l as some values related to the combat system itself have been corrected.
— Now randomized female NPCs can invite your character to have sex with them. The probability of this event depends on many factors: chance, your existing relationship, the number of sexual acts and even the time of day. In addition, this event is affected by a button with a complete shutdown of events with RNPСs from the game settings.
— Now randomized female NPCs can declare their love to you while interacting with them! The more the RNPCs has the courage, the predisposition to romantic actions and the points of love with you, the more likely he will confess to you. In the event itself, with this, you can both reject a loving girl, and start dating her.
— Now randomized female NPCs that you date may require your attention if you don't interact with them for a long time. A new kind of timer was made especially for this event, which is constantly reset as soon as you communicate with this randomized NPC.
— Now, to rip off the clothes from a randomized female NPC, you do not need to click on it. This feature has been moved as a button in the interaction menu in the category with aggressive actions. In addition, an addition to this has also been added here: now you can tear off swimsuits from girls on the beach.
— Now randomized female NPCs, if you haven't asked them for a phone number before, can offer to exchange them if there is a sufficient level of relationship.
— Now, in the randomized NPCS editor, you can change the gender of the selected character. In addition, male randomized NPCs now appear in the list with NPCs, which can be edited to your liking. The new face settings are also relevant for the editor: both sexes have this function.
— Randomized female NPCs can now dump you if they find out you're dating someone other than them! The chance that they will find out about it is influenced by the luck attribute of your character, the nature of the randomized NPC, as well as the total number of relationships you have created with female RNPCs. In addition, even if they find out about your adventures, it will be possible to escape from this situation with many choices that will already be influenced by other attributes of your character!
— Now, after successfully leveling the level, a notification will appear offering to proceed to the selection of available perks.
— Randomized male NPCs have a new hairstyle, as well as a redevelopment of the old one: now instead of one color, twelve colors have been made for each of them. In addition, three length parameters have also been made, as is already the case for female randomized NPCs
— Random events have been added to dates with randomized female NPCs, the outcome of which depends on the very success of the ongoing date, as well as on the indicators of your attributes.
— Two new perks have been added to the perk selection menu per level, which are responsible for different game mechanics. In addition, a scrollbar has been added to the list itself.
— A new event has been added for working in the grocery store. In addition, notifications about the increase/decrease in reputation were added to the existing new events, and in general, some shortcomings concerning this part of the game were corrected.
— Single activity in the occult club has been redesigned: now the restrictions work adequately, the success of this very club activity depends on your attributes and perks, and it has also had many fixes that will allow it to integrate more successfully into the gameplay.
— Four types of penises were drawn for male randomized NPCs: each of them differs in size and shape. In addition, new underwear was also made for male randomized NPCs.
— Now at the randomized male NPCs in the locker room are calculated their degree of undress, like the female randomized NPCs in the women's locker room. In addition, the same thing is now calculated on the beach: male randomized NPCs can also walk in bathing underwear.
— Now, the glasses with which you can see through clothes can also see through the clothes of male randomized NPCs.
— The system for generating and creating sprites of randomized NPCs has been redesigned: now, before appearing on the screen, the sprite will be checked for data loss to correct possible exceptions. In case of updates and/or anything else, when opening the interaction menu with them, new data will be added to the calculations. The corrections will make it even more painless to integrate innovations related to external RNPCs data. In addition, the sprite display system itself has undergone some changes: the layers overlapping each other have become a little more obvious, the layers themselves have become much larger due to the addition of new details, and the sprites themselves are gradually losing rare problems with seams arising from the incorrect position on the screen of a separate part of the body.
— Changed the methods of generating randomized NPCs at the beginning of the game: now the load is evenly distributed throughout the game session, which makes the game slightly better in performance. Unnecessary functions, rudiments of old versions, have been cut out. The game code has become a little cleaner.
— Added a right fork on a date in the park with female randomized NPCs with new events, the course of the date itself, as well as choices.
— Now, if you become a candidate for the role of president of the student council in the story, the sprite Yuki Oota in the diary is replaced by the sprite Hitomi Watanabe.
— With randomized NPCs, you can now play cards at any time for fun or for money! It is enough to go to the category with conversations, and then go to the "Ask" tab. There will also be a new button with a transition to this interaction.
— Changed and rebalanced some requirements for interactions, sex scenes and other content with randomized female NPCs. It has become even more dependent on their influence statistics, relationships with them, perks of your character and much more.
— In the biography menu of a randomized NPC in the category with influence statistics, vulgarity replaced the "Corruption" statistics, and the vulgarity itself was moved to the category with attributes.
— Now in your club, you can do the festival and projects alone. The effectiveness of all this will be influenced by the intelligence of your character, and all this club activity itself, which includes the above, as well as cleaning the club and classes there, is called a single club activity, which is now equally influenced by perks with features.
— Randomized male NPCs received one new set of clothes. In addition, a new script was added to the calculation of the appearance of randomized NPCs, which is responsible for determining the set of clothes on male randomized NPCs.
— Changed timers in some game events: some have been moved to one variable, others are reset under different conditions than before, and now the events taking place in the game should become less intrusive.
— The system of distribution of image layers in sex scenes with randomized NPCs has been changed. Errors concerning confusion in these very layers should be many times less. The system has become more obvious and modifiable. In addition, new eye shapes introduced in the 927a and 927b versions have also been added to them.
— A new Internet banking icon has been added to the computer on the player's PC, with which you can store money and receive a certain percentage in the form of passive profit every game Monday.
— Now, for some events that are repetitive, with randomized NPCs, a button with disabling them works.
— A new cheat has been added to the console for patreon subscribers – add all the numbers of randomized NPCs to your phone.
— A script has been added to the player's phone, counting the number of contacts in it, as well as determining the size of the list of these contacts. In other words, the bug where the contact list was limited to only 20 contacts has been fixed.
Bug fixes:
— Fixed a bug where a randomized female NPC could not appear at the very beginning of the game with 14 eye colors.
— Fixed descriptions that inaccurately described the operation of perks in the level-up menu.
— Fixed bugs where old sprites of randomized male NPCs could be shown in any events/interactions, etc.
— Fixed a flaw in which randomized female NPCs actually had different clothes/underwear when examining them with glasses that see through clothes.
— Fixed a bug that caused an exception when an alarm clock is set when playing an English translation of the game.
— Fixed a flaw in which the indicator "Love for soda" was incorrectly displayed in the biography menu of a randomized NPC.
— Fixed typos that previously could have been noticed during the passage of the storyline with Ayano Yoshida. In addition, a bug has been fixed in which a small part of the dialogues with randomized NPCs were not translated into English.
— Fixed a bug where an exception was thrown related to the variable "skills_programm" in the English translation of the game. Now, when studying programming and freelancing on a player's PC, it will not come out.
— Fixed a bug where an exception could be thrown in the occult club management menu.
— Fixed bugs in the operation of some perks available for leveling up, as well as in the operation of some items that can be purchased in the online store on the PC player
— Fixed a bug that caused there to be no line on a randomized NPC in a blowjob scene.
— Fixed a bug where an exception could come out during a date with a randomized NPC if you play on an English translation.
— Fixed a flaw in which data with attributes of a randomized NPC were not initialized in an event on a date.
— Fixed a bug where an exception occurred during the transition to the location "Clothing Store" in the shopping center.
— Fixed a flaw that caused the wrong attribute to be selected for calculating the effectiveness of a single club activity.
— Fixed a flaw in which random events on a date did not have an English translation.
— Fixed a bug that caused the NPC on the screen to be in the same position after playing cards even after it was over.
— Fixed a bug where a randomized NPC giving out points could be a guy in some events with him.
— Fixed a flaw in which a new type of face could have no line in some hairstyles of female randomized NPCs.
— Fixed a bug where if you turn off the computer while working on freelancing, the screen with the choice of freelance activity could hang on the screen.
— Fixed a bug in which the buttons used to make heterochromia, futanari, and put on cat ears did not work in the editor of randomized NPCs.
— Fixed a bug where the first randomized NPC that appeared on the screen after randomization could change its appearance when moving the mouse/pressing any button by itself.
— Fixed a bug due to which it could not be thrown out of the interaction menu with a randomized NPC during minus energy.
— Fixed a bug where clicking on a randomized male NPC could cause an exception.
— Fixed a flaw in which some timers for events were considered not every game day, but every game hour, which caused them to occur with enviable frequency.