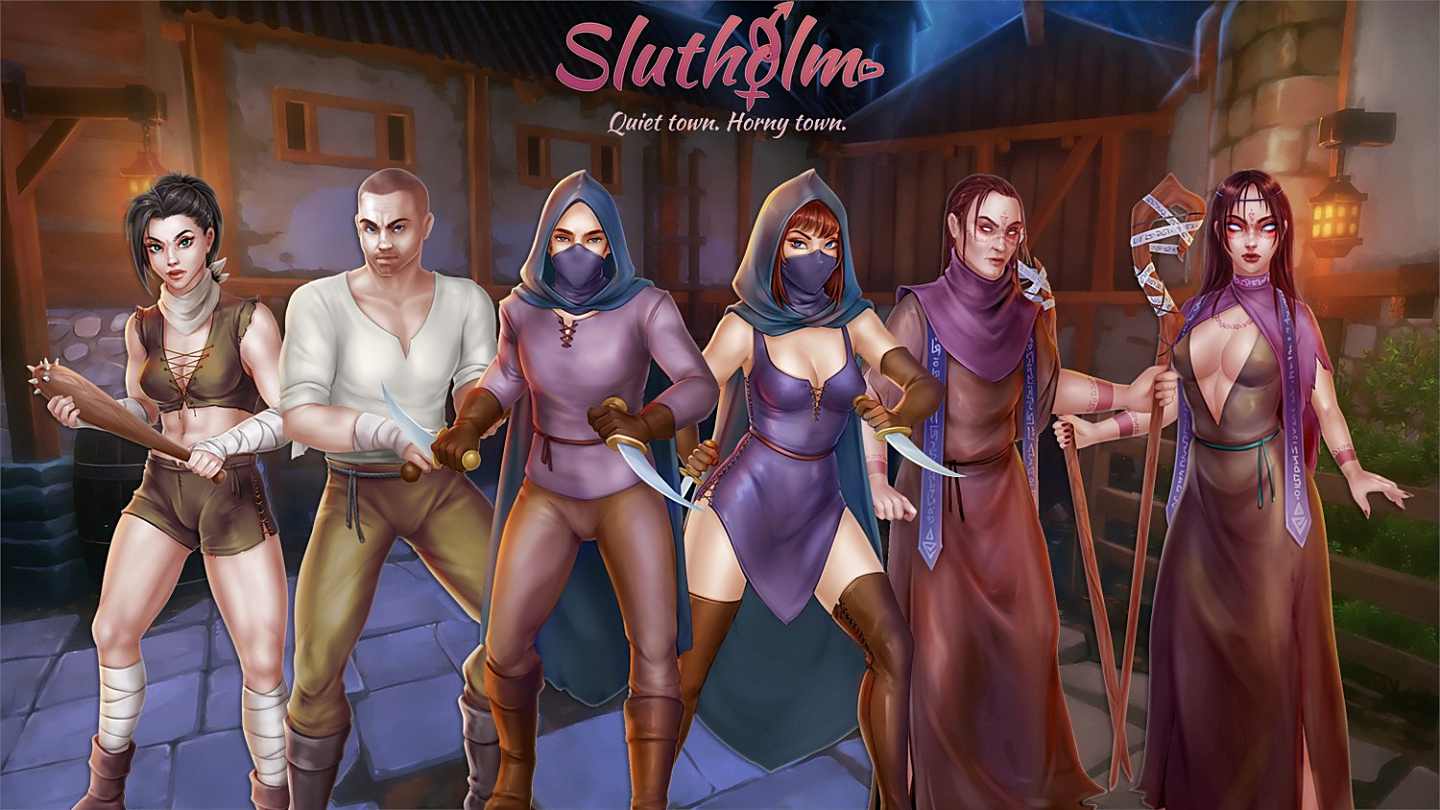 Slutholm – an adventure of the dream city. A young adult who comes back to his family mansion after his mother's death. You will have to train your skills, start and expand your relationships with characters, especially the loving girls in town, and find out about the mystery of the life/death of your parents and the mansion. Every girl in town has her own story and style. When you go further in each of the storylines you just find yourself closer to the mystery of your family and best of all, lots of kinky relationships/sex…
—
August 2021
* ! Important ! The receipts bug has been fixed – you now must be able to see how to brew the special potion to endure drinking with Frida!
* We have a new soundtrack – one for the main theme, another one especially for Patroling and Battle
* New event – while you are working on repairing Twins' House, Germina is cleaning a house… wearing very tight pants…
* New event – one night someone will try to open your door in the Tavern…
* New event – while you are working on repairing Twins' House, you can find a very interesting drawing of one of the twins sleeping deeply.  But who made it? Is it Gina or Germina?
* New character added: Captain Alanya.
! To meet with her you'll need to have Recommendations!
Recommendations could be earned by passing the quest with Inquisitor – she provides you with them when she leaves pregnant with Laval
OR
! Fighter class starts the game with Recommendations.
After test fight with Alanya:
Come to Post at night and choose 'Patrolling' – select the difficulty and…
Patrol night Slutholm. Strength makes you run faster, Perception provides a bigger vision radius.
Find criminals and start fighting!
Now when the battle is finished you can go patrolling again or go to sleep. We are working on rewards and events for this.
BATTLE.
We've added a battle system to the game. We think it opens lots of new possibilities to the game.
Please, note that we'll definitely work on improving it.
And, please if you have any specific ideas of how to do it, let us know.
* Weapons added to the game (not everything is available from the start, but available for the test):
Weapons: axe, knife, rapier, bow, sword, halberd, staff, club, mace
Armor: leather armor, chainmail vest, chain mail, plate armor, shield
To equip weapons, visit the Character section and click free hands to choose the weapon to equip.
Your starting Weapons are determined by your Background.
* Icons for new and old items of inventory added;
* New background – night streets for battle while patrolling;
* Before the battle autosave is performed;
* At the start of the game now there is Load Game instead of Continue game
* Now empty bottles are counted to total money spent in Warm Place
* If something goes to your Inventory, you see the icon of what is coming there
* If you have new info – quests, notes, etc – you'll see a notification NEW at NOTES section.