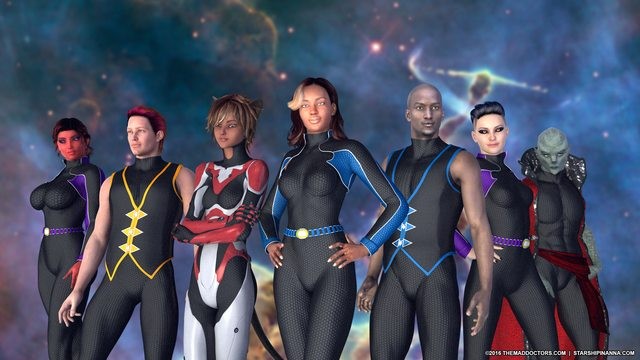 Starship Inanna is a visual novel game being developed by The Mad Doctors in the Ren'Py Visual Novel Engine. At it's core it is a Choose Your Own Adventure style story set in a sci-fi universe akin to Star Trek or Mass Effect.
You take on the role of a Commander of the Titan Empire, who has just been assigned as second in command under Captain Alexandra Zal. The crew of the ship is comprised of select races of the Empire which the player will be able to interact with and have relationships with (that means plenty of sex).
As Commander you will be sent on missions to different planets where you will encounter new cultures and civilizations. You will run across slavers, enemy races, omnipotent beings, and more.
Censorship: No
Developer/Publisher: The Mad Doctors – Patreon | Website | Twitter | Instagram | YouTube | Facebook
Platform: Windows, Mac, Android
Language: English
Genre: 3DCG, Sci-fi, Male protagonist, Female protagonist, Adventure, Animated, Dating sim, Gay, Lesbian, Handjob, Interracial, Oral sex, Romance
Instructions:
1- Extract to desired location.
2- Click on Starship Inanna.exe" to start playing.
v8.5.7
-Fixed picking Adam first in Episode 8 – Hegemony skipping secondary choices and causing Michael/Cea scene to occur when having sex.
-Fixed a few typos.
v8.5.6
-Changed the credits in the game (which I forgot to in 8.5.5)
v8.5.5
-Fixed Ashe/Rin/Sam suddenly becoming Kani/Adam/Rachel path in Episode 2 Female
-Fixed a few typos in episodes
-Modified a few Kani lines in Episodes 1 and 3 to better reflect the detail from the in-production Kani history short story (basically correcting some timeline and world building details that were too broad when those episodes were written).
v8.5.1
-Fixed Sam/Ashe scene in Episode 2 Male Gallery not working
-Changed OGG files to OPUS files, reducing the size of the game by a chunk
v8.5
-JPGs replaced with WEBPs which has reduced the size of the game by more than half with not much dip in quality
-Fixed Adam/Michael pairing sex scene not working in Episode 8 under some conditions
-Some typos fixed