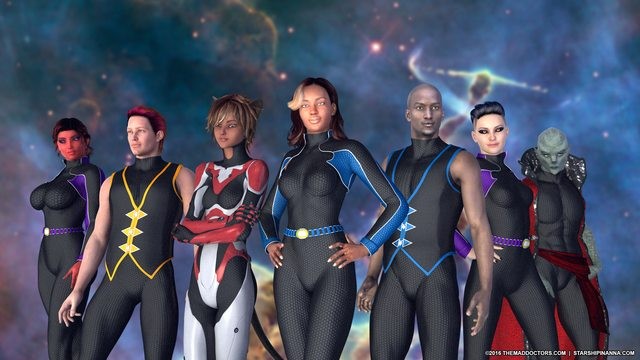 Starship Inanna is a visual novel game being developed by The Mad Doctors in the Ren'Py Visual Novel Engine. At it's core it is a Choose Your Own Adventure style story set in a sci-fi universe akin to Star Trek or Mass Effect.
You take on the role of a Commander of the Titan Empire, who has just been assigned as second in command under Captain Alexandra Zal. The crew of the ship is comprised of select races of the Empire which the player will be able to interact with and have relationships with (that means plenty of sex).
As Commander you will be sent on missions to different planets where you will encounter new cultures and civilizations. You will run across slavers, enemy races, omnipotent beings, and more.
–
Censorship: No
Developer: The Mad Doctors – Patreon | Website | Twitter | Instagram | YouTube | Facebook | Itch.io
Platform: Windows, Mac
Language: English
Genre: 3DCG, Sci-fi, Male protagonist, Female protagonist, Adventure, Animated, Dating sim, Gay, Lesbian, Handjob, Interracial, Oral sex, Romance, Alien, Space, Vaginal Sex, Anal Sex, Group Sex, Multiple Penetration
Instructions:
1- Extract to desired location.
2- Click on Starship Inanna.exe" to start playing.
v9.0.6
-Fixed Erina sex scene (the Patreon Exclusive one) bypassing some side plot, all John's crew interactions, and continuing with main plot.
-Fixed Armin's sex scene allowing player to go back to walking around and choosing other sex scenes (which will break the save going forward, though I will try and work a check into Episode 10 to prevent it from breaking)
-Fixed Episode 4 float bug with Chole image (replaced with the way pans are done in Episode 9)
-Fixed Jane being mis-gendered in Adam's scene.
-Fixed some typos
-Added a few images to the Patreon Exclusive Gallery for Asami and Tamara (more images and categories coming with the codex update)
-Credits updated to welcome new Patrons
v9.0.5
-Fixed Corbin and David throwing errors in John and Jane stories respectively when using older saves.
-Fixed Rachel throwing an error about missing Latris font in Aloshan story
-Fixed error during questions at the end of John Hegemony story
-Fixed main Gallery menu not working visually for Episode 9 Male
-Fixed PEC Gallery Menu not having a way to get back to the main Episode Gallery
-Added walkthrough on World-Anvil and linked it to the Episode 9 Gallery pages