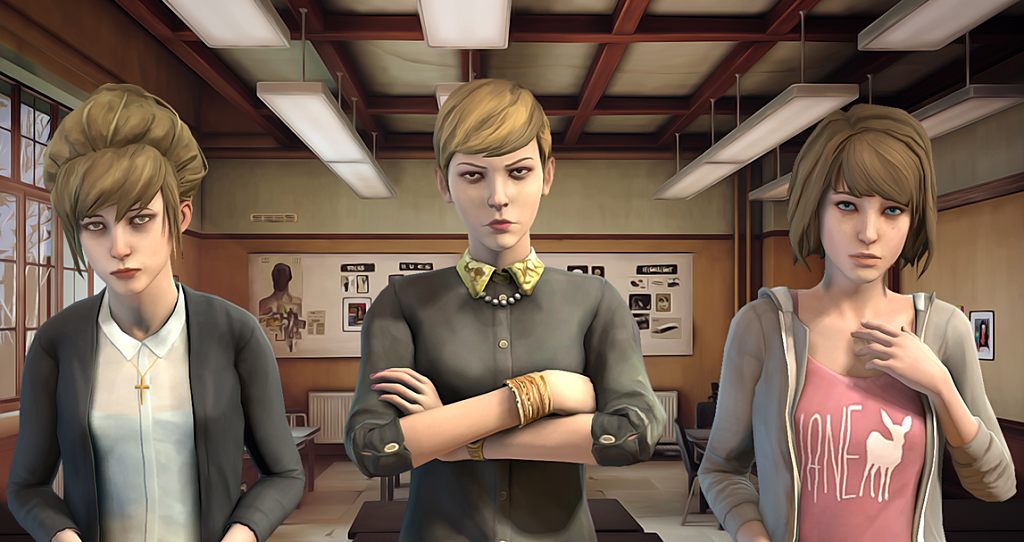 Strange Nights is a free adult Visual Novel game in development, based on Life is Strange. You assume the role of Mark Jefferson, a photography teacher at Blackwell Academy who acquires some unnatural powers that let him change the fate of others and himself.​
–
Developer: LocJaw – Patreon | Tumblr | Twitter
Censorship: No
OS: Windows, Mac, Android
Language: English
Genre: 3DCG, Parody, Animated, School Setting, Anal Sex, BDSM, Corruption, Lesbian, Male Protagonist, Mind Control, Oral Sex, Vaginal Sex, Handjob, Female Domination
Installation:
1- Extract to desired location.
2- Click on "StrangeNights.exe" to start playing.
v0.7.1
Fixed Lenny's store board, a conversation loop and an EP/DP switch up, and a metric shitton of spelling mistakes / bad grammar.
v0.7
Point based morality system:
During the game you acquire either Empathy points (EP) or Dominance points (DP).
Some scenes/conversations/choices require said points to unlock and progress.
Red Binder:
Jefferson's inner codex with two main categories: Profiles and Memories.
Profiles: Description and insight of people you meet during the game.
Memories: Things to remember. Objects, places, thoughts, phone messages, scenes, etc.
If something happens during the story, the profiles update accordingly.
There's also a 'view memory' button for detailed images, but currently only the sex scenes work. Acts as a gallery for unlocked content.
Phone:
A phone system that displays messages and pictures dynamically.
Hotspots:
During the game you'll encounter some eye icons. They're usually additional information about the current scene, but sometimes they contain memories and plus scenes. Some memories can be missed like this.
The mod adds an in-game walkthrough that show hints in dialogues and points in the game.
Features:
In-game walkthrough that highlighted dialogue that gives points and leads to scenes or Routes with different colors.
Installation:
PC: Unzip the mod and put the folder named "game" from the mod in your "StrangeNights_0.7-v0.7" folder.
MAC: Unzip the mod -> Right-click your "Strange Nights" app -> Click "Show Package Contents" -> Open the "Contents" then "Resources" folders -> Hold the Option key and drag the folder named "game" from the mod to the "autorun" folder -> Click merge