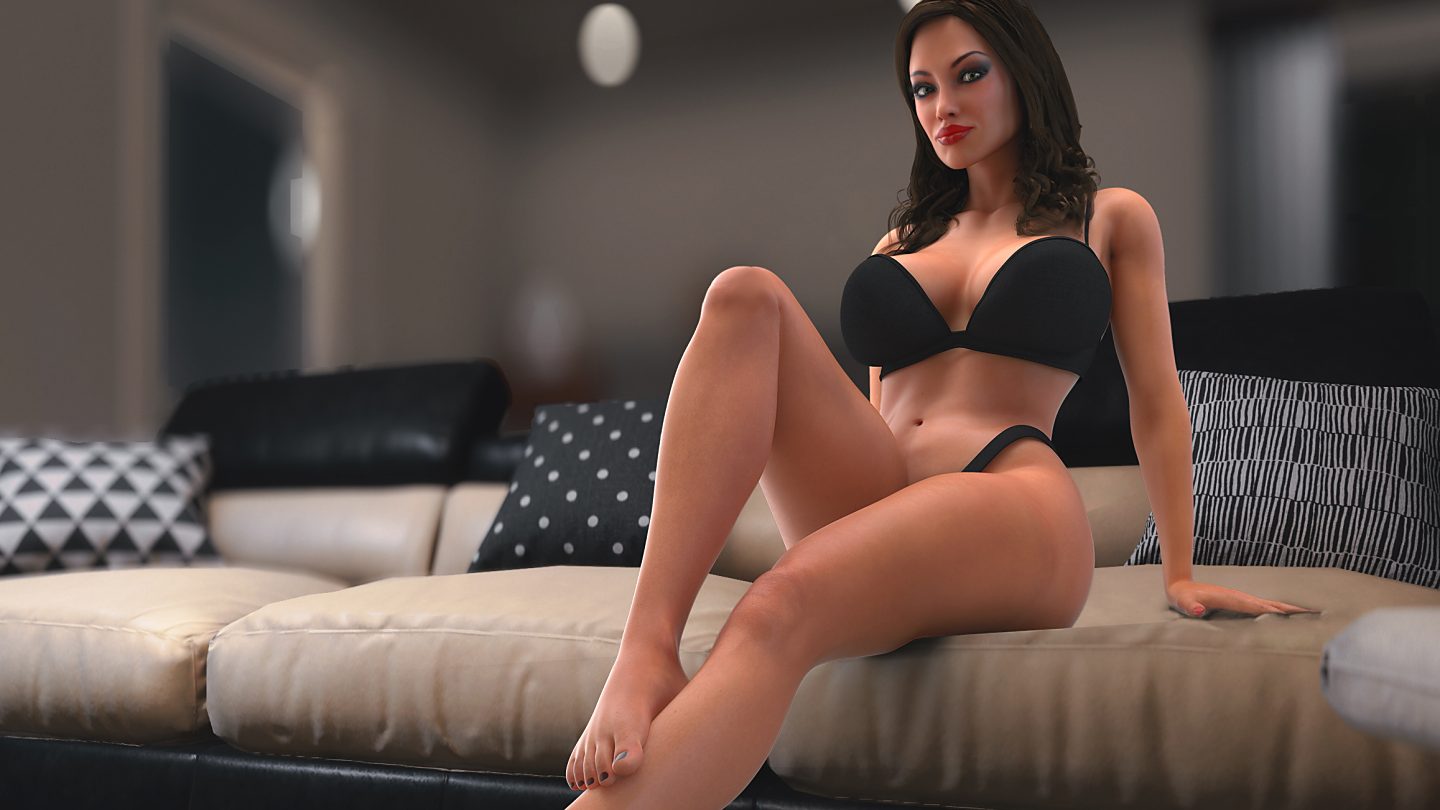 Taste of Seduction is a 3D high-quality, first-person, story and dialogue-driven RPG adult game that blends together themes such as college life and that of a spy adventure.
You play as Devlin, a young adult who has the ultimate goal to solve the mystery of his father's puzzling disappearance. Before doing that, you first have to manage to balance your hectic college life, annoying family dramas, and the difficult challenges of growing your own business.
How do you do that? Making unlikely friends, amassing impressive capital, and bedding a dazzling number of stunning young ladies.
—
Taste of Seduction Trailer
Developer: Global Games Network – Patreon | Website | Discord
Censored: No
OS: Windows, Mac
Language: English
Voices: English
Genre: 3D Game, 3DCG, Milf, Masturbation, Sex Toys, Handjob,  Stripping, Vaginal sex, Voiced, Voyeurism, Big Ass, Big Tits, Handjob, Oral Sex, Adventure, Simulator
Installation:
1. Extract and run.
Password to unlock sexual content: seduceme
Developer Notes:
On Windows:
If you have a crash check Nvidia Control Panel > Manage 3D Settings > Vertical sync: Make sure you use the 3d application setting. 
Overclocked components may also cause crashes. 
On Mac:
If the game does not open do the following:
Open terminal > insert the following command  xattr -cr /Users/*******/Downloads/'MacOS 2.app'
Make sure you replace the path and put the name of the app inside a single quotes.
v0.2.3
– New character introduced – Police Officer Roberts / Olivia
– We have introduced two new locations – Police Station, Officer Roberts' House
– New quest line with Officer Roberts
– Sex scene with Officer Roberts
– Lockpicking minigame
– Plus many other fixes and details
IMPORTANT:
If for some reason, one of the game's saves didn't work for your first Police Officer Roberts mission, then we recommend you try another save. After testing, it has been noted that some saves can cause problems with the new update, so if you want to enjoy the new content added in this build, and it doesn't work for you, we recommend trying another save.
We will continue to work on the development of this game, and we expect to release the game in final form on Steam by the fall. We still have a lot of work to do to add more details to the game, missions, sex scenes before it will be in final form. Now as you know it is still an Alpha Build, and it is not its final form. We will be adding more details and improvements including old missions of the game that were released at the beginning. So, until the final form of the game we still have a few months to work.
v0.2.2
– Added the police station and Officer Roberts
– We continued with the development of the main story of the game – unlocking the mission "Smooth Criminal"
– A sexual element has been added to the strip club. You can go up to any of the three dancers for a blow job in a surprise spot in the club. ( Sandbox element – does not affect the main story of the game )
– A lot of fixing has been done. For example in the previous build there were a lot of problems in the club with the clothes going through the leather, now they have all been fixed, also if you moved away from the models in the club they lost quality, this problem has also been fixed plus a very long list of fixes.
– UI size changes
– Bake and clean lightmap (Lots of black spots have disappeared from furniture)
– All female models in the game have had their hair altered. In the past the hair looked great except there were big performance issues if you got close to their head or hair. That's why we chose performance over quality. Now hair may not look as good, but it offers much better performance. Over time we want to optimise this process more, to leave the hair at high quality without affecting performance.
– The bug where Devlin would get up from his chair in the club and the camera wouldn't change to first person and he would stay behind has been fixed.
– Added yoga mat – in quest with Mia
– The loading time of sex scenes has changed, they are now faster
– Fixed the bug where if you were in a sex scene and pressed ESC, the sex bar kept growing.
– Fixed the bug where the garbage in the pool appeared again on other days
– The list could go on, but there are a lot of technical details that I don't think you will be interested in. For the most part there have been many improvements, fixes and detail changes.
IMPORTANT:
*Previous saves in this build will work. So you can continue the game from where you left off without any problems. We are still working on improving the save system, so this is not the final version.
*Little by little we want to catch up with the voice over left behind, but at the moment budgets do not allow us to do so. Also in the future we want to add NPCs walking on the street, cars to give a more realistic background. In the next updates we will also add NPCs in the police station, police cars in front of the station plus many other improvements and details. We also plan to improve the sex scenes. We want to add more cameras and angles from which to view the sex scene. Very realistic and well timed penetration sounds and moans plus other surprises.
*From the feedback we received from you we are aware that the desire is high to get to a sex scene with Charlotte, but you have to be patient. Charlotte is one of the hardest characters to get to, she is the icing on the cake. The story of the game is just starting to get interesting, we promise you that.
*The game receives improvements from one update to the next. We are aware that there are still many bugs to fix, but we know about them and we will fix them one by one. We are always trying to come up with an improved version for a more enjoyable experience. Our team hasn't forgotten about the contest, but due to limited time, we will add it for May. Any bugs you find you can report here or on our Discord server.
* Also, in the new missions, you'll notice that there is no voice over, not a bug. We have limited budgets, that's why we haven't added voice over and won't add more until we reach a certain revenue threshold. The costs for voice over, employees in this company plus many other things are very high and we need your support to improve this game.