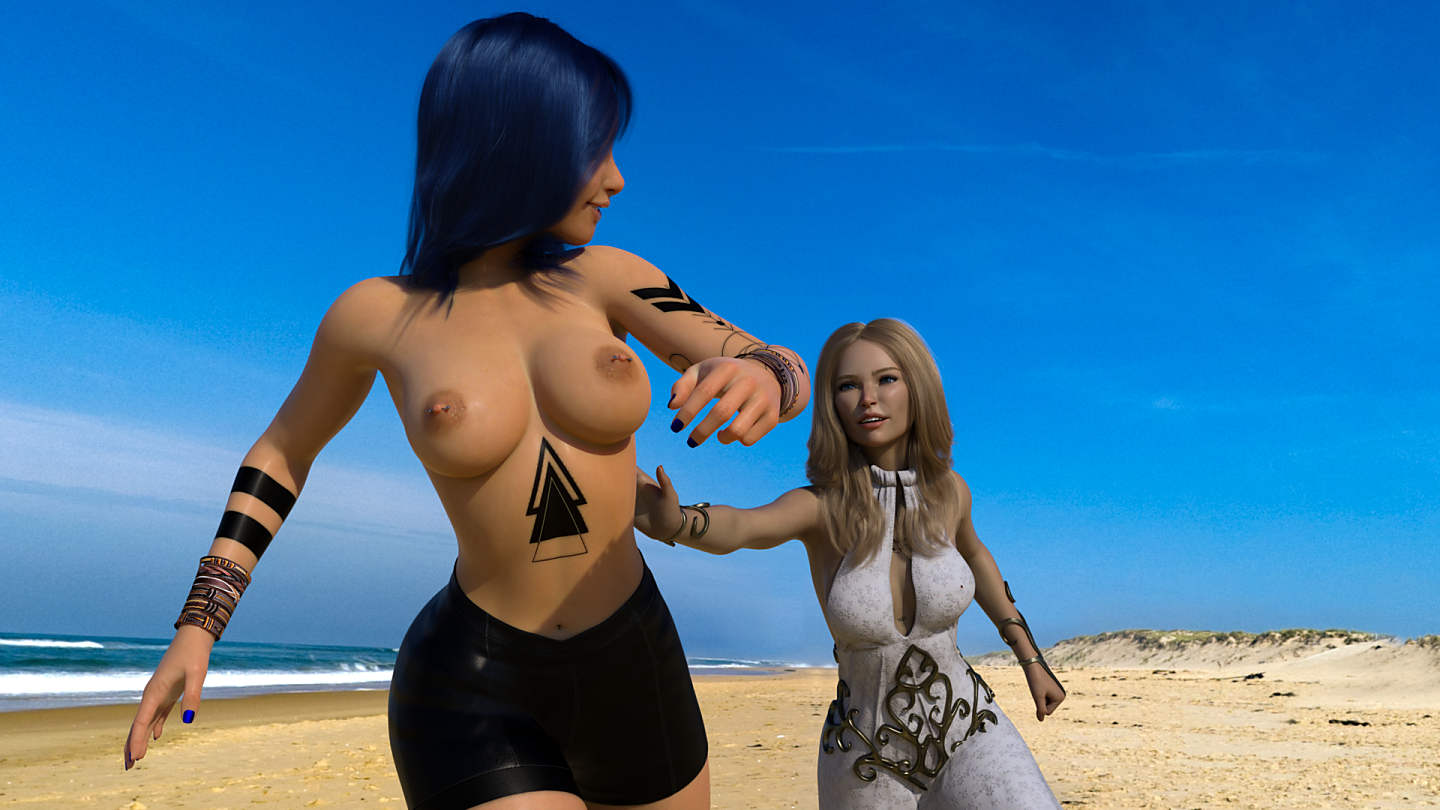 Decades ago, Dungeons began to appear in the world.
Inhabitants of Vetus soon discovered that the most daring
individuals could find wealth and glory within these massive towers.
Our story begins in Erenon, the most luxuriant continent, with a temperate climate all year round.
Enter a world where Dungeons bended the world's economy and changed the lifestyle of every mortal being.
Begin your adventure in a strange way, recruit new friends and form a party to become the most know Adventurer around!
Test your combat abilities in a high-magic world: hundreds of skills, weapons, armors and items!
Follow the story of a farmer who, one day, has to become an adventurer. Will he be good or evil? Maybe just neutral?
Will he be able to reach the top of a Dungeon? Maybe even more than one?
And, the most important thing: will our hero be able to lose his virginity? Will he fall in love and marry? Or he'll build an harem?
I'll let you answer those questions during your journey in Erenon.
Features:
– Content Rich: One main character, a dozen of recruitable characters, and tons of NPCs. Every character is characterized, by its own strengths and weaknesses. A gigantic world map with dozens of maps to explore. A major story arc, a multitude of Side Quests, and many many random events just for fun. Fight with a multitude of different enemies and bosses! Level up, crawling your way to the top!
– Challenge Yourself: the game has no "difficulty mode" and combats are calibrated with Easy, Medium, Hard and Deadly difficulties, so it is possible to encounter many game overs along your journey. Do not be overcome by despair! The game mechanics reward those who can create combos with abilities and spells, you have many many different combinations. With experience, you can transform a "deadly" encounter for the game into an "easy peasy lemon squeezy" encounter. And there are many magic items to help you too!
– Grow your characters: level up, unlock new Spells and Skills, collect loot, buy items, magic armors, magic weapons, complete quests and meet a dozen of characterized allies to help you along your journey to becoming an adventurer!
– Classes: every character you can recruit has its own Class, inspired by the classic ones: Cleric, Wizard, Barbarian, Paladin, Ranger, Rogue, and so on. Meet characters with unique Classes and find out that some "classic" ones have been heavily modified into something different! By leveling up, learn to master the class of the Main Character and overcome your enemies with your trusted party members!
– Unique stories: follow the main quest, uncover secrets of the Region, get rewarded for doing odd jobs for the Adventurer's Guild and find out the personal story of every member of the party. Also, there's a strange guy who follows you everywhere… Maybe he knows something.
-|
Developer: Black Hood Games – Patreon | Discord | Twitter
Censored: No
OS: Windows, Android
Language: English
Genre: RPG, 3dcg, Adventure, Fantasy, Big tits, Big ass, Nudity, Male protagonist, Combat, JRPG, Milf, Mobile game, Turn-based Combat, Romance, Stripping, Voyeurism, Oral sex, Handjob, Animated
Installation:
Extract and run.
Save Location:
Win: \Users\<Your Name>\AppData\Local\User Data –> DefaultErenonfileX.rpgsave
Android: The save files are in android/data but are only accessible in rooted phones.
v1.06.043 Beta
Bugfix:
– Fixed a bug that prevented Ajax quest progress
Gameplay:
– Added quest tracking for major quest checkpoints. This way, you shouldn't have problems progressing from one major quest to another
– Resolved a bug in Frithuie Keep that caused game crash
———————–
Gameplay:
– Thalvefell Dungeon Floor 2 to 10: replaced item retrieval text boxes with on-screen notifications
– Goblin's Dungeon: replaced item retrieval text boxes with on-screen notifications
– Thalvefell's Medium Quest: replaced item retrieval text boxes with on-screen notifications
– Bandit Camp: replaced item retrieval text boxes with on-screen notifications
– Frithuie Keep: replaced item retrieval text boxes with on-screen notifications
– Added an Hard repeatable encounter on the road left of Thalvefell (4 x Dire Wolf for the Wold Hide drop)
– You can find the new character (Ren, The Witch) in Cawic after you stop the Plague.
– You can recruit Ren, The Witch in Cawic now. You can find her after you defeat Ajax.
– You can interact with Ren in the Base Camp after you recruit her.
– Added the debug function for Ren in the Base Camp.
Maps:
– Added 1 room in the Magic Academy
– Added 1 event map (flashback)
Graphics:
– Added 1 lewd animation in the House of Pleasure (Blowjob with Redhead girl)
– Added 2 lewd relationship renders for Ren The Witch when you go further in her relationship at the Base Camp
– Added 5 flashback renders regarding the Main Story Arc
– Added 1 lewd animation in Tea Room with one of the maids (Lestone North Court)
– Added 5 lewd renders in Tea Room with one of the maids (Lestone north Court)
Database:
– Added Ren, The Witch
– Added 3 NPC characters in the Magic Academy
– Added 2 NPC merchants in the open market in Lestone South Gate
– Dire Wolf: modified Gold drop from 2 to 4; added an item with 100% drop: Wolf Hide (Relationship Item)
– Added Ren's Relationship Points
– Added 1 NPC character in Lestone North Court (2 lines of dialogue)
– Added 1 NPC in Lestone North Gate (2 lines of dialogue)
– Given shop to the 3 maids in the Tea Room in Lestone's North Court
– Added the "Special Service" line to 1 of the Maids in the Tea Room
– Reduced Relationship's requisites for every Follower from 10 for step to 5 for step
– Added progression to the Main Quest that lets you know what steps of the Main Plot you have to follow (actually WIP, some steps are missing and they will be added in the next version)
Bugfix:
– Adjusted some typos in MC description and tutorial
– Fixed a bug where you weren't getting Mana Potions on some maps
– Fixed many name events who could generate conflicts on the long run
– Reosolved a bug that won't recover HP and Skills to other party members if you were sleeping at the Base Camp
– Fixed a bug with the Relationship menu that caused you to loop in the menu