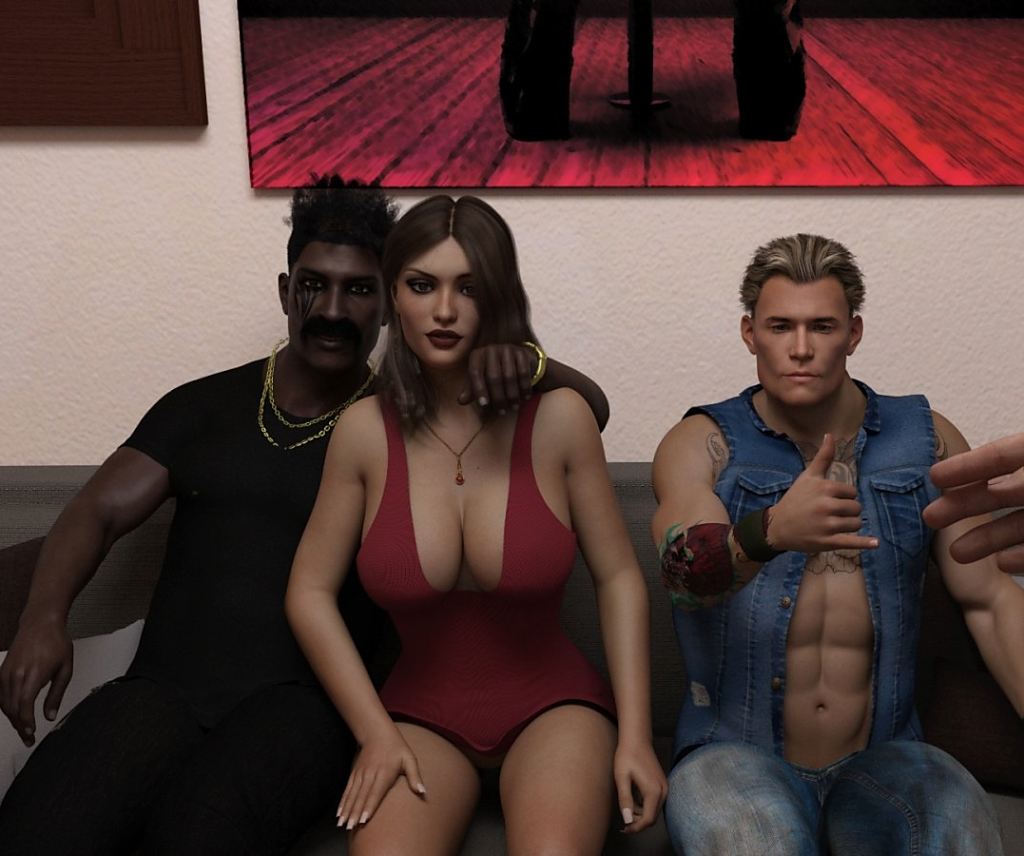 The game will about the son (player) who returns from his year as an exchange student. It was his last year of school and he comes home to find a job. When he comes home he notices that some things have changed, badly.
At home lives his mother, his step-dad and his two sisters (one younger, one older). His step-dad was always a good man and you and the family accepted him as a real dad. What has changed and why it "could be bad" will be revealed in the demo of the game.
Some will say, oh no, the typical incest mother/son, brother/sister game. But in this game it'll be the players choice as to what content appears. The player can choose who he'll romance, if he wants to start a romance with a family member, get a "normal" girlfriend and so on.
He'll get to choose which way he wants to do that, start a gentle love story, be an asshole who takes what he wants or corrupts them to earn money (example). The player can decide everything, for example: Whether to have a secret relationship with mom, a gentle romance with a girlfriend while forcing his sister into a relationship with a friend, who pays him for this. Or leave the family members alone and have several girlfriends instead.
So the player will decide everything in the game, what he wants to do and how he wants to play. Like a dating simulator. But this game will have a dark (rough and violent) background setting and there's always rivals, which look to "steal" your girls; and the tyrant himself as named in the title. It'll also be harder to archive your goals and there will be many ways to get there. Almost all content will be avoidable.
Developer: sadddoggames – Patreon | Website
Censorship: No
OS: Windows, Mac, Linux, Android
Language: English
Genres: 3DCG, Male Protagonist, Male Domination, Graphic Violence, Incest, Interracial, MILF, Lesbian, NTR, Cheating, Prostitution, Romance, Voyeurism, Multiple Penetration, Groping, Blackmail, BDSM, Vaginal Sex, Oral Sex, Anal Sex, Handjob, Masturbation, Mobile game
Installation:
1- Extract to desired location.
2- Click on "The Tyrant.exe" to start playing.
v0.9.4
– weekend trips (love) for Nicole and Alexis
– weekend trips for Nicole, Alexis and Cassandra (NTR). Just go on a corruption or love trip with them and have to low relationship and their other NTR events before, see helper.
– A new event with Cassandra when she's your basement slut (corruption, 9am)
– more training with Cassandra before she have her second event in the basement (corruption, 9am)
– a event in the parents room at 7pm after you told Bruce to get his hands off Nicole
– some repeatable events won't occur anymore when a character has passed a certain point. The repeating at this point won't make any sense. (for example the meeting of Martin at the front door at 2pm)
– some repeatable event are reworked, so the haven't the same text every time
– you won't lose relationship points any longer when NTR is off (that makes no sense then)
– the shaky relation events are gone, that experiment was crap
– bugfixing
Content Changed
– Patch restores incest content to the game
Patch Instructions
Copy the ipatch.rpa in the "game" folder. (When there are other .rpa files inside the game folder you're doing it right).
You need to copy the ipatch.rpa for every new update in the "game" folder to restore the incest content.