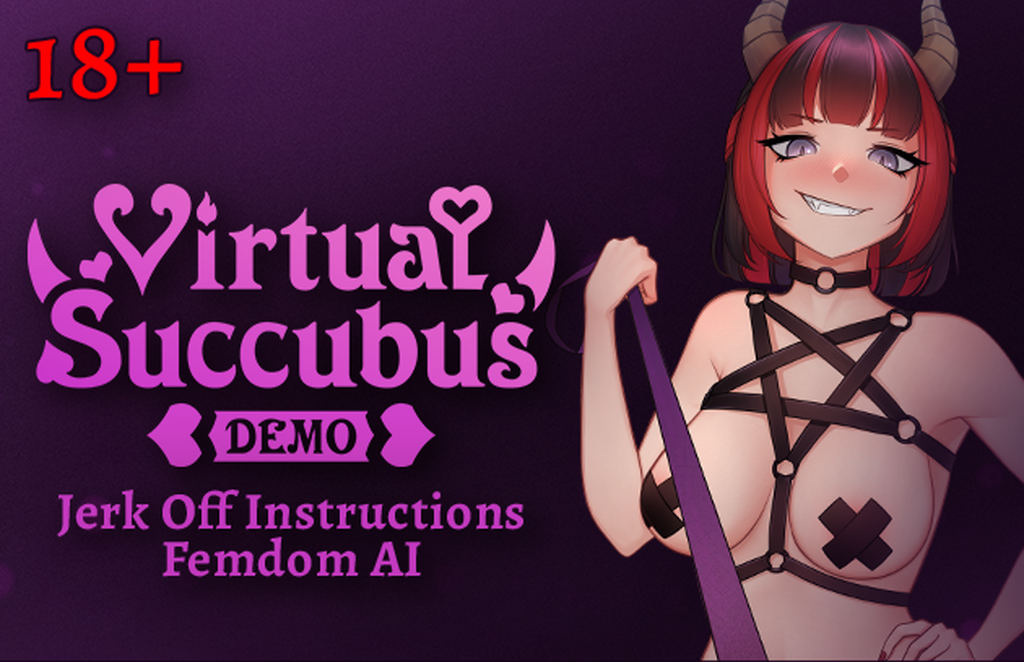 Virtual Succubus is a deeply customizable Jerk Off Instructions experience with your personal Femdom AI.
Virtual Succubus contains many different JOI "mechanics" taking inspiration from all kinds of content.
Using the hundreds of content toggles like kinks and toys, many of these different mechanics can combine various tasks to be done at once; resulting in thousands upon thousands of potential tasks!
This game supports all kinds of players!
Over its years of development, countless feature requests have been made to accommodate every kind of kinky people.
A game designed to cater to all kinds of tastes, the only thing you won't find is the option to make her submissive.
If you have a subby kink or interest, it's probably in there!
Your Succubus was designed not just to make you enjoy individual sessions, but to truly feel like you have your own lovingly wicked Dominant!
Earn her favor to be rewarded or raise the session stakes with long term consequences, every system is designed to encourage long term play.
Many aspects of the game are procedurally generated to avoid seeing the exact same thing too often, even if you play daily!
Layered tasks composed of multiple different kinky aspects, procedurally generated text prompts, and countless more aspects of every session you participate in!
Your succubus can require you to pick up certain habits or complete certain tasks, and will hold you to their completion, punishing you if you fail to be a good sub. From edging ten times a day to finishing your taxes, there's no limits to what your succubus can make you do.
These systems are primarily self-entered and thus endlessly customizable, but examples are also given in-game if you wish to use them!
Various games have already taken the "sync a toy to the beat" approach, so I wanted to try something different!
With Xtoys' support for various sensors on either phones or PCs, I was able to make a variety of scripts for your succubus to use on you that are significantly more BDSM oriented than just controlling pleasure!
—
Developer: SuccuDev – Patreon | Discord | Itch.io | Twitter | Website
Censored: No
OS: Windows, Android
Language: English
Genre: 3dcg, Masturbation, Female Domination, Mobile game, Animated, Simulator, JOI, Monster Girl, Humiliation, Sex Toys, Teasing, Futa, Trans, Pet Play
Installation:
PC: Extract (do not overwrite a previous version) and run.
Android: Install APK (do not uninstall the previous version if you want to maintain save data)