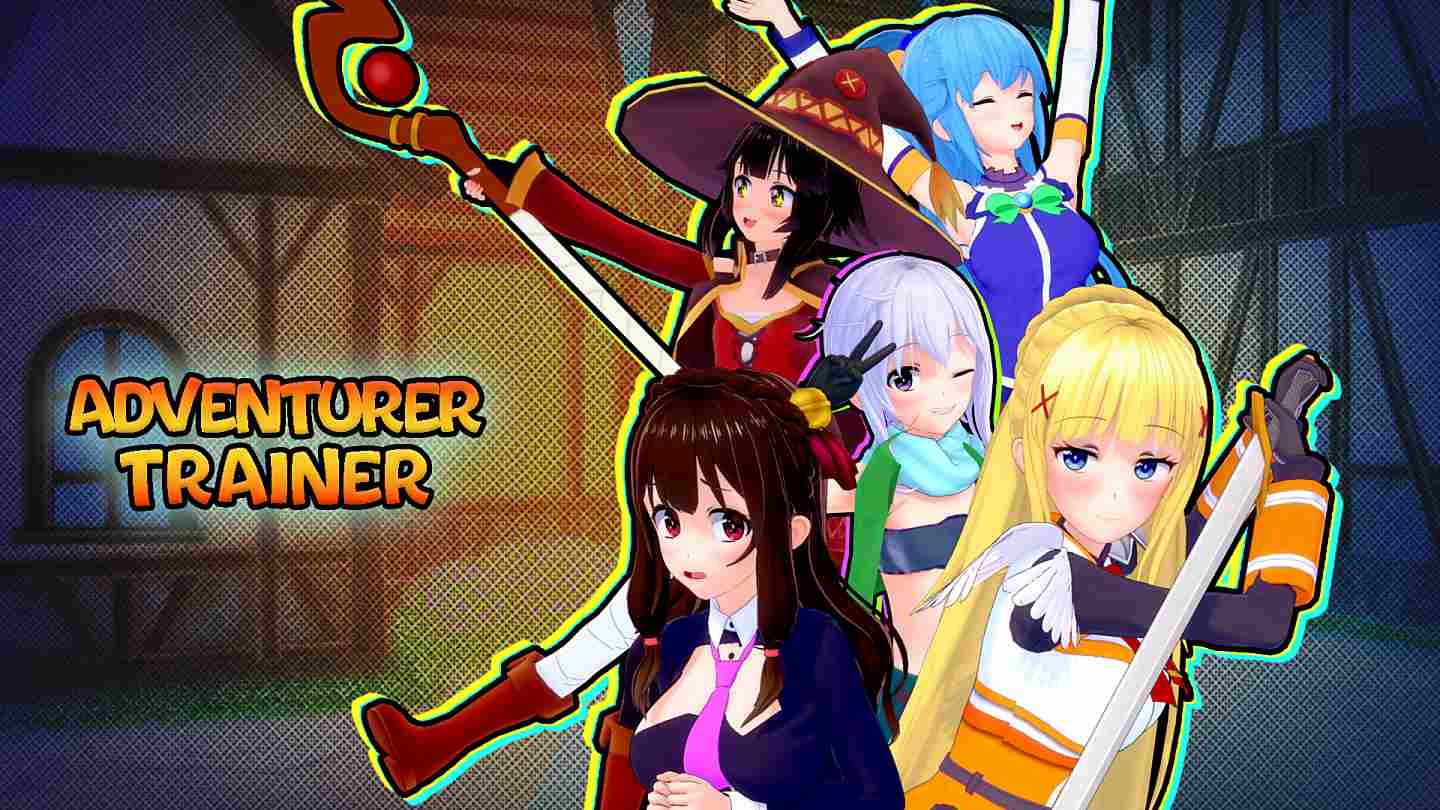 Adventurer Trainer is a free non-commercial fan-made porn-parody Dating Sim/Visual Novel with RPG elements, set in a fictional universe loosely based on Konosuba and other titles. You will meet familiar characters, embark on exhilarating adventures, solve mysteries and more!
The current game version is 0.1.1, complete with 27k words, numerous events, and six H-scenes.
Thank you for your support and I hope you enjoy playing the game! Leave any comments and feedback below and please consider supporting me on Patreon!
—
Developer: PastryIRL – Patreon | Twitter
Censored: No
OS: Windows, Mac, Android
Language: English
Genre: 3DCG, Male protagonist, Parody, Animated, Harem, Loli, Teasing, Virgin, Dating Sim, Humor, Romance, Dating sim, Fantasy, Sandbox, RPG, Turn based combat, Big tits, Big Ass, Handjob, MILF, Ahegao, Creampie, Exhibitionism, Vaginal Sex, Mobile game
Installation:
1. Extract and run.
Cheats:
– "clearinventory" to remove all items from your inventory
– "giveitem id" add an item to your inventory (current ids are "healthpotion" and "picklepotion")
v0.1.1
This update focuses on events for Aqua & Megumin.
Story:
– +14k words, bringing the total up to 27k and essentially doubling the game's content
– +413 images, totaling 993
– 3 new Megumin events, 2 Aqua events, 1 main event involving Wiz & Aqua, 1 Chris event, and two recurrent dialogues.
– 2 new H-scenes!
– Added the first secret H-scene! Be sure to check your inventory when you find a certain potion…
Technical:
– Full Android support! During adventuring, mobile players will take advantage of on-screen controls to play. Please report any bugs/errors/issues regarding this.
– Hall of Fame added to the menu, crediting the generous Patrons who support the project!
– Added an Event Tracker, complete with a Replay system and categories!
– Added a fully functional inventory system, accessible from both in and out of combat. Stock up on those heals!
– Added the first iteration of the shopping system (which might see changes in the future to accomodate more features).
– Added an update checker! The game will show a notification in the main menu when a new version is available.
– Added a patching system for seamless upgrades between versions. No more unsupported save files!
– H-scenes will now display text differently to maximize what you can see on the screen.
– Added a cheat menu.
– Various spelling mistakes fixed and some sentences reworded.
Adventuring:
– Fixed a bug which could result in an uncaught exception when Megumin uses her Explosion
– Added dynamic environment effects.
– Added animations to some monster attacks.
– Added bait animations.
– Added Steal ability. Talk to Chris to learn it!
– You can now use items during combat
– You can now find items in chests
– Fixed a bug that could result in accuracy/damage/crit bonuses not propagate properly when abilities were used
– Revamped the visuals of the Plains environment. Pixel art rules
– The visual environments are now procedurally generated, resulting in a much higher number of variations than I could make by hand.
– Revamped quest backend system to streamline updating experience to new versions. Fully backwards compatible, no need to start a new game.
Minor changes and balancing:
– Decreased Darkness' base dodge attribute to -100 to stay in line with her character. No dodging allowed.
– Rebalanced attribute growth to have beefier, stronger characters at higher levels.
– Increased monetary reward for exploring city alleys, and added a possibility for a random Unique Item drop.
– Added new sound effects to various parts of the game. Sex sounds too!
– Fixed instances where Aqua had incorrect shoes on.
– Updated and changed some sounds.
– Added the link to discord in main menu.
– The events are now mapped by IDs vs names.
v0.1b Hotfix
– Fixes the Patreon link in the menu
– You may now get the buff/debuff details by hovering over its icon in adventuring mode.
– You may now get a tooltip for skills by pressing F in adventuring mode.
v0.1a Hotfix
– Fixes a bug that could lead to an uncaught exception during adventuring
– Added 1 H-scene
v0.1 – Initial release!
– 13k words
– 580 images
– 4 videos
– 2 H-scenes
– 1 story quest and 1 recurrent quest