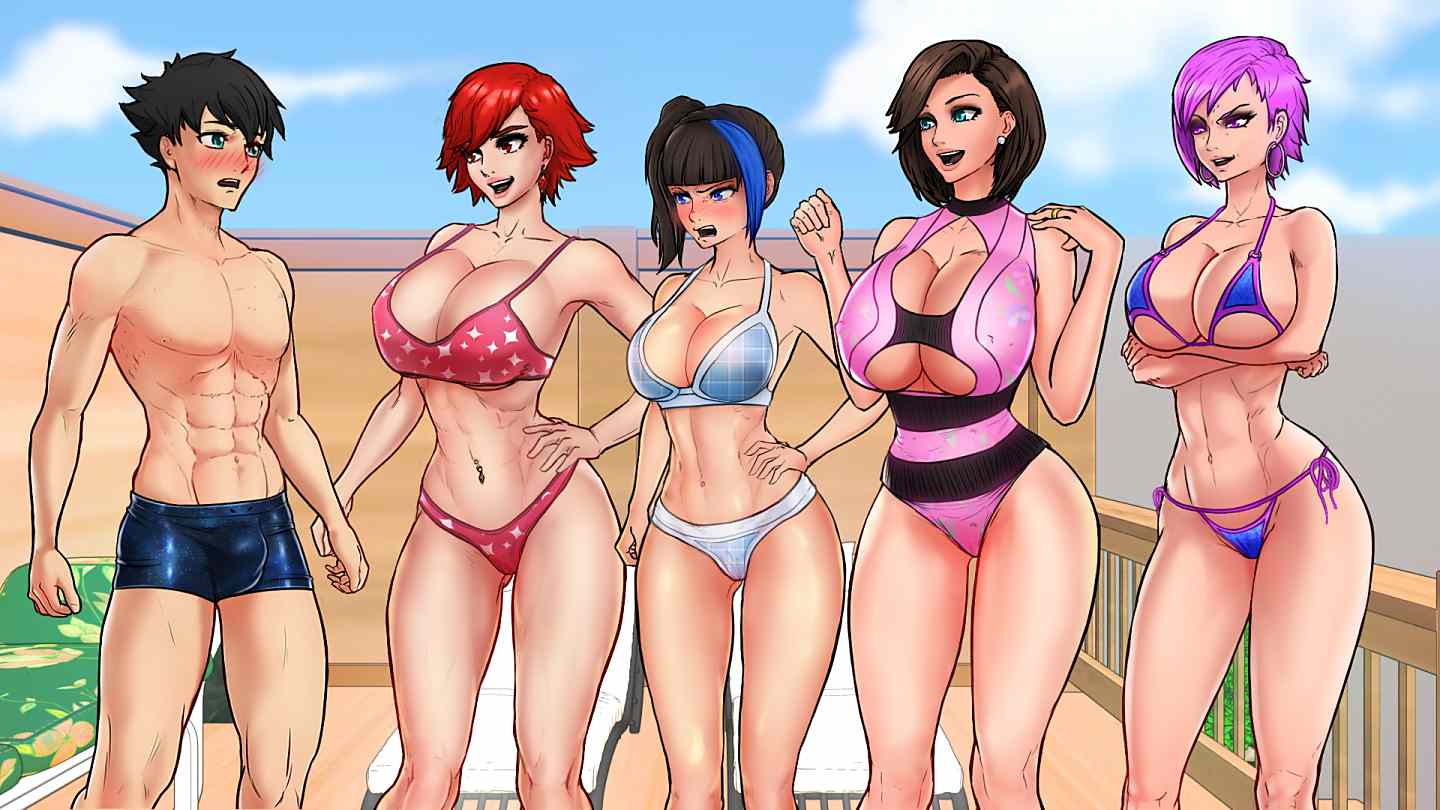 Confined with Goddesses is a light-hearted story based on hentai culture, in its "funny" aspect. My inspiration is coming from hentai/manga, adult manhwas, and few adult games I like.
The mc has a girlfriend, but isn't thinking about cheating. Even tho' he knows they're able to get him hard very easily, they all already are in couple so… "no danger".
Mc's goal: He's surrounded by 4 girls, it's a good opportunity to try to understand how to please a woman, by "discussing and observing" them, in the hope of being a better boyfriend.
– How will it turns out?
– Will he learn things by doing more than "discussing and observing"?
– Will the girls see in the MC someone that fits them more than their own companions?
– Will he even want to go back with his girlfriend at the end of the quarantine?
– Or will he start another relationship with someone else?​
–
Developer: ERONIVERSE – Patreon | Itch.io
Censored: No
OS: Windows, Mac, Linux, Android
Language: English
Voiced: English
Genre: 2DCG, Male protagonist, Animated, Oral sex, MILF, Big ass, Big tits, Female domination, Handjob, Masturbation, Sandbox, School setting, Teasing, Titfuck, Voiced, Mobile game
Installation:
Extract and run.
v1.0
– New events at the jacuzzi and the cooking! One for each girl, with another scene for each if you have your stats at max. Also, an extra option for Berry if you don't like one option.
–  New little events when girls are Step 0 (new dialogue options) to increase the possibilities to get desire when you start the game.
– Some work on valerie's final event, I do hope it's gonna work better for those who had an issue with it.
– Rework of a few art and animations. Some scenes has changed from single image to animation. 30 Images, 8 New animations.
The new animations are: – Party with Berry Step 2 oral, – Berry's first time with you during her events s*x, – Berry's bed room Step 3 s*x, – Emma's oral job during her event, – Emma step 2 at the backyard oral – Sarena step 3 at the backyard s*x – Sarena's morning scene step 3 s*x – Sarena's morning scene Step 1 HJ