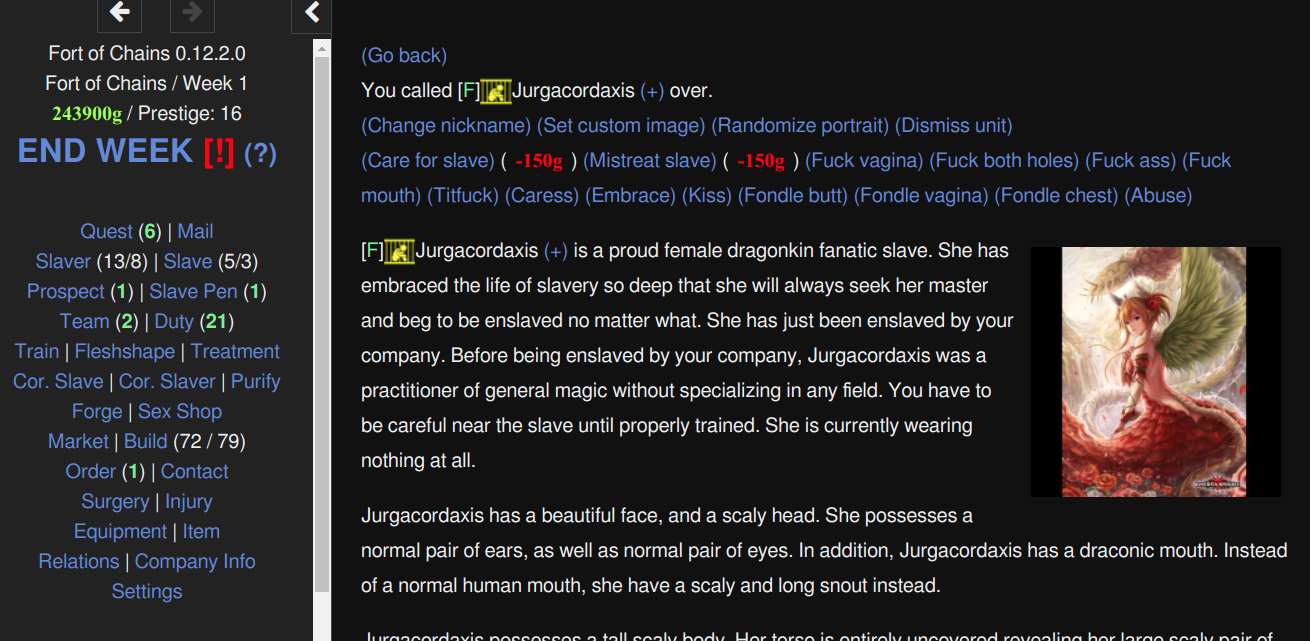 Fort of Chains is a completed, free, moddable, open-source, TEXT-ONLY sandbox management NSFW game where you manage a band of slavers in a fantasy world. Be warned that the game contains heavy themes of slavery and non-consensual sex.
Key designs. This game is designed to be a short-story-teller machine: the core gameplay involves assigning groups of slavers to quests, then reading what happens to them, and finally getting the various quests' rewards (money, slaves, etc.). Fort of Chains is written in Twine and SugarCube 2. This game is heavily inspired by No Haven and Free Cities. This game covers all spectrum of orientations: (you can setup the game to cater to whichever gender orientations you prefer). This game is complete: all features, bugfixes, polish, balancing, and originally planned stories are finished. But improvements and community-made content are still being added continuously to the game.
Contributing. The game is always looking for all and any kind of contributions! As of v1.1.3.2, at least 10 kind contributors have helped by adding content into the game, while much more have helped playtest the game and give feedbacks.
First, you can help support this game by adding your stories into the game. It is very easy to do, because this game is designed from scratch to be a writer's wet dream. You do not need any programming knowledge at all to write new stories to the game, nor you need to commit to it from start. The only thing you need is to have the story in mind. Once you do, simply follow the in-game GUI tool to add your story into the game, all at your leisure. Once you are done, you can submit the finished story either in the subreddit (Example submission in the subreddit), or if you are feeling adventurous, directly in the repository. If the story fits the game, it will be added pronto, with a lot of thanks! (There is a Tutorial, but the in-game GUI tool is designed to be friendly enough that it is not necessary to read the tutorial.)
Second, the game is open-source, so programmers, artists, and other contributors are also highly welcomed! Code fixes, artwork for units, flavor texts, everything is available for improvement.
Questions? If you are hoping to contribute something and have questions, please do not hesitate to ask in the subreddit.
—
Developer: Darko – Itch.io | Source Code
Censored: No
OS: Windows, Linux, Mac / HTML
Language: English
Genre: Text-based, Management, Sandbox, Strategy, Simulator, Character Creation, Slave, Fantasy, Trainer, Rape, Male Protagonist, Female Protagonist, Gay, Male Domination, Female Domination, Lesbian
Installation:
1. Extract and open "precompiled.html" in your favorite browser.
2. If you want to contribute content. see details here: https://gitgud.io/darkofocdarko/foc
v1.8.3.0
Content

New quest chain: Household Destruction (5 quests, 5 opportunities, 6 events)
New event and opportunity: Revenge Attempt
New event: Penitent (by FCdev)
New event: chastity release
Written player specific background variants for 40+ existing events.

Content Creator

New cost: Domify unit
New cost: Sluttify unit

Image
QoL

Non-company unit rep now show details in debug mode

Misc

Curse of lamb and curse of wolf now affect sluttification / domification
Dragonkin knights are more common now
More granularity of sold slave unit group

Engine

Remove hardcoded child inherit chance in unit birth

Bugfix

Fix savior kobold not allowing master fire / light slavers to go (thanks to DangThings)
Fix VarAdd adding strings instead of integers in some cases
Fix deleteUnit duplicated in unit image
Fix missing tags in tomb raider quest

Text fixes

Fix missing tooltip on dragonkin's dual fire / light affinities
Fixed gilded pet tray [unobtainable] name not removed.