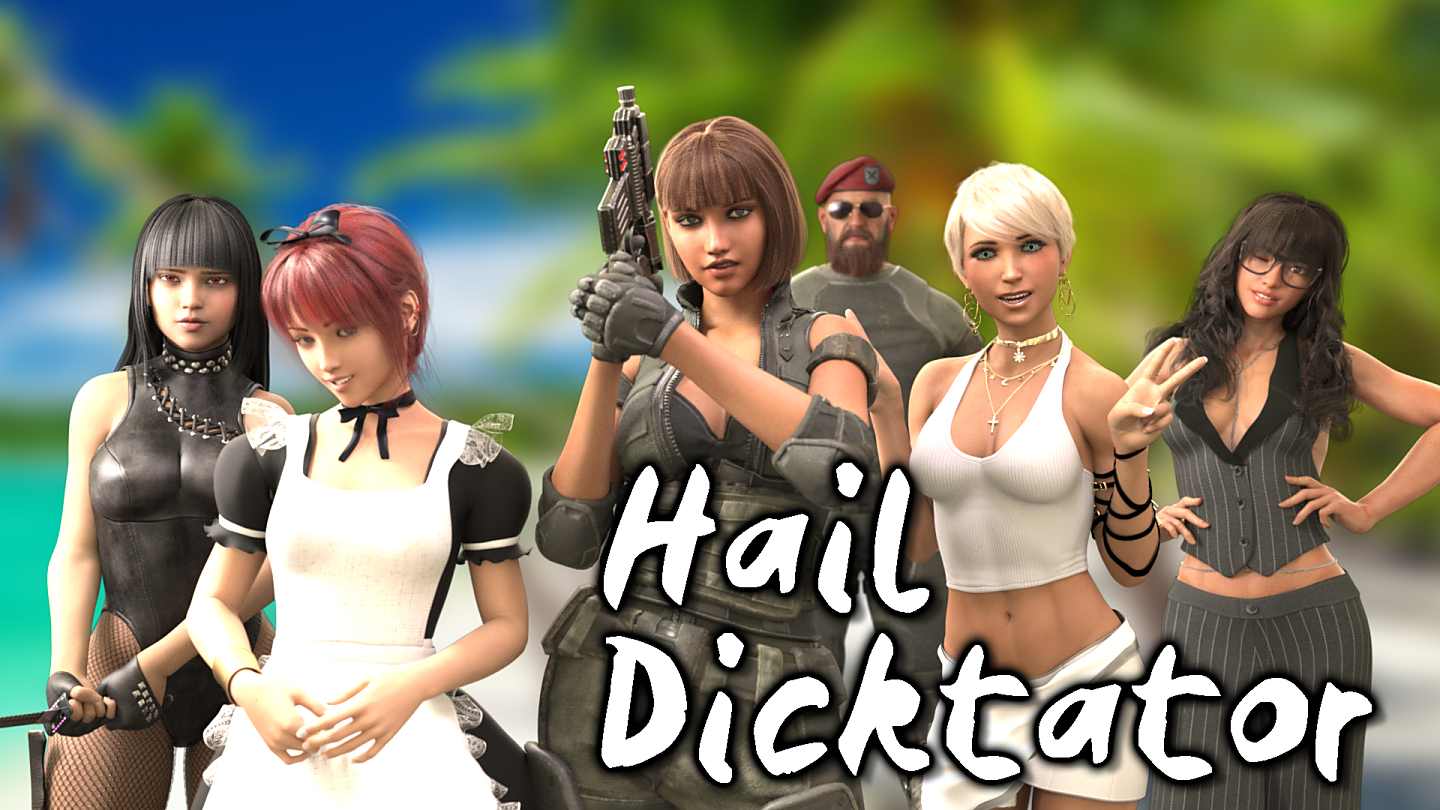 Down on your luck, you suddenly receive a letter from an uncle you never knew you had. He offers you a job to manage his tropical island resort. You find it's full of beautiful women and a strange culture of punishment and reward. But perhaps the island itself is even stranger than the people that inhabit it…
Build friendships and fall in love with the girls. Punish or reward them. Follow their stories. Explore the secrets of the island, upgrade the hotel, build more facilities. Maybe one day, you will become the new 'Dicktator'!
'Hail Dicktator' features fetishes of all kinds already available in the game, including anal, bondage, spanking, tickling and feet.​
-|
Developer: Hachigames – Patreon | Discord | Twitter
Censored: No
OS: Windows, Mac, Linux, Android
Language: English, German | Google Translated: French, Spanish, Polish, Russian, Chinese (Simplified), Japanese, Italian
Genre: 3DCG, Male protagonist, Harem, Dating sim, Trainer, Lesbian, BDSM, Bondage, Male domination, Female domination, Exhibitionism, Cosplay, Corruption, Big tits, Groping, Masturbation, Oral sex, Spanking, Voyeurism, Virgin, Sex toys, Handjob, Romance, Sandbox, Superpowers, Big ass, Humiliation, Vaginal sex, Footjob, Titfuck, Anal sex, Creampie, Footjob, Humiliation, Humor, Interracial, Management, Mobile game, Teasing, Tickling
Installation:
Extract and run.
If you play on older Operating Systems like Windows 7, Microsoft c++ Redistributable 2015 needs to be installed.
For Android:
The game is split into chapters for Android because of the 2gb limit. Only one can be installed at the same time, but save games are compatible between chapters.
For Mac: If you get the "The app HailDicktator is damaged and can't be run." error, there is the following workaround, until I can find another way to fix it:
1. After downloading the game. Extract the app using "The Unarchiver" (the default unzip program of mac might mess up permissions)
2. Open Terminal. (go to Applications -> Utils -> Terminal)
3. Type "xattr -cr Downloads/HailDicktator_x.x.x_macOS/HailDicktator.app" (without quotes. Replace _x.x.x with the name of the folder, you can also use tab to autocomplete)
4. Press enter, and there shouldn't be any error or other message. After that, you can play the game as normal.
Other Information:
Use the mouse wheel to roll back/forward.
More punishment/reward options will be added with upcoming updates.
Cheat:
Type into the cheat bar in the hotel management panel (without quotes) (press the hotel button).
* "money" (gives max money)
* "ruinme" (0 money)
* "giveXk" (replace X with pos. or neg. number to add X times 1000 G)
* "maxallstats" (sets all stats of the girls to current maximum. known bug: also sets money to 0, but you can use the money cheats after)
Save games Location:
Windows: C:UsersAppDataLocalLowHachiGamesHailDicktatorsave
(make sure that hidden folders are visible)
Mac: /Users/[username]/Library/Application Support/com.Company.ProductName/save/
Linux: /home/USERNAME/.config/unity3d/HachiGames/HailDicktator/save
v0.57.1
* ~280 new renders (~600+ with animations)
* 5 new animations
* ~14 new scenes
* anal, blowjob (deepthroat), anal hooks, toys, vanilla, foot fetish, bondage, bdsm
* main story progression
* side story progression