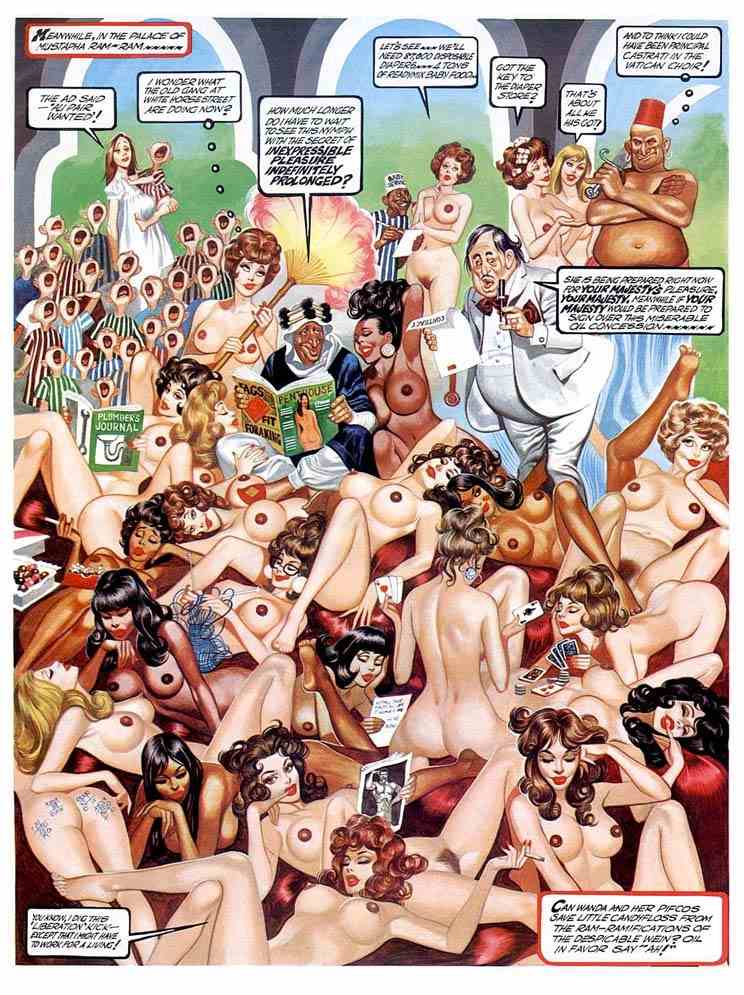 A beautiful ravenous black-haired heiress to a multi-million-dollar fortune Wanda Von Kreesus was a "man-hating" lesbian who ran a bank which, among other things, contained secrets that could bring down world governments, and lived in an old castle on Lake Zurich, Switzerland with her live-in partner, Candyfloss.
Candyfloss was a blonde nymphet, who was originally sent as a "present" to her father, but Wanda claimed her as her own. Wanda later got Candyfloss to be chased around the castle by her father, during which he died of exhaustion… leaving Wanda to claim the inheritance.
Wanda often called her "Pusscake", while Candyfloss' nickname for Wanda was "Boo'ful." The term "candyfloss" is the common British name for "cotton candy." Candyfloss was bisexual, making love with anyone who came her way, much to Wanda's annoyance.
Their adventurous travels took them to such exotic locales as: Arabia, Tibet, Europe, India, New York, Hollywood, Las Vegas and Disneyland. The pair also travelled through time, courtesy of a time machine, visiting France during the French Revolution, England during the signing of the Magna Carta, and Germany during World War II, before briefly visiting the future and returning to the present.
While in later parts of the series Wanda would have a handful of male 'toys' with whom she would use and abuse until they died of exhaustion – her sexual preference was almost exclusively for women
Wanda dedicates herself to destroying normal society and replacing it with a bizarre sex-oriented permissive anarchy.
Developer/Publisher
: Frederic Mullaly, Ron Embleton / Penthouse International
Censorship
: No
Language
: English
Pages
: 622
Genre
: BDSM, Femdom, Humor, Lesbian
Installation:
1- Extract to desired location.
2- Open with desired image software or convert to .cbr for CBR readers