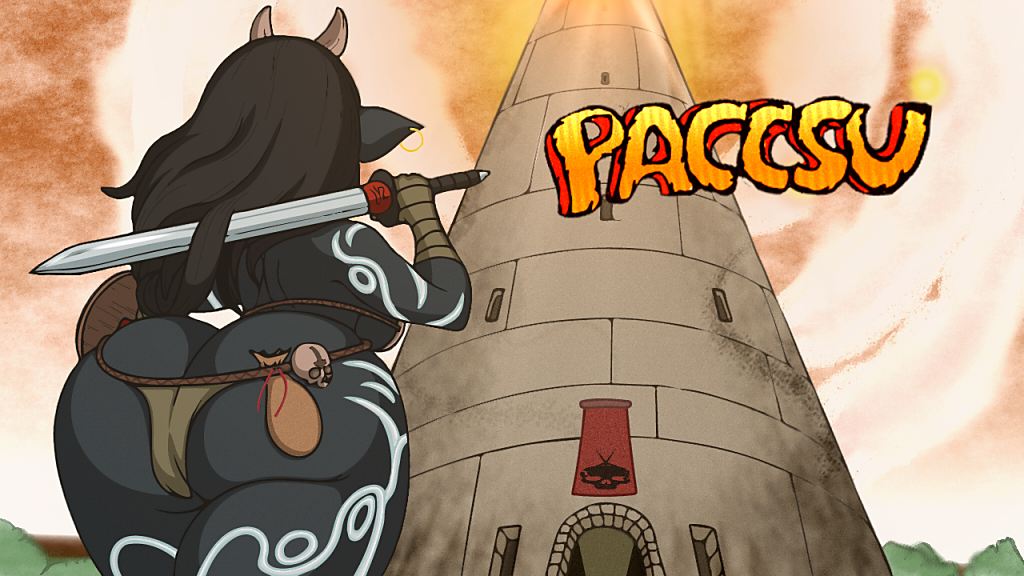 Paccsu – Namu's Journey is a LEWD RPG game set in a fantasy world called Paccsu. You take control of a Muh'keangirl called Namu, who was taken away from her birth parents at a young age to be a part of a holy ritual in Muh'kea'sdesperate attempt to fight The Undying King, the King of Zombies.
She was taken to the Kingdom of Ruo'ho by a human refugee couple to live by the shadow of the mystical Tukeva Tower, where she would live her life, train and grow strong. 18 years later, Namu is ready for the adventure with the help of her adoptive parents. Namu has no idea what happened in her past or has any memory of it or what kind of power she holds inside her. Soon, Namu finds herself in the middle of a crisis that threatens the whole world.
Namu's journey begins when she is sent to investigate the mines where dangerous and bootylicious snakes from the Clan Tiss'i have been attacking the innocent human workers. It's Namu's job to save the world.
Developer/Publisher: Zem
Censorship: None
OS: Windows
Language: English
Genre: 2d game, 2dcg, Adventure, Big ass, Fantasy, Female protagonist, Shortstack, Big breasts, Anal, Animated, Monsters, Rape
Installation:
1- Extract to desired location.
2- Click on "Game.exe" to start playing.
v0.12
Paccsu 0.12 is here with following new additions:
Mainio Sewers (Main Mission)
– Some remnants of the invasion are still lurking in the sewers. People have seen weird slugs and they seem to be multiplying. Namu is sent to investigate.
New Enemies in Mainio Sewers:
Mouthslug
Tentacle Mother (Boss)
–
BewbTek Facility (Side Mission, optional)
– This long abandoned facility located in Kulma'la is filled with amazing machinery and artifacts. Professor Humbledorf hires Namu to fetch a valuable artifact. This mission is available in Mainio (new Mainio Notice Board) after you have defeated Maht'ava.
New Enemies in BewbTek Facility:
BewbTek Guardbot
BewbTek Turret
BewbTek Goliath 69
–
New Lewd Scenes:
Mainio Auction
– The Clown Auctioneer is in Mainio and Namu gets a chance to buy some amazing items! (just kidding) Namu gets touched in the butt and also blasted inside her butt. (Hotdoggin + Doggystyle vaginal, animated). This scene is available after you've defeated Maht'ava.
–
Mainio Sewers, Mouthslug
– Mouthslug will spread a weird chemical in the air which makes Namu's boobs grow! These slugs will then attach themselves onto Namu and suck her breasts dry. (Breast Expansion, Milking)
schlorp
–
BewbTek Facility, Robots (Guardbot, Goliath)
– These robots will use their robotic extensions to give Namu a hard time. (Anal, Deep penetration, Huge Penetration, animated)
Guardbot Scene
LINK TO ANIMATED SCENE
Goliath Scene (Boss)
LINK TO ANIMATED SCENE
–
Temple of Kulma, Snowskull Moth Babby
– These baby moths now have a chance to knock Namu down and shoot spikes into her butt and vajajay. Baby moths can also penetrate Namu with their spikes! (Anal penetration)
–
Misc:
Made some of the lewd scenes longer (Will lengthen the rest of the scenes in the next version)
Namu and Kiva will now preserve their TP from battle to another (no longer randomized TP)
Kiva gets a new set of equipment once you complete the Sewer mission!
Adjusted Kiva's stats a bit (buffed defense, agility a tiny bit)
Added some tutorials in some maps to make it easier to navigate and understand the game and its mechanics
Plenty of new gear n loot added (Check the shops after the invasion!)
After the Invasion; Lehava Skinny-Tail now has her own shop in South Mainio with powerful items for sale.
Mainio Notice Board
–
Saves Included:
Slot 5 (BewbTek Facility)
Slot 6 (Right after Invasion, defeat of Maht'ava)