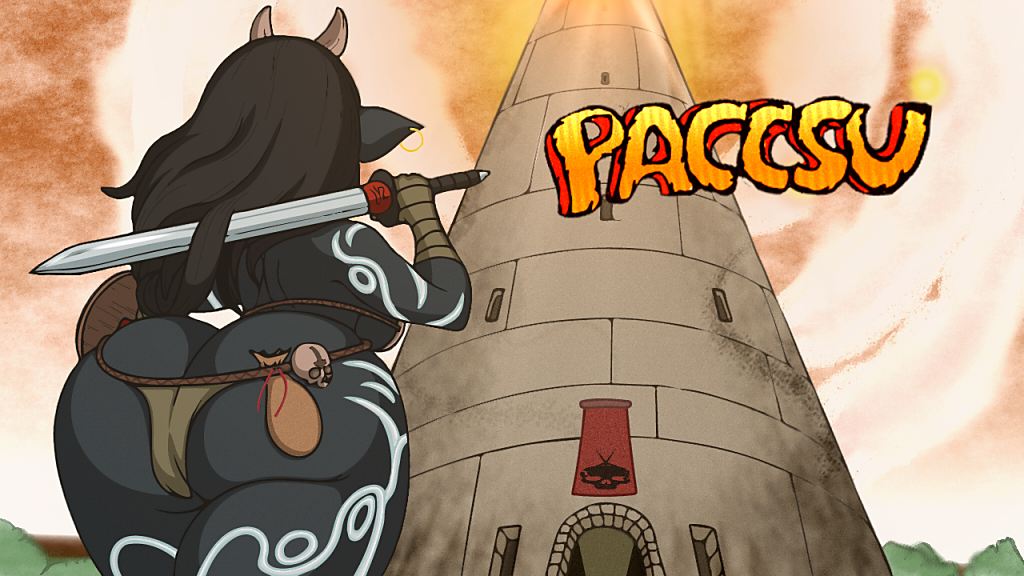 Paccsu – Namu's Journey is a LEWD RPG game set in a fantasy world called Paccsu. You take control of a Muh'keangirl called Namu, who was taken away from her birth parents at a young age to be a part of a holy ritual in Muh'kea'sdesperate attempt to fight The Undying King, the King of Zombies.
She was taken to the Kingdom of Ruo'ho by a human refugee couple to live by the shadow of the mystical Tukeva Tower, where she would live her life, train and grow strong. 18 years later, Namu is ready for the adventure with the help of her adoptive parents. Namu has no idea what happened in her past or has any memory of it or what kind of power she holds inside her. Soon, Namu finds herself in the middle of a crisis that threatens the whole world.
Namu's journey begins when she is sent to investigate the mines where dangerous and bootylicious snakes from the Clan Tiss'i have been attacking the innocent human workers. It's Namu's job to save the world.
Developer/Publisher: Zem – Patreon | Newgrounds
Censorship: None
OS: Windows, Android
Language: English
Genre: 2d game, 2dcg, Adventure, Big ass, Fantasy, Female protagonist, Shortstack, Big breasts, Anal, Animated, Monsters, Rape
Installation:
1- Extract to desired location.
2- Click on "Game.exe" to start playing.
v0.14
IF your save is from older version of the game (0.12 or earlier) your save might not work properly. It's because of the fancy HUD I implemented in 0.13. Sorry for the inconvenience.
New Areas:
Hall of Fallen Heroes/Burial Site
– Someone is tampering with the Seals of Ruo'ho and Namu is sent to this ancient burial site
called Hall of Fallen Heroes by her Dad to investigate.
Someone is disturbing the sleep of the dead, so the halls are filled with ghosts!
Guardians of Light Temple
– Voice of Light Orb is guarded here by the Orb Guardian
Mount Tapett'ava
– Gateway for the Undying King
New Enemies (Hall of Fallen Heroes, Mount Tapett'ava)
– Homicidal Soul
– Undead Priestess (Boss)
– The Undying King (Boss)
All the enemies have new and exciting loot to drop
New Lewd Scenes
– Maht'ava (Final Form, Boss)
Huge Anal Tentacle (Animated)
– Ghosts/Disturbed Souls (Hall of Fallen Heroes/Burial Site)
Namu Futa Ghost Blowjob (Animated)
Misc:
– Made some adjustments to skills/powers/stats
– BewbTek Facility, Imprisoned in Ooze are now part of the main storyline and need to be completed
to continue the story.
– Kiva receives a new power at lvl 23 called Slimopolooza. (All Allies recover 15 Hp and MP, also 15TP)
Bug Fix:
– Removed the message in the throne room that said "here ends 0.12 version" lmfao
Saves Included:
– Slot 5 (Mainio after completing the Ooze mission)
– Slot 6 (The Undying King Battle)
v0.13
New Areas:
Van'ki Prison/Clan Mus'tah Hideout (Side Mission)
– Namu gets an interesting job offer from a catgirl named Purnima. She needs Namu's help to retrieve a valuable
family heirloom from Clan Mus'tah, the weird latex clan ooozing with evil~.
This mission is available right after you've finished the BewbTek Robot Facility, from the Mainio noticeboard.
New Enemies (Clan Mus'tah)
– Mus'tah "Tank"
– Mus'tah Striker
– Mus'tah Battlemonk
– Mus'tah Eye
– Mus'tah Ooze Priestess (Boss)
All the Ooze Enemies have exciting and awesome loot.
New Lewd Scenes:
– Backstreet Dive Bar (South Mainio)
Namu gets a bit tipsy and invites people to ravage her butt. (Animated)
Clan Mus'tah scenes ("Tank", Striker and Ooze Priestess):
– Namu Double Tentacle (Anal)
– Kiva All the Way Through
– Kiva Triple Tentacle (Anal)
ANAL ANAL ANAL!!!
All 3 are animated scenes
ANAL!!!!
New Hud (wip):
– Paccsu has a new battle HUD now, which looks alot more fancy and includes both Kiva and Namu's portraits.
Misc:
– Slightly increased the Loot Drop Rate for enemies
– Kiva gets new powers called Slimethium (lvl 20), Slimeburst (lvl 21) and Protective Slimebubble (lvl 22)
– Namu gets a new power called Soulcleanse (lvl 24)
– Increased the duration of all (most lol) lewd animations (I still needs to make some scenes longer like the second bar scene in Kaupun'ki)
– Added Vhetae Butt Witch's Special Attack to the gallery
Save Included
– Slot 4 (North Mainio, Everything done except for the new mission)