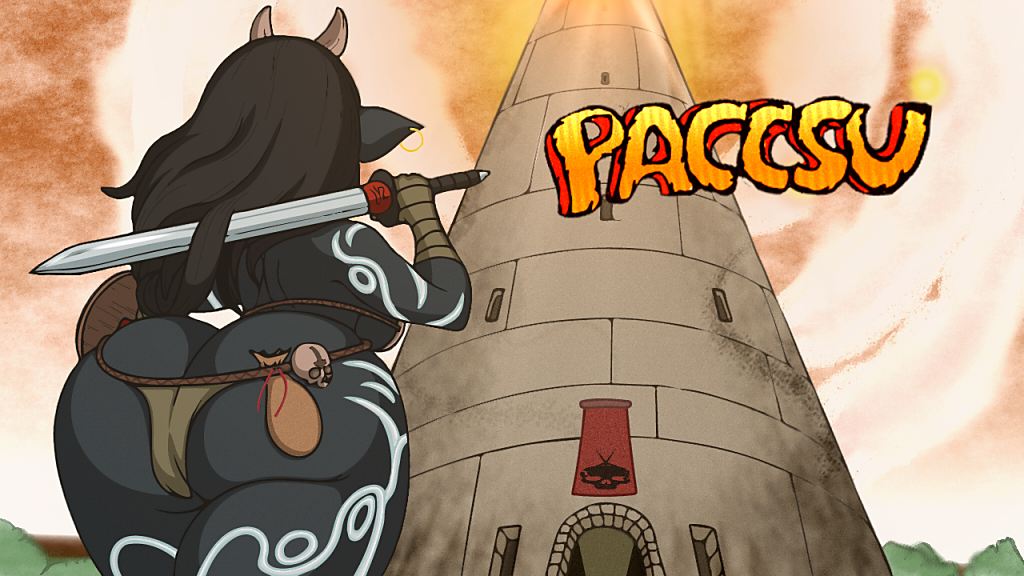 Paccsu – Namu's Journey is a LEWD RPG game set in a fantasy world called Paccsu. You take control of a Muh'keangirl called Namu, who was taken away from her birth parents at a young age to be a part of a holy ritual in Muh'kea'sdesperate attempt to fight The Undying King, the King of Zombies.
She was taken to the Kingdom of Ruo'ho by a human refugee couple to live by the shadow of the mystical Tukeva Tower, where she would live her life, train and grow strong. 18 years later, Namu is ready for the adventure with the help of her adoptive parents. Namu has no idea what happened in her past or has any memory of it or what kind of power she holds inside her. Soon, Namu finds herself in the middle of a crisis that threatens the whole world.
Namu's journey begins when she is sent to investigate the mines where dangerous and bootylicious snakes from the Clan Tiss'i have been attacking the innocent human workers. It's Namu's job to save the world.
–
Developer: Zem – Patreon | Newgrounds
Censorship: No
OS: Windows, Android
Language: English
Genre: 2D game, 2DCG, Adventure, Anal sex, Animated, Big ass, Big tits, Creampie, Fantasy, Female protagonist, Furry, Monster, Monster girl, Oral sex, Rape, RPG, Turn-based combat, Vaginal sex
Installation:
1- Extract to desired location.
2- Click on "Game.exe" to start playing.
v0.9556
This version should fix the bug of the game getting stuck after the battle with The Undying King. Sorry about that! I am 99% sure what caused the bug so it should be fixed now.
Just a reminder:
Do NOT extract this version in the same folder as 0.9555. Do NOT merge/overwrite any files.
This version includes no saves, to avoid further confusion. Just paste in your "save" folder inside the "www" folder.
v0.9555
FINAL BATTLE IS LIVE!
Main Quest: Final Battle, The Undying King
Namu and her friends are finally here, inside the Undying King's throne room. The fate of the world is in Namu's hands.
New Areas:
Temple of Light Basement(Accessible after the Final Battle)
New Enemies:
Zomber (Castle Undying)
The Undying King v2
The Undying (???)
New Lewd Scene:
Zombie&Namu Full nelson (animated, CG – Castle Undying, Zomber)
Custom Outfits!
There is a new room inside Namu's house in Mainio, called Namu's Wardrobe. In here you can find all the custom outfits Namu can wear. You can also unlock all the costumes in here. You can wear the custom outfit just like any piece of equipment from the menu. Custom Outfits will alter Namu's appearance in the cutscenes.
(Not in battle or lewd scenes currently)
Namu's New outfits and how/where to get them:
Topless (Namu's Memory Room)
Nude (Namu's Memory Room)
Ropekini (Ancient Underground City Completed)
Ropekini HUGE (Ancient Underground City Completed)
Barmaid (Witness both of the Bar scenes in Kaupun'ki)
Fancy-Cloth (Complete the Arena and talk to Princess Fancy-Tail)
Misc:
Maht'ava's lewd scene is now updated with looping parts and some little changes.
Some typoes fixed
New Save/load game interface, 4 more save slots and the ability to delete saves
New Battler Sprite for Kiva
Renamed "Guardians of Light Temple" to "Temple of Light"
You can now view Namu's and Purnima's regular Game Over scenes in Namu's Memory Room (Game Over Room)
Bug Fix:
Poison Gas (Purnima) now hits all enemies 1 time instead of 3.
That one rat in the Mainio sewer was blocking the player lmao(fixed)
Save Included:
Slot 24 (Hallway to Undying King's Throne Room, Pa'ha defeated)