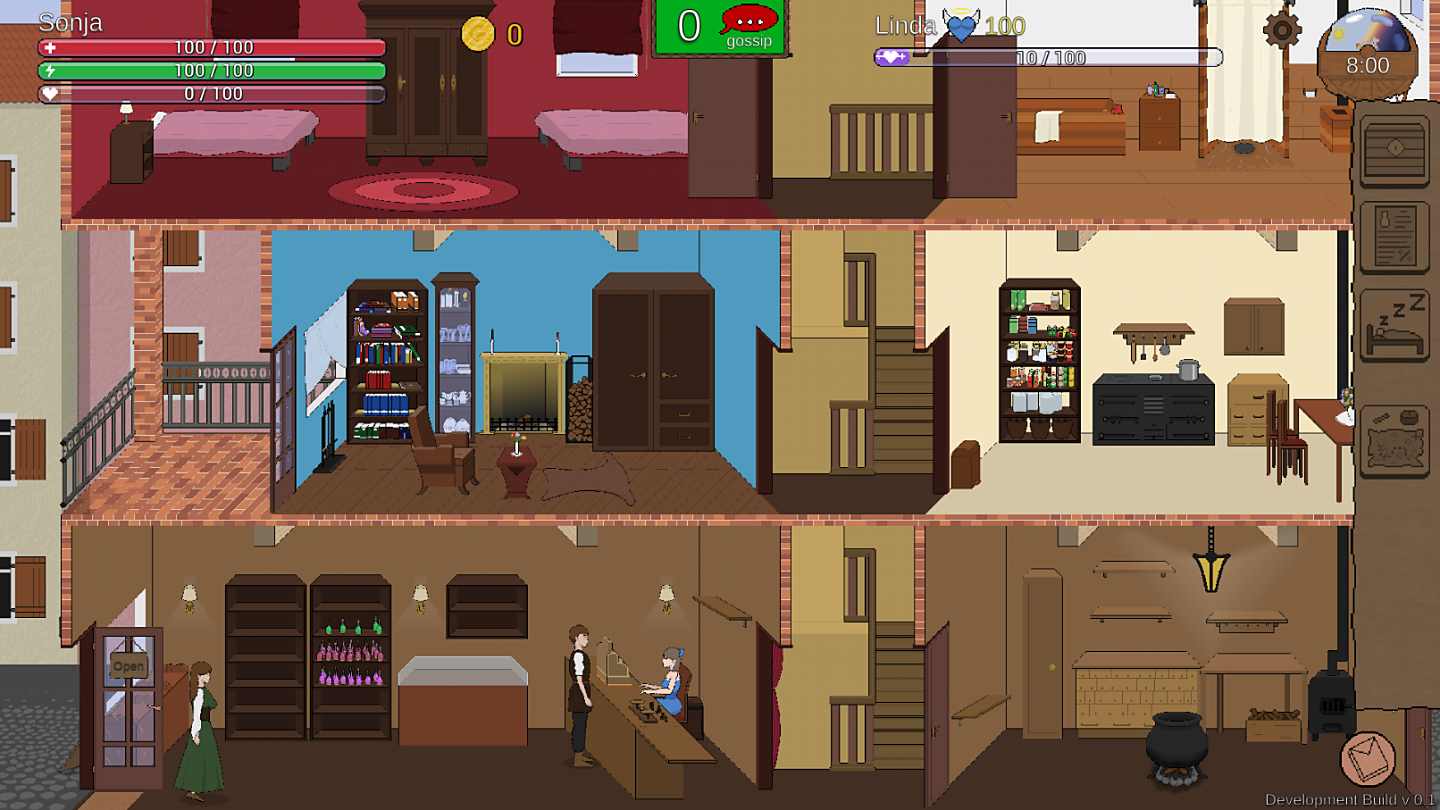 You, the player, is controlling Sonja, the girl that roams the forest and collects ingredients to make potions. Sonja found out that only cum makes her potions work, so she is collecting those important essences from various creatures in the woods.
Meanwhile, her sister Linda is running the shop. Being a shopkeeper and selling all those potions just increases her sex drive, leading her to make love to random costumers. Luckily Sonja is able to talk into her concious. On the other hand Linda could make some extra coins this way…
Try out the games unique dialogue sex mechanic; similar to battle-sex!
—
Developer: random Crow – Patreon | Newgrounds | Itch | Blog | Discord
Censored: No
OS: Windows
Language: English
Genre: 2d game, 2dcg, adventure, animated, big ass, big tits, combat, fantasy, female protagonist, management, monster, oral sex, teasing, vaginal sex, bestiality
Installation:
Extract and run .exe
v0.27
Updates:
revenge against Richard

the overall level of all rooms combined must be 8 or more to trigger paths for revenge (Linda will talk with Sonja about it, so now you know that they are enabled)
3 possible paths; each path has it's own animations and CG
a lot of new dialogues

new futa enemy in the abandoned mansion (includes 2 new sex animations)
the vaginal sex animation of the forest tentacle trap got a rework
Changes:
when going gameover by loosing all health or stamina, the player will come back to the shop now with 1 hp and 1 stamina instead of being full
the min and max amount of Blue Heads and Pellet Stems got increased by 1 when picking up
when choosing to go to a different location, Sonja is now unable to move till the screen faded to black
Photosynthesis Potion grants more stamina per ingredient pickup 2->4
Bugfixes:
bug that allowed player to click the continue/new game etc. buttons multiple times in a row, which bugged out the save game
Annabelle won't visit(normally) or be "missed" again if she is currently busy with… receiving some kind of revenge by the sisters
v0.26
Updates:
tons of new animations, including:

second animations for all lesser cave enemies (kobold male, kobold female, pillbug, insect, wendigo)
second animations for all simple traps in all three locations (tentacle, spider, hectocotylus, shadow hands, abyss tentacle, roper)

a new elite enemy made his home in the big tent in the cave: The Orc
a new "gamble trap" can be found nearby the kobold camp: Lindworm

The Lindworm is not really a trap, like the tree or the mirror. Sonja gets a few choices when talking to The Lindworm
including a bonus animation: How about you offer the Lindworm something, but you will retract the deal?

a new dialogue between Sonja and Linda. It's a casual one (gold exclamation mark), that will adress the spawning of ghosts and bats in the mansion
2 new CG's for both the male and the female kobold
Changes:
increased the chance of the pillbug laying eggs into Sonja to 50%; same as The Insect now
'Goblin Essence' got renamed into 'Greenskin Essence'
the statue of the forest godess got removed from the cave and got replaced with the Lindworm
bats and ghost in the mansion now spawn depending on the daytime: Bats have a higher chance to spawn during the day and ghost during the night
amount of sex time with all enemies (except elites) till cum has been increased and made a fixed number

before it was a random number between x and y (example slime: 10-20 seconds)
the maximum amount of this time is now the fixed time of sex (example slime: 20 seconds)
lesser enemies have a sex time of 20 seconds now
simple traps = 15
gamble traps = 25 (tree, mirror, mimic, etc.)
note: this doesn't effect when the skip button appears
Bugfixes:
fixed bug with male kobold and wendigo, that they didn't have a base chance of grabbing Sonja for a lewd animation. The base chance is supposed to be 20%
can't open settings anymore when being asked to leave a location
fixed bug that opened an empty dialogue when clicking Linda's golden exclamation mark. This was suppoesed to open a dialogue between Linda and Richard, which never seen the light of day till now
another one of that same kind of dialogue bug: There was a follow up to the "Shampoo" dialogue between Sonja and Linda, but it got lost somehow during development
Linda was supposed to give human, slime or insect essence on random via dialogue to Sonja, depending on the creatures Linda encountered at home. But she always gave human essence
softlock, when going from one location to another and back again to quickly (from forest to cave and back again, for example)
Hints:
if your last version played was the previous one (0.25) you don't need to start from the beginning this time