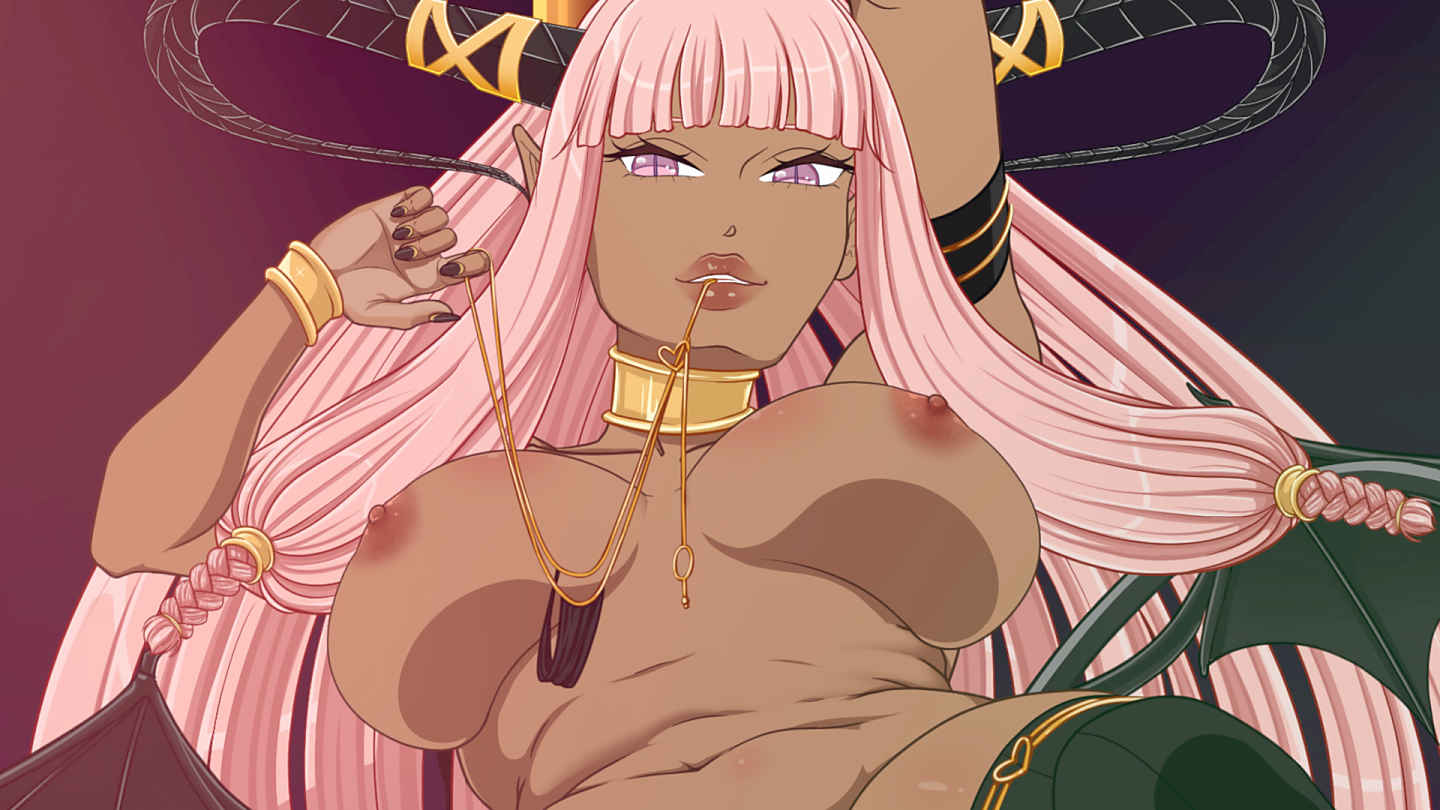 The underworld's power balance has been disturbed and the Succubus Queen dethroned. A certain red-haired succubus' actions have spurred the start of the next Succubus Throne tournament, where a new queen will be crowned!
The top succubi from various underworld domains have been chosen to compete, but only one will be victorious. Participate in various events that will push your succubus to the limit! Stripping, tentacles, and monsters await!
Take the role of a Succubus Handler and train them for the challenges ahead. Will you be a merciful mentor and spoil your succubus or do you prefer harsh discipline? Your actions will determine their fate as they face off in the tournament.
Game Features
• Story Mode: Play through 8 unique story routes. Your choices will impact who becomes the next Succubus Queen.
• Free Play Mode: Jump right into interactive sex scenes that you've unlocked.
• Unlockable Toys and Interactive Scenes: Earn money in Story Mode and use it to purchase training rooms and toys to use on your succubus.
• Stripping Rhythm Game: Your succubus can earn money in various ways, including a dancing minigame.
• Date your Succubus: Engage in various dating activities! Ask and Answer questions that your succubus may have in order to grow your bond.
• Gallery: Unlock a massive amount of artwork in the gallery using tokens earned by befriending characters!
• Animated CGs and Dialogue Portraits
—
Developer: Tentakero – Patreon | Itch.io | Steam | Twitter
Censored: No
OS: Windows
Language: English
Prequel: Project Cappuccino
Genre: Visual Novel, Toys, Simulator, Fetish, BDSM, Story Driven, Rhythm Game
Installation:
Download and extract files to a desired location.
Run .exe but be sure to keep all contents of the zip in the same target folder.
Other Information:
CONTROLS
Dialogue
Click/Space: Advance dialogue.
Tab: Skip dialogue entirely. (No chat log at the moment but that's coming later.)
Rhythm Game
Note Tracks: S,D,F,J,K,L
Activate Fever Mode: Space
Other Mini-Games
Toy Use: Click to use the toys in the toybox. Some toys enable extra UI components to mess around with.
The meter on the top left will indicate if a session is leaning towards being rewarding vs punishing. Stamina bar and Climax bar don't do much yet so don't worry about those.
———————————-
KNOWN ISSUES
Stats Don't Remain After Training: This is so that we don't waste too much time balancing the game so early on just to have to re-balance it over and over as we continue adding content.
Routes Incomplete: The story is being implemented. Sophie and Mana's routes are the newest and have only had about a month of work put into them so far. Rosaria's is the most robust with a full chapter implemented.
Rhythm Game Hit Window is too small: This is going to be worked on in a later update. At the moment, the only thing that we can suggest is trying to hit the notes later since it's more forgiving in that sense as opposed to hitting them early.
————————————
TROUBLESHOOTING
I can't use the penis or butt plug on Rosaria
Remove her underwear first using the strip toy.
The toys I bought aren't showing up in some scenes
Some scenes do not support all toys. BlowJob blowout for example won't let you use anal toys since it can't be seen on the character in that pose. We'll later add a way to tell which scenes support which toys at a glance.