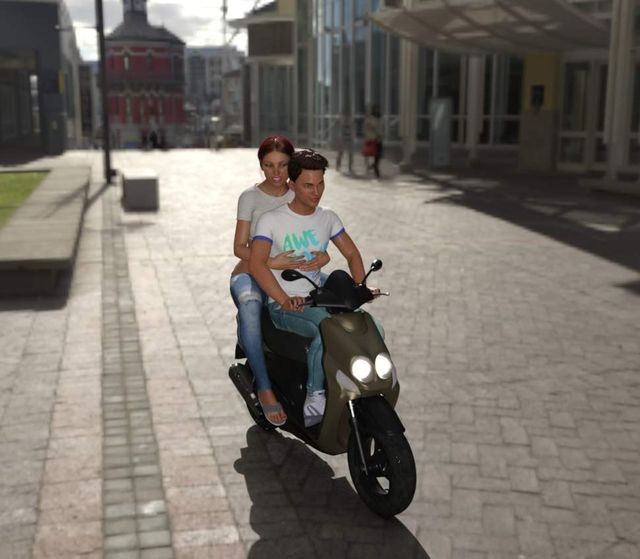 Simple Days is a story based on simple days, just taking one day at a time… Your character is a young boy, who has just celebrated his 19th birthday. You will take control of his life… Finding his first job, girlfriend, dabble in the shady life, encounter awkward situations, and buy your first car etc. Maybe you will go after the money, or maybe you will study, or maybe just start a family. Do you want to make your character a standup guy, or have him join the dark side? It will be up to you. The game will give you the choice… But it is you who will decide what will happen. It will start with simple days, but as more simple days pass, the more complicated and colorful the story will become.
—
Developer: Mega Lono – Patreon
Censored: No
OS: Windows, Mac, Linux, Android
Language: English
Genre: Ren'Py, Male Protagonist, Animated, Oral sex, Blow job, Vaginal Sex, Condom, Romance, Dating, Creampie, Pregnancy, Anal Sex, Harem, Multiple Endings
v0.16.2
Version 0.16.2 (bug fixes)
SAVE file corruption – I rewrote a big chunk of code to stop the save files from getting corrupted. After the MC goes to sleep it will trigger the new code and from this moment the game will no longer break SAVE files. The old saves will stay broken but the new ones will be safe.
Bug fix – Sasha info screen gives error when you try to open.
Spell and grammar corrections
VN style – you can go to pharmacy and buy blue pills after the lab is closed.
Julia can get pregnant a bit easier.
Anna – can have sex when she is pregnant and sex animations unlock order has been changed. (every child is unlocking the next sex position – total 4 positions)
Office computer – adjustments in Money screen
Naomi and Moko random sex scenes adjusted
Betty's salary is now calculated in you expenses
Anna gives birth but if she is alone or only with Moko – the game shows wrong pictures.
Betty story will progress faster in your office and not random.
v0.16.1
Only bug fix – Alina stays pregnant after birth – now it is fixed
v0.16.0
Improvements :
1. The stat screen -girls . You will see all girls and more details for each of them.
2. Info app (Quest/Tasks) – Will have a new screen and more information on it (it will be not adjusted fully, but I don't want to delay more)
3. Enter a custom name for your saves
4. Chapter 1 – add and improve some sex animations (anna, dora, moko)
5. Chapter 1 – add and improve some images/audio/dialogues
NEW:
1. Oliver – we found him. Introduction of Ch3. (Business and Politics)
2. Elena – Here is our baby. Can you buy me a car?
2.1 Elena – repeatable sex after the first child
3. Anna – 2 new sex animation
3.1 Anna now can have up to 6 kids
4. Alina first kid and ask her to move into your new house
5. Sasha – Joy of natural….. sex. (you have to be on vegetarian path)
6. Teodora – working late night.
6.1 Teodora can get pregnant second time, if you go during ovulation (no kid in this update)
7. Julia – Boyfriend is back… do you want to spend some time together?
7.1 Julia can get pregnant with second child (no kid in this update)
8 BDSM will be unlocked (if you made good deal with Madam) and it will have repeatable sex (now only with Suzzy)
9. Secret is pregnant and first kid (if you used red syringe on her)
9.1 Secret – do you want to move to my new home? (If you have kids with her)
10. Zara – ask her to move to the new house (if you have kids with her)
11. Betty – I have to find a new place.. the rent is too high. I have a free room at my new house.
12. Paola – I bought a house.. can you come with me when I move there?
14. Ema – Hey, do you know I have a big house? No need to pay rent.
15. Dora – new sex animations
15.1 Dora can have up to 6 kids
16. Rebeca – New sex animation (BJ and Doggy)
16.1 Rebeca now can have up to 4 kids.
17. Naomi – New sex animations (without Moko)
17.1 Naomi now can have up to 4 kids.
18. Office computer – new app to track projects
Bug Fix:
1. First time watch TV porn channel – I found lines of girls not present in the room
2. I found that you almost can't visit Dora at her clinic because one chat with her has been delayed for too long.. Now it is fixed.
3. Betty – if she starts her first day of work when Maria is not working, somehow MC calls Maria and talks with her –
4. Anna dances in front of TV – Rebeca is not present but you see some dialogues with her.