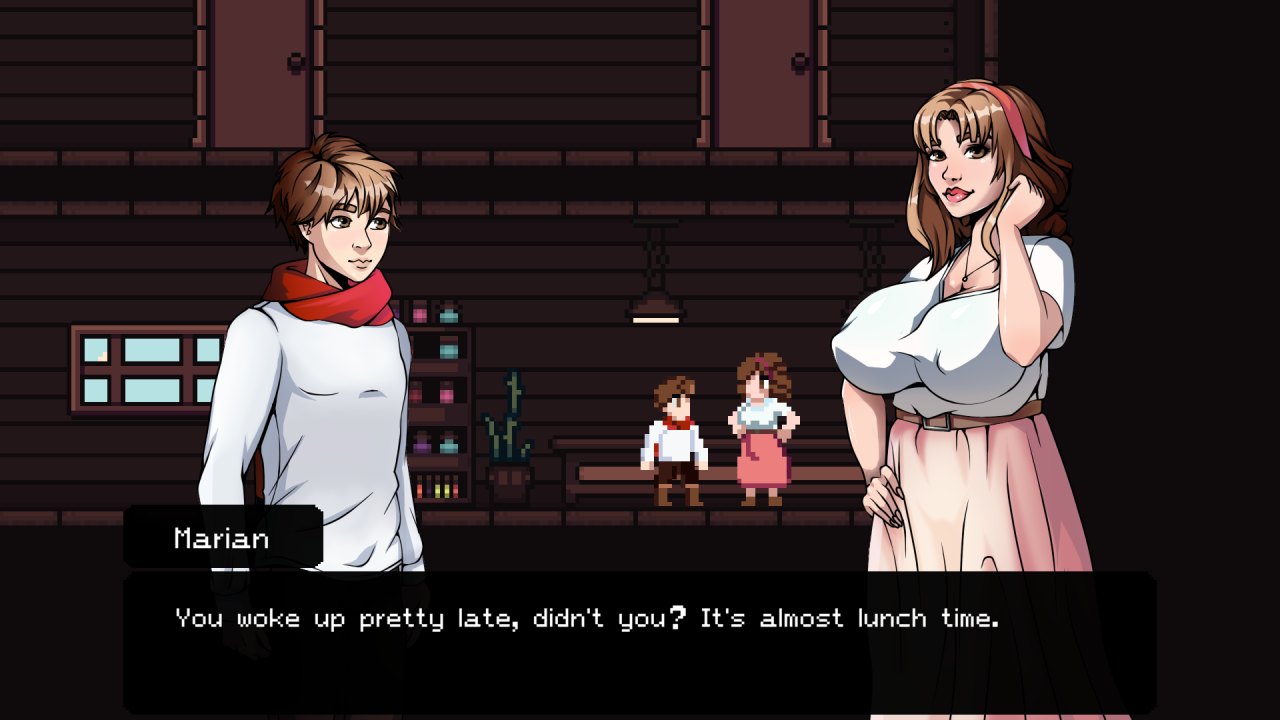 As a small, secluded village is threatened by monsters from the nearby forest, you will take the role of a young man who can derive power from Lust. You must defend the village, but to do so you must first experience lust.
—
v0.2.0
– About 10-12 minutes of story/dialogue.
– 1 new CG scene.
– All 8 character sprites now finished and added in. Change is possible in character specific updates, but unlikely.
– You can change the name and relationship to Anne and Sarah. Personally I recommend doing it as it will make the dialogue less awkward.
– The lake area is added in, though it could look better.
– I changed the HUD a little bit. You can no longer control it, it will instead show itself automatically when you are damaged, and hide itself when a certain amount of time(about 8 seconds) has passed without taking damage. 'H' will now show the objectives/hint window.
– Implemented a way to choose things during dialogue. It won't be that significant for the story of this game, but it will be immensely useful in other ways, and for future projects.
– Gamepad support fully in. (Only thing you can't do is delete saves with a controller or change the resolution. That's staying that way. If somehow, magically, there is a console port for this game, neither of those things will be available anyway, so… Sorry, not sorry?)
– This does mean that UI can now be navigated with WASD/arrow keys or with the D-Pad on a controller. I don't want to do this ever again. But I'm going to have to for future projects 🙁
– A dash is implemented, available at the end of the prologue(this version).
– Fixed the HUD not disappearing when pausing the game. The method that I used for this could come back to bite me, but it also shouldn't. We'll see how that goes. I like to live dangerously.
– Should have fixed the background getting elevated. This was only happening to me if I launched the game, loaded a save, and then used the bed to change the time of day.
– Added the failsafe to fix the issue of falling through the ground inside buildings as well. If it keeps happening, I might just cry.
– Refactored the way the NPCs can move. I don't know why I made it so complicated in the first place.
– Oh, and I scrapped the gallery. It was going to be too difficult/time consuming to do the way I wanted it to.
– Quality of life changes, some of which include:
* Resolution can be changed with a dropdown menu. Cannot be done with a controller like mentioned above. Also, you MIGHT get several resolutions of the same size, but the only difference will be refresh rate. I sadly can't test this with my shitty old monitor :(.
* Fixed Yes/No screen saying 'Button South' instead of a controller specific button.
* There is now a toggle/checkmark for making the dialogue font slightly outlined. I don't know how much this will actually help, but maybe in the future we'll change up the font a little bit. Who knows?
* There are now volume sliders in the options menu. But guess what? There's only one sound effect so far, so the rest are useless. But one day…