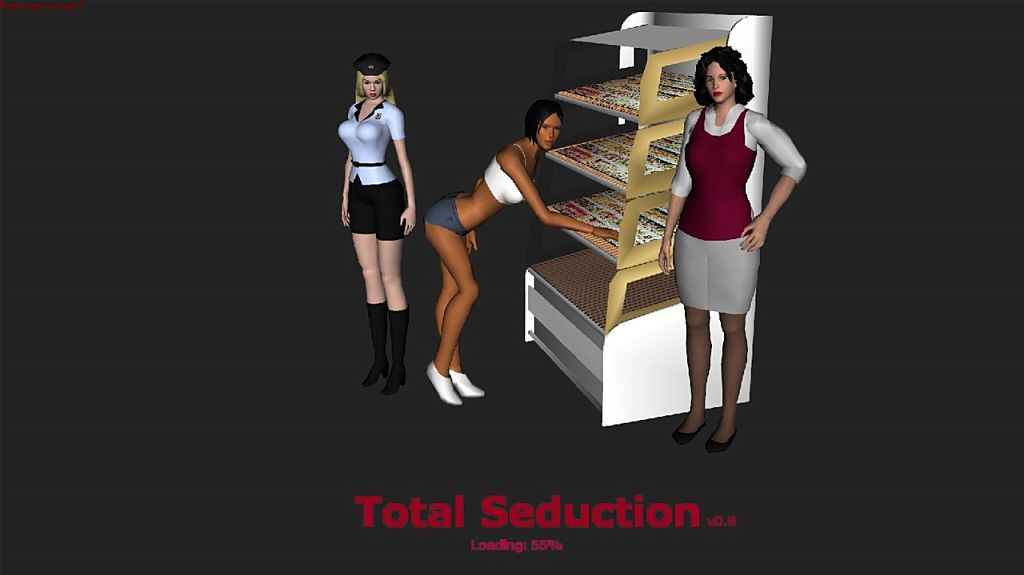 It is a real time sims-like rpg game with quests, char. building and main story line.
Censorship: No
Developer / Publisher: Mike Velesk
Platform: Windows
Language: English, German, Spanish, Portuguese
Side Story: Stress Relief Commision
Genre: 3D game, Animated, Anal sex, Bestiality , Female protagonist, Incest, Male protagonist, MILF, Pregnancy, School setting, Oral sex, Vaginal sex, Mind control, Groping, Futa/trans, Lesbian, Sex toys, Rape, Sleep sex, Corruption
Instructions:
1- Extract to desired location.
2- change the desired (unmodded, modded exp cheat or modded exp cheat+super regen) .exe to "TotalSeduction.exe"
3- Click on "TotalSeduction.exe" to start playing.
v2.2
– In this "lesbian update" many spontaneous lesbian scenes has been added to the game. After completing "Lesbian Epidemic" quest and corrupting certain characters (to lvl 1), you will notice that they will find some female partner and initiate a lesbian sex scene with her. In some cases, you can join in for a threesome. This affect Charlotte, Lila, Noelle, Taylor, May, Sharon and Miss Mullins plus their partners (who does not have to be corrupted). Noelle, Lila and Luna will also sometimes masturbate while they relax, after the quest is completed. Remember that to see a lesbian scene, character must have Corruption Level 1, which require Seduction Level 2 first. To join for threesome, she needs to have Seduction Level 4. Refer to each characters' page for more details.
– Several bugs fixed, including following bugs: inability to proceed with Karen during main quest, miss Mullins bug when given spiked drink, reset of quests after day 60 during sandbox mode and several scheduling issues.
– Sharon can now be corrupted to level 1. This will also change her clothes.
– Polish translation added to the game.
v2.1
– New character Holly who is your classmate and represent an ugly duckling scenario – with enough time and money, you can customize her look, from different hairstyles to tattoos. There are 18 categories you can change on her, each has multiple options. Some of them can be changed only progressively (you cannot give her biggest boobs from the start, you have to enhance them gradually), some require to improve her Seduction Level. Holly have also a large number of sex scenes.
– German and Spanish translation has been added to the game, Bug where translation for communication options was not performed (each time, it was in English) was removed
– A third corruption level was added for Charlotte, Lila, Noelle, Taylor, Nicol, May and Luna was added which will make them nudists – they will stay naked all the time.