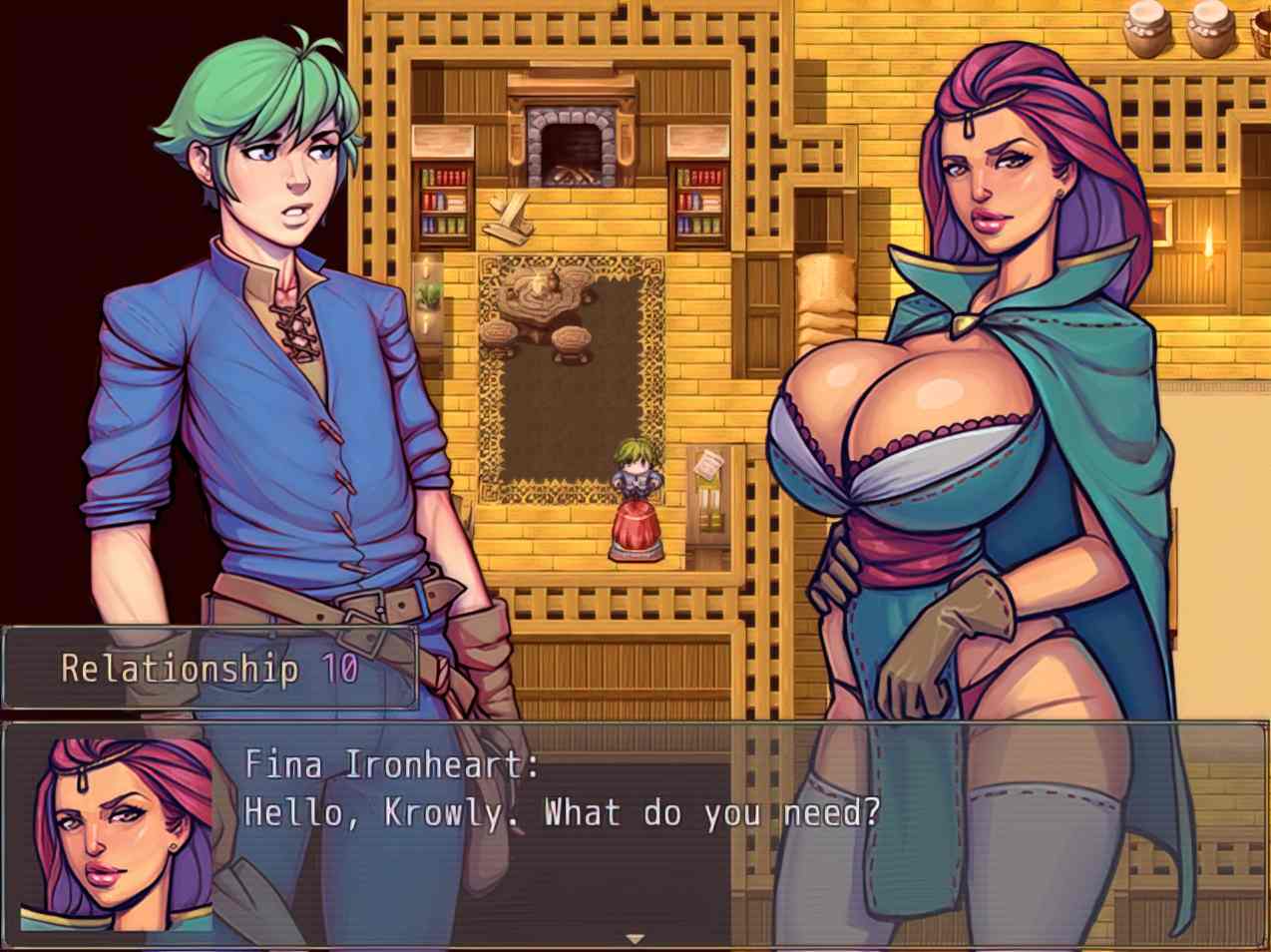 Krowly always wanted to learn magic, hunt for monster girls, and most of all, get laid. Help guide Krowley in fulfilling his dreams!
–
Developer: boobsgames – Patreon | Tumblr | Gumroad | Twitter | Itch.io
Censorship: No
OS: Windows
Language: English, Russian
Genre: 2DCG, Fantasy, Male Protagonist, Monster girl, Adventure, Combat, Turn based combat, Futa, Transgender, Big tits, Big ass, 2D game, Anal sex, Animated, Gay, Incest, Masturbation, Oral sex, Religion, Titfuck, Vaginal sex, Transformation, MILF
Installation:
1- Extract to desired location.
2- Click on "Game.exe" to start playing.
Additional Info:
Press F5 to toggle full screen.
Press F6 to change window size.
Press W to show/hide Krowly's picture.
Gay content can be turned off at the beginning of the game
v0.354.0.1
UPD: Hotfix 1 is uploaded. It fixes the bug with the bandits and several other bugs
v0.354
What is new:
Event where Krowly is caught by the butt bandits. Has 40% to be triggered when Krowly is defeated by bandits (the normal male ones that are roaming around). It's not hard to escape, but there are 6 ways to escape at the moment. Some depends on your choices, or spells you know, some on your relationship with some of the characters.
New enemy, the femboy elf can be met in the elven forest.
New scenes:
Scene between Astra and Fina. Friday night in Astra's room. (Astra's masturbation event moved to the Saturday)
Carla's breastfeeding scene, as an option when you are buying a dinner. Requires 15 relationship with Carla, or higher
Femboy elf win scene. No illustration for now.
Femboy elf defeat scene.
Double titfuck scene with Samantha and Fina. Ask Fina for titfuck when Samantha is around and she might join. Requires 25 relationship points with Samantha.
Conda's butt appreciation scene. Talk to her while standing behind her.
Updated scenes:
Krowly fucked by a slime. Added illustrations
New pictures:
Femboy elf character illustration + 2 variants
Conda's butt illustration plus variants
Fina and Samantha double titfuck illustration + 4 variants
Samantha's character illlustration bukakke variants
Carla's breastfeeding scene illustrations. 12 variants total.
A scene with Astra and Fina. A bunch of variants
Futa painting illustration.
Hidden sketch
Krowly fucked by a slime, 4 variants
Small things:
Mabel visits elven't camp and orc camp
futa painting on the wall in Fina's mansion
horny Krowly now has better chances at casting (Before he had even worse chances, then normal), but lower defense
sleeping Conda on the furs in the snu-snu chamber
Fixes:
Bug with Krowly's pixel sprite during the training with Jaina and many other small bugs.