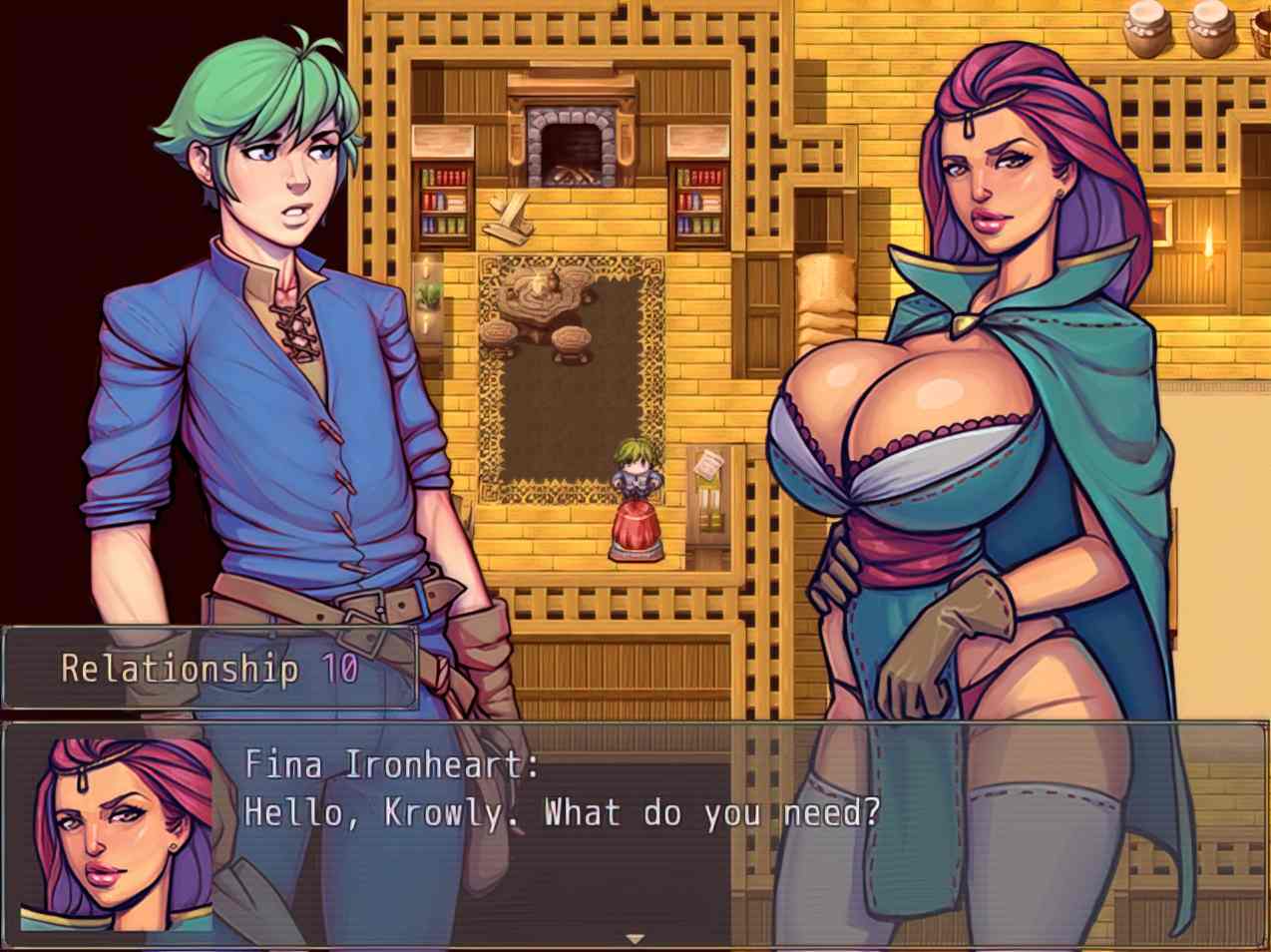 Krowly always wanted to learn magic, hunt for monster girls, and most of all, get laid. Help guide Krowley in fulfilling his dreams!
–
Developer: boobsgames – Patreon | Tumblr | Gumroad | Twitter | Itch.io
Censorship: No
OS: Windows
Language: English, Russian
Genre: 2DCG, Fantasy, Male Protagonist, Monster girl, Adventure, Combat, Turn based combat, Futa, Transgender, Big tits, Big ass, 2D game, Anal sex, Animated, Gay, Incest, Masturbation, Oral sex, Religion, Titfuck, Vaginal sex, Transformation, MILF
Installation:
1- Extract to desired location.
2- Click on "Game.exe" to start playing.
Additional Info:
Press F5 to toggle full screen.
Press F6 to change window size.
Press W to show/hide Krowly's picture.
Gay content can be turned off at the beginning of the game
v0.344
What's new:
Spell learning system – now after level up Krowly won't just get new spell. He needs to learn them by reading the books in his bedroom. Some earlier spells have just introduction monologue, the more advanced one will have additional requirements, or will trigger small cut-scene, or will require to go in a specific place. 12 spells total, excluding 2 first spells, that Krowly already knows, and 1 the latest one, that will be worked on in the future.
Every time Krowly can learn a new spell the candle on the table in his bedroom will be lit. Just a small visual indicator.
Defensive spells now removed from the "guard" option, and can be triggered as normal spells.
The spell "Vampire touch" doesn't have a cut-scene yet. In the future acquiring this spell will be connected to an encounter with a new type of monster girl that isn't in game yet.
New cheat is added in the cheat room (right bottom corner of Krowly's basement). It deletes all Krowly's spells and allows him to learn them again. Use it if you want to check the spells content on the old save.
This spell learning system may not sound like a big deal, but I wanted to add it for quite some time, and it took a lot of work to do it 🙂
New relic items. Chance to find them in the chests is very low, 5 times lower then other items. I do not recommend to load saves for hours trying to find them 😀 One of these new items can be only bought from Raina, the blacksmith.
New scenes:
Buttfuck scene with Melissa. Can be triggered in the middle of oral scene (option "change pose"), if relationship is high enough. Oral scene now can be triggered after tea party, and it will require 20 relationship point to activate the buttfuck scene. Via normal flirt menu it will require 50 relationship points. The scene has variants for futa and non-futa Melissa, and huge boobs variants.
Krowly's sucks orc's dick – scene with orc mob
Krowly sucks Derek's dick in the barn
Ghost girl titfuck. Has two variants, active and passive. Ghost girls can be found in the dungeons, or, one of them, can be met at night in the village, after Krowly defeated the ghost girl near Melissa's tower.
Updated scenes:
The scene where Krowly fucks Eric in the ass got a variant to do it on the table. This variant has 50% chance that Jenna will catch the boys in action.
New pictures:
New battle background for some locations with ruins
Melissa buttfuck. 18 variants total
Ghost girl titfuck. 8 variants total
Krowly sucks a dick. 9 variants total. Illustrations added to the scenes with Sebastian, Derek and orc mob
Updated pictures:
Melissa's oral scenes with huge boobs. Temporary variants, will be updated in the future. 3 new variants. Unfinished.
Eric buttfuck illustrations with hard dick. 4 new variants
Small thing:
New icons for some spells and for Juliette's outfit
If the "lost delivery" quest wasn't started then in every ancient urn can be found a "strange rune" item. Ancient urn can be bought from the drunk orc. It is done for the players who struggle to find "strange rune"
Raina sells things during the evening
UPD: Hotfix 1 is uploaded. It fixes visual problem in ghost titfuck scene, ghost girl not returning next day, a problem with fina's portrait painting, and a few other problems
UPD2: Hotfix 2 is uploaded. It fixes Sleep spell (activate the book on the table in Krowly's bedroom to do it), Melissa's anal scene in russian version, Alice schedule and a few other problems
UPD3: Hotfix 3 is up. It fixes serious bug with sleep spell that was preventing getting other spells. Please update your game 🙂